My Thoughts:
For me Desires Unleashed started out a bit slow and bounced around quite a bit. There are quite a few characters that have various connections to keep track of. Warren and Matthew are a supernatural detective team. They are not involved with each other romantically although it appears both secretly wish that to be so. Warren seems to be the lucky partner getting action more than once. Natasha and Annette are roommates and friends. Annette works at a club owned by vampires . Natasha is a photographer working for a magazine and just discovered she has premonitions. She has also never been around a vampire and is very new to the world of paranormal. The girl has a whole lot to learn and fast! Interestingly these new premonitions lead her right to the sexy vampires at the club Annette works and right into the middle of Detective Warren and Matthew's murder investigation. Don't forget the hot club owner Darien and his lover Xavier both vampires and both drawn to Natasha.
The sex in Desires Unleashed is a bit of it all! You have bisexual, homosexual and heterosexual all in one paranormal mystery . Natasha is straight but she finds herself involved with two male vampires who love each other and both want her. I think there was a lot of extras the book some it could do without and some that make yous it up and
Say WHAT
!
That being said I really do like the characters of Annette , Natasha , Darien and Xavier. Who knows maybe they'll be one happy foursome in the next book? I think if you are willing to keep going and pay close attention the overall is an intriguing read. I would give it a 3 our of 5 stars any day. Definitely entertaining!
Purchase Desires Unleashed on Amazon
Follow the Author D.N.Simmons
:
Website
|
Facebook
|
Twitter
|
GoodReads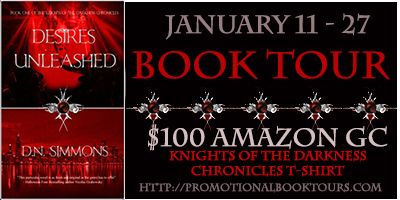 Follow the
tour and giveaway
! $100 Amazon Gift Card is up for grabs!
disclosure: I received a complimentary copy of Desires Unleashed for review purposes. All opinions shared are my own.