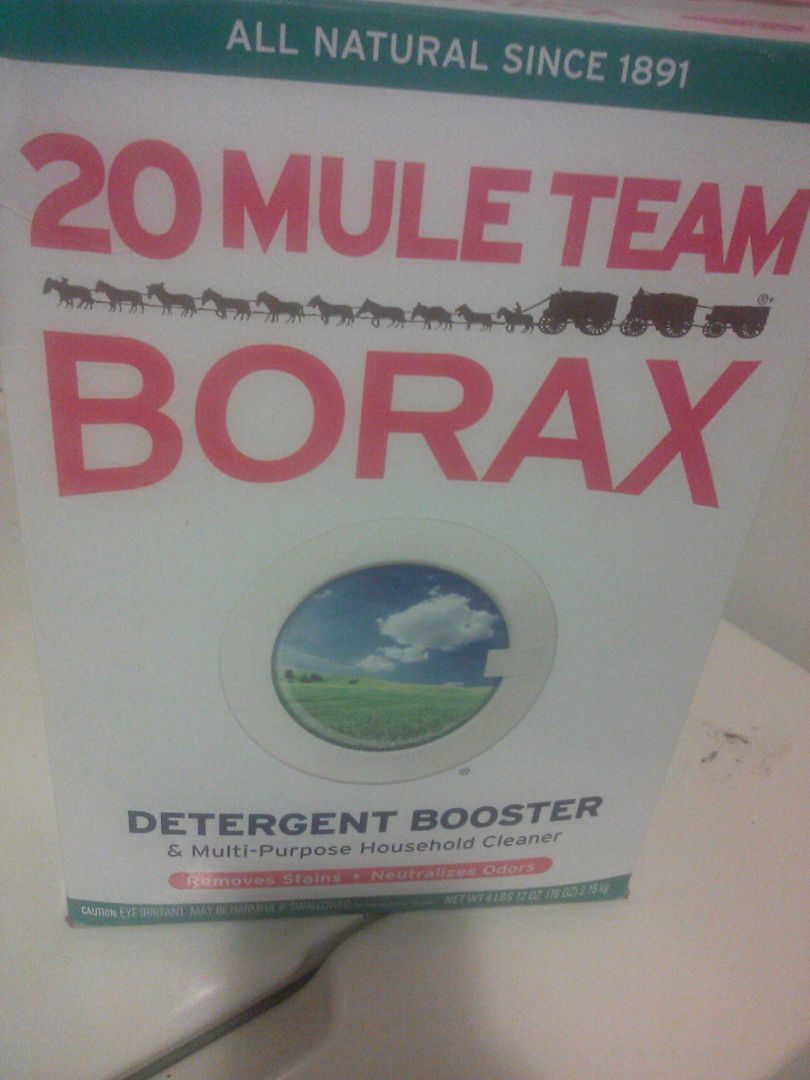 Have you ever used 20 Mule Team Borzx? I like to add it to my laundry as a
laundry booster
. . Add 1/2 cup to every load along with your regular detergent. You'll find that Borax naturally softens hard water and improves your detergents cleaning power. It also helps keep stains from being redeposited back onto clothes There are many uses for Borax around your home. I was rather surprised by all of the different ways it
CAN
be used.
First, let me tell you more about what Borax is. 20 Mule Team Borax is a 100% natural mineral from the Earth. Once removed from the ground it is washed, dried and boxed for consumers. (You learn something every day right?) Borax is the common name for sodium tetraborate a naturally occurring substance produced by the perpetual evaporation of seasonal lakes. Nothing is added to it no phosphates, chlorine or other additives and chemicals.
Did you know there are dozens of ways to use Borax in and around your home? I had no idea and really excited about using it in more ways in our home. Here are fifteen different ways to use Borax.
In The Kitchen
Make a Paste of Borax and Lemon Juice use to scrub appliances
Sprinkle it in your garbage disposal
Make a paste on sponges to clean oven.
In The Bathroom:
5. Add 1/4 cup to your toilet and let sit for 30 minutes then scrub
Make a paste to clean tub and shower
6 Make a paste and is great to clean the bathrooms
7. Unclog drains by pouring 1/2 cup Borax down the drain then following with 2 cups of boiling water.
In The Laundry Room:
8.
laundry booster
9. removes hard water
10. Make homemade laundry detergent
Pest Control:
11. Sprinkle around outside foundation of home to keep pests out.
12. Put a thick line behind refrigerator and stove to kill roaches.
13. Sprinkle in doorways and window jams to keep ants out.
14. Sprinkle on carpet or furniture for fleas leave an hour or two then vacuum.
For those of you that are crafty and looking for family fun
15..
Make Borax Snowflakes
When you don't want to use pesky chemicals Borax is a great substitute. Haven't tried it before? We have a great new giveaway for you. Remember you don't have to like every page to make it work. Just complete as many or as few as you can.
WIN:
Get a Free box of 20 Mule Team Borax winner will receive a manufacturers coupon max value $3.50
a Rafflecopter giveaway
disclosure: Borax provided a complimentary example of their product for review purposes. All opinions share are my own.