Santa Claus is coming to town. Are you guys ready? We are getting there. I have to say being a mom of two teenagers and a preschooler has its challenges. But for this Mama the holidays are just that much more special having a little one to share it with again. I realize how very quickly childhood goes by and we all truly treasure each tradition and milestone with this family. Fun memories are important to my family, and I'm sure they are to yours too.
About Our Sponsor
Just like two snowflakes, no two family's holiday experiences and traditions are the same. However, one common goal unites all families: creating wonderful, lasting holiday memories. These memories are easy to create with
Your Santa Story
, a family-specific, personalized DVD featuring Santa Claus telling each family's unique story, the way they want it told on Christmas morning. With a Your Santa Story DVD, a REAL Santa talks to each member of the family, including stories about important milestones, meaningful events, funny tales and even information about the family pets! Your Santa Story can also be told for Spanish-speaking, military and expat families and a signing Santa speaks to deaf family members. About Your Santa Story We are real! We're a tiny team of determined Moms and Dads just like you that LOVE Christmas. We call our little company "Your Santa Story" for a reason – because it's your story, not ours. Every family is different and therefore every family deserves their own story.
---
The Prizes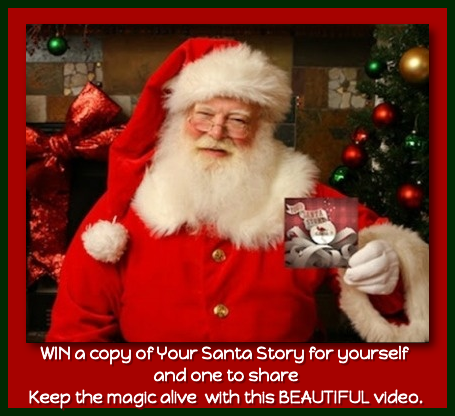 2 winners will EACH get a code to order their own Your Santa Story DVD ($29.95 value) AND a $25 Visa gift card, to use towards holiday shopping
---
How to Enter
The Giveaway will open up on
Monday

December 3

at 10 pm EST
and Close on
Friday

December 7th

at 11:59 pm EST
.
Complete the 3 mandatory entries below.
1. Follow Our Sponsor
2. Follow Our Featured Bloggers of the Week
3. Click on

this link and find the easy entry word(s).
Copy/Paste it in the Entry Form below.
---
The rest of these options are not mandatory but we'd love it if you would...
Tweet it Out
(just hit the "retweet" button below. Follow if you haven't already)
Win a Your Santa Story DVD and $25 in Visa Gifts Cards for you and a friend 12-3 - 12/7 wp.me/p2QVuG-d6 #MissionGiveaway #PayItForward
— Crystal Gibson (@ColorMeCrystalG) December 1, 2012
Check out and Enter our Other Giveaways
Leave a Comment...

scroll down and leave a comment on the blog site.
If you win, who would you pay it forward to and why?
---
After you've completed the Mandatory Entries above...
Fill Out the Entry Form
(you must fill out the form in order to complete your entry)
You Did It!
That's it! You have successfully entered this awesome giveaway! Side note...It's not mandatory that you enter all the giveaways at each blog. Those are just great bonus giveaways for you to enter. Mission Giveaway started with the
$100 Story
where with $100 several people received the help they needed. We are on a mission to help people! We have gathered a group of bloggers that want to make a difference. Together we are the Mission Giveaway Group! To inquire about becoming a sponsor, please contact Amee or Dawn at
madamedealsmedia@yahoo.com
for details. Take a look at our
Media Kit
to see what Mission Giveaway has to offer. Are you a blogger that would like to participate in Mission Giveaway? Find out how you can
join us
. You can find official
Terms and Conditions
on the Madame Deals Media page.