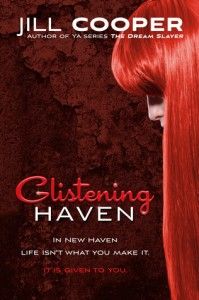 Thanks for stopping by my stop on the Glistening Haven Tour today. I'm happy to share this new dystopian thriller with you all . Glistening Haven is an unusual story. Glistenings are monsters pretending to be humans living among us. Interested yet?
About Glistening Haven:
Susan Monroe doesn't ask for much: good grades from her children, a house with room for a pool, to be the best Tupperware party host in New Haven 56. But inside her tranquil 1950s styled community, a monster lurks. A monster that lives inside Susan, and every one of her superficially perfect neighbors, held in check by the oppressive police state that rules over them. Susan happy life is torn apart when her teenage son goes missing the same night an explosion rips apart the community. Susan knows it's only a matter of time before the police start breaking down their doors. Before the reconditioning begins and Susan's identity is lost, she must do one final thing. Find her son.
Glistening Haven out December 6!!!
Follow
Goodreads
/
Facebook
/
Twitter
/
Website
My Thoughts:
Glistening Haven: A Dystopian Thriller
is different from a lot of the Dystopian currently making the rounds. The Glistening live among us but are not like us they are monsters. The Glistenings live in Havens areas set up to keep them contained yet let them live as humans. Glistening is a great story of how people react when they fear something different. The lengths that government will go to keep secrets and stay in control.
Then there is the young love of Wendy and Jake. Poor Wendy is so young and naive. She only wants to have a relationship with Jake (a glistening teenage boy) and have their baby. The half human half glistening baby is playing havoc on her young body. She is in a world of a mess as assassins are after her and Jake. Not to mention all of the crazies who want to sell her baby to the highest bidder. Wendy goes through many ups and downs as any young mother does and several tear jerking moments.
Susan Monroe is living the normal Suzy homemaker life. Until the unmentionable happens and her son disappears. Susan like any mother will do whatever it takes to bring her boy home. Lots of twist and a plot that will keep you turning the pages. I enjoyed Glistening Haven!
Follow the Tour and Enter to win a $75 Amazon Gift Card
Here !
disclosure: I received a complimentary copy of Glistening Haven in exchange for an honest review. All opinions shared are my own based on my thoughts of the book. Your experience may be different.