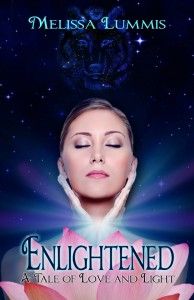 My Thoughts:
A tale of love and light new author Melissa Lummis does nothing less than captivate from beginning to end. I stayed up into the wee hours of the morning not wanting to end this story. Lumis took Paranormal into an all new light .
Enlightened brings a whole family of characters to the table that add depth and energy to the story telling. Each one gives you a little bit more to enjoy. Loti the main character has lost her husband to tragic circumstances and had a horrible time dealing with the loss. Not only that but plagued with horrible nightmares Loti uncovers that someone is playing with her mind using magic. (Scary right?)
Loti's best friend Rachel (a witch) introduces her to the sexy vampire Wolf where the chemistry sparks quite literally. The bond shared is quite unique and has you turning page after page. Loti Dupree will discover who she really is at an Ashram among healers, vampires, witches her new found family.
I loved it and can't wait to see where Lotti will take us next!
Buy on
Amazon
/
Smashwords
More About the Book:
Loti Dupree fears that when her husband died, she lost her soul. Harboring a painful secret, she flees her life in a small Appalachian town for the ashram, the spiritual retreat where she trained to be a yogini. But she is running from more than grief. An ominous nightmare the night before she leaves sets her on a dangerous path of self-discovery that challenges everything she believes – and threatens her life.
While dodging psychic attacks from an unknown assailant, she struggles with her growing attraction to a broody, handsome and completely frustrating vampire. Loti races to understand who and what she is before her anonymous enemy catches up with her.
Loti thought she couldn't survive her husband's death, but among healers, witches, and vampires, she discovers not only a future, but a family.
You can follow the tour and Enter the Giveaway
HERE.
Good Luck to all of you and thanks for stopping in today.
disclosure: I received a FREE copy of Enlightened from Promotional Book Tours in exchange for an honest review. Thank you PBT and Melissa Lumis!