My Thoughts:
Dark Passing is the second book in the Ella Reynolds series. A grieving mother knocks on Ella's door pleading for help. She ask her to write her murdered daughter Mary Nelson's story. I like how Ella's character has grown in this one. She proves to be quite the determined detective on a mission to find out Mary's story. So , much so that the murderer begins killing again. That in itself would scare this chicken girl away. Some detective I would make. The mystery continues to unfold as Ella and Detective Troy work together. Several good twist and there is even a new man in the mix Sheriff Carter Fagan. It's an enjoyable mystery with a little bit of Paranormal too. The lovely Ella is seeing ghost. . Good job Liz Schulte!
MORE:
Mary Nelson's murder shocked the small town of Jackson. The vibrant, young college student disappeared on her way home. A week later her body was found in the trunk of a burning car. No suspects. No evidence. No case.
Ella Reynolds' life had finally turned around. With a new book released, the past safely tucked away, and a burgeoning romance, she begins to live again. Then a plea from a woman whose daughter's murder remains unsolved ignites Ella's curiosity—and drags her back into the dark world she fought so desperately to escape.
Curiosity turns to obsession as Ella inches closer to the truth—and the murderer begins to claim new victims.
Follow Liz Schulte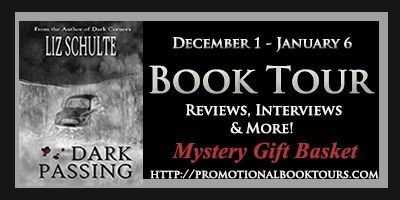 Follow the Tour and Enter the Contest for a Mystery Gift Basket
Here!
disclosure: I received a FREE copy of Dark Passing in exchange for a honest review. Thank you Promotional Book Tours and Liz Schulte!