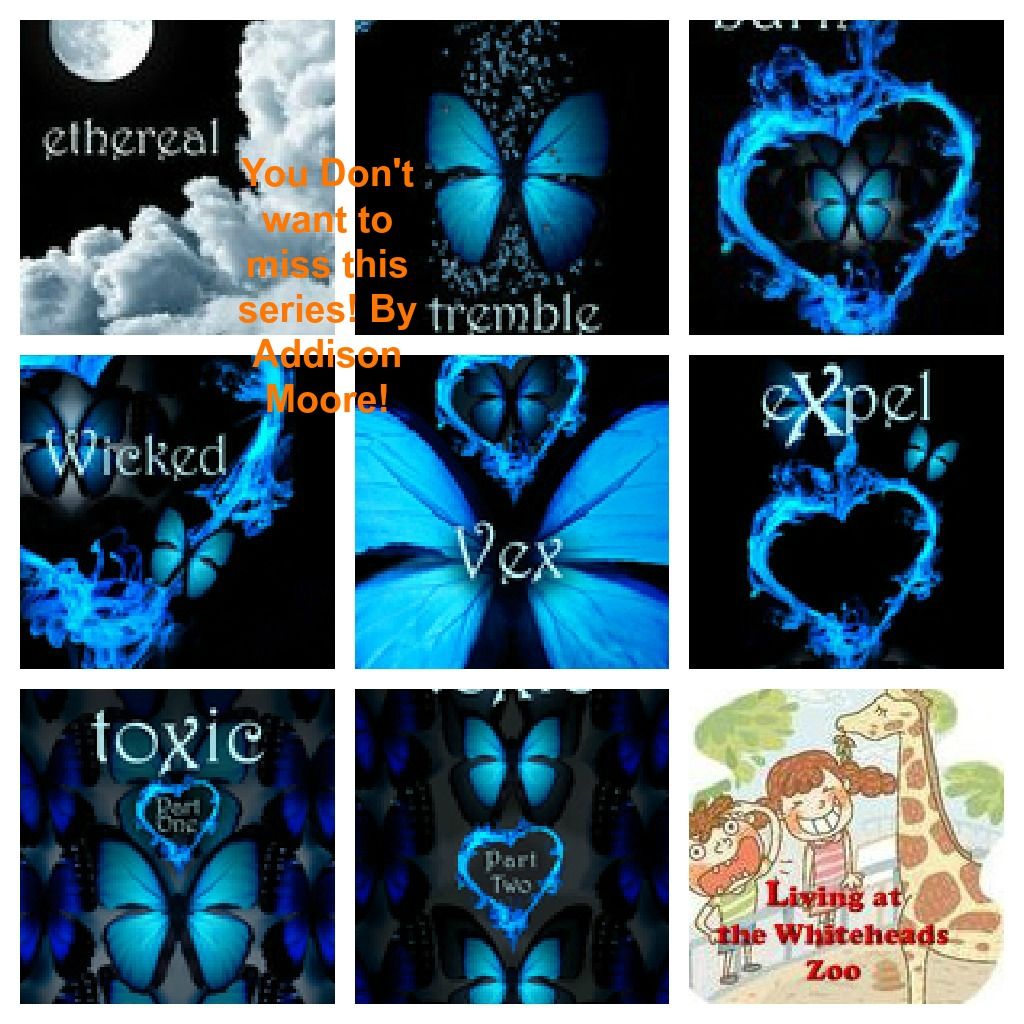 Are you looking for a Young Adult series that does not end quickly? Then Addison Moore's Celestra series is a good one for you. Addison Moore is definitely at the top of my new favorite authors. This was one of them series your girlfriend reads and says hey you have to read these. Then you do and the two of you can't help but chat about it at the gymn.
Can't wait to see what comes next.
The Celestra Series has been optioned for film by 20th Century Fox . Really looking forward to seeing what happens with that. Not to mention if Skyla ever gets her happily ever after. We can hope , right?
Ethereal
by
Addison Moore
My rating:
3 of 5 stars
I picked up Ethereal for Free from Amazon. One of my girlfriends had raved over Addison Moore. Honestly , at first I did not pick up what she was going on about. We usually have quite similar taste so I continued to read. Interestingly enough in my opinion this series is one that picks up with each book and continues to grow as the story unfolds.
Book one is a bit slower than the rest but not at all a bad read. A young girl trying to find her way in the world of Paranormal. Skyla has jst discovered she is a rare blood line of angels the Celestra. Skyla's family has just moved and she finds herself with a new boyfriend, new friends, and a wicked step Dad Tad. Can Skyla really trust anyone? To top it off Skyla has moved into the home where Chloe (her boyfriends dead ex ) lived.
View all my reviews
Tremble
by
Addison Moore
My rating:
4 of 5 stars
Tremble is the sequal to Ethereal and the series is definitely getting better. A quick thrilling page turner. I read it cover to cover and could not wait for the next. Addison Moore now has me hooked.
The characters are continuing to grow as is Skyla's love triangle. Skyla begins to unfold the mysteries of her enemies. She finds out truths and half truths and uncovers more of what she is able to do. Time travel is one of her many gifts and she goes back time after time to try and save her Dad from burning to death.
Ends leaving you ready to immediately start book 3!
View all my reviews
Burn
by
Addison Moore
My rating:
4 of 5 stars
Burn is the 3rd book of the young adult Celestra series. Burn is darker than the first two. Skyla is quite in love with both Logan and Gage and then their is the sexy sector Marshall.
In this one Skyla is out to destroy the Counts who want her blood particularly the one who had her father killed. Skyla is involved in more than one messy killing spree with the Oliver boys always their to assist or rescue. Tad is the awful step father and I truly hope Skyla finds a just way to deal with him by the end of this series. I'd blow him up for her if I could.
Skyla turns 17 and her party is filled with a surprise or two. The twist and turns can't wait to see where this girl goes in book #4.
View all my reviews
Wicked
by
Addison Moore
My rating:
4 of 5 stars
Skyla Messenger finds herself wishing she would have just left the dead alone. Chloe is back and with her nothing but trouble. This book is non stop action. Chloe is here and blackmailing Gage to stay at her side (poor Skyla). Her actions although shocking at times are very well provoked. Marshal has grown on me and honestly I wouldn't mind seeing where that goes. Logan well the feelings are still out on him. This series is definitely one that gets better as it goes. The ending left me with my jaw on the floor. Book #5 here I come!
View all my reviews
Vex
by
Addison Moore
My rating:
4 of 5 stars
Oh my goodness the ending to this one is very unexpected. Addison Moore definitely has a way of keeping you reading.
Skyla Messenger finds herself on an altar about to be sacrificed. Logan has now cast his allegiance to the Countenance but why? Can he still be trusted? OH the questions about Logan just keep coming yet the passion between them never seems to end.
The pesky little sister, the awful step dad and the new step brother who is now inhabited by Holden the ghost well the crazies in Skyla's life just keep coming.
Book 5 has plenty of twist and turns to keep you interested and on your toes. Thank you Addison Moore I can't wait to get dinner finished and the kids in bed so I can pick up the next.
View all my reviews
Expel
by
Addison Moore
My rating:
3 of 5 stars
Expel went a bit slower for me than the other five books. The beginning I thought OK we've come to the end it has ran out of steam. Gage is my forever is getting old and I'm ready for something more juicy.
Skyla saves Logan only to find that it is Holden in his body not Logans. Holden in Logan's body is a disaster . Gage and Skyla develop a plan to get the real Logan back. There really is not a lot about the faction war and I'm a but surprised about that. There is prom , community service, weddings, new moon meetings of the Counts and time travel. Definitely a lot to keep you interested . Chloe is her typical awful self and the ending leaves you saying WHAT!
Fortunately , the book does pick up steam and I find myself looking forward to book #7.
View all my reviews
Toxic Part One
by
Addison Moore
My rating:
3 of 5 stars
She did it again. When I think I can be surprised no more from this series Addison Moore gives me a twist that leaves my jaw on the ground and waiting for more. I must say I am anxiously waiting for Toxic Part two. With that said I think I am ready for an ending here!
Skyla bounces from Gage, to Logan, to Marshal and then the pattern repeats. Even though she is not sleeping with them it gets a little old listening to forever and how Gage broke her. Lots of girl drama in Skyla's young life. I must say I'm very curious to see who Skyla picks in the future. Myself I'm a Marshall fan but hey that's just me. I do think that each has had a purpose in her life and will help with the Faction War in some way. Hopefully, we get somewhere with that in this next book.
Thanks for keeping me entertained Addison Moore looking forward to the ending soon!
View all my reviews
Toxic Part Two
by
Addison Moore
My rating:
4 of 5 stars
Well when I think I am ready for the series to be over Addison Moore draws me back in. This author really is quite amazing and weaves a tale that both young adult and old will enjoy.
Toxic Part 2 FINALLY gives us more of the war we've been waiting for. What does fate have in store for Skyla Messenger and the other characters? Will they all survive this war? Definitely questions that you take into the next book. Both bad and good this book has both kinds of characters . Skyla and her family scenes I was laughing out loud at some parts. Addison Moore did a great job getting you to connect with the characters in this series.
I'm still a Marshall fan but we'll see where the story takes us. Thank you Addison Moore for one of the best series I've read in a long time. Could have done with that cliff hanger but am definitely looking forward to reading another one.
View all my reviews