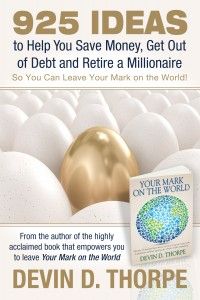 My Thoughts:
Get Out of Debt and Retire A Millionaire So You Can Leave Your Mark on the World is not my typical book. I'm a fiction type of girl. But retiring a millionaire is definitely an idea I'm quite fond of. As I'm sure anyone else would agree. In all serious saving money and getting out of debt has never been more important to our family. We have two children in high school and college tuition is very close to our future. 925 Ideas has tons of tips and ideas to help you with budgeting, cutting back and saving money. The book shares 150 essays on personal and family finance. Definitely every tip is not for every family, but I think there are plenty any family can use. I found several simple ideas that we could put to use in saving and thought why didn't I already think of that?
925 Ideas is a very easy to read , non technical book. There is some repetition in tips but that just pounds out the need to pay attention to those they'll be useful. I'm looking forward to sharing some of what I learned with both my husband and children . Hopefully, my advice won't fall on deaf ears.
Devin D. Thorpe does a great job of explaining budgeting and finance for families.
More About The Book:
925 Ideas to Help You Save Money, Get Out of Debt and Retire A Millionaire So You Can Leave Your Mark on the World from the author of the highly acclaimed book, Your Mark on the World, is a collection of articles about family financial planning that originally appeared at FamilyHow.com.
925 Ideas… is an easy and readable guide to help your family find financial peace. Author Devin D. Thorpe explains:
1) how you and your spouse can find agreement on money matters,
2) how to teach your kids about money,
3) how to pay for your children's college education,
4) how to live like a millionaire
5) how to come up with $25,000 in a crisis
6) how to make ends meet on one income
7) how to get out of debt and stay out of debt
8) why home ownership should be your family's top financial priority
9) how to ask your boss for a raise
10) how to use your finances to do more good in the world.
Follow Devin D. Thorpe
Do you have a question for Devin D. Thorpe? He set up a page to help you!
"Ask me anything page"
Head over and get advice from a Financial Adviser!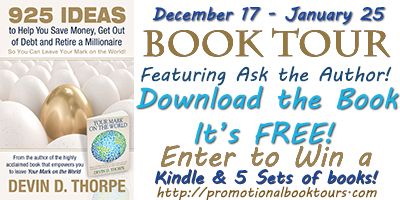 Follow the Tour and Enter a Giveaway
HERE
disclosure: I received a complimentary copy of this book in exchange for an honest review. All opinions shared are my own.
Thanks,
Amber