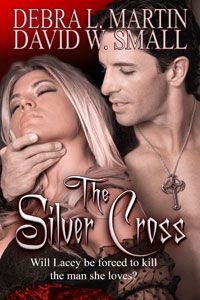 What I thought:
Lacy is a FRINGE detective. Fringe is a secret department with in the police department that works on ridding Boston of vampires. Their jobs are top secret. Lacy is good at her job, but is plagued by the past loss of her sister Rebecca.
When she Lacy meets the bartender of Phoenix Damon Harte she thinks she finally has that chance at love. Damon always wears a beautiful silver cross his grandmother gave him. The story behind the cross is an interesting one. Damon finds himself in the middle of a plot to take his power as the vampire boss of Boston.
Love, Loss and Mystery this book has a little bit of it all and is an enjoyable afternoon read!
About The Silver Cross:
There are two things Boston detective Lacey Gardner knows about killing vampires. Slicing off a head or a hit directly to the heart are the only surefire ways to kill one. Silver is their Achilles heel. A vampire never wears silver.
When she meets bartender extraordinaire, Damon Harte, her heart does a quickstep for the dark hunky guy. She's learned the hard way that having a love interest in her line of work can be heart-wrenching. She's kept to herself for years, but something about Damon captivates her and draws her to him. When she learns Damon's devastating secret, she knows what she has to do: kill the man who has stolen her heart.
Follow the Tour and Enter The Giveaway
Here
(
Tour Prize – $50 Amazon GC and 5 ebooks
Open Internationally Ends 11/26)
BUY:
I received a Free copy of the Silver Cross from Promotional Book Tours in exchange for an honest review.