Miss E (age 8) has been so excited about Hotel Transylvania. When Crowdtap sent me the information about a party we were excited to be on board and plan a fun filled afternoon with Mavis and the Transylvania gang.
Here's the deal: Mavis Dracula's daughter, wants to party! She sent us all kinds of party planning ideas to make our party a fun success! Unfortunately, because of her Dads no human policy Mavis isn't allowed off Hotel Transylvania property, so she can't attend:( We had fun anyway, and here is some party info. for Mavis & all of you.
First each of our guest made a Monster party bag to be filled with loot to take home. To make monster bags I set out paper bags, bottle caps, google eyes, paint, glitter and glue. The kids then painted and decorated them as they wished. (purple seemed to be popular) Then we set the bags aside to dry and later be filled with goodies and went to play.
What was the loot? Well...
Each bag held:
candy
Hotel Transylvania coloring sheet
Hotel Transylvania monster mask
Hotel Transylvania activity sheet
Each party guest got to decorate a monster cupcake! Fun right! In preparation I baked a pan of cupcakes. Then we iced them green. The kids used marshmallows for eyeballs and gel icing for the monster mouths. A mini marshmallow for the monster tooth. I think they turned out pretty cute!
Other candy decoration ideas: Good and Plenty, fruit slices, Mike and Ike's, Pull and Peel Licorice , Yogurt covered raisins, Gummy Life Savors, Candy Corn, Jelly Beans , Sour Punch Straws, Mini M&Ms, mini chocolate chips, candied confetti, sprinkles and food coloring markers. Aren't the food markers the coolest? We think so!
Our Party entertainment ~ Well we sang and danced to monster songs of course. Did you know there are hand moments to the One eyed Purple People Eater song? I had no idea until Miss E showed us. Unfortunately, I was busy learning to monster dance and did not snap a photo.
Then the kids enjoyed the many printable activity sheets and coloring sheets we received in our party kit.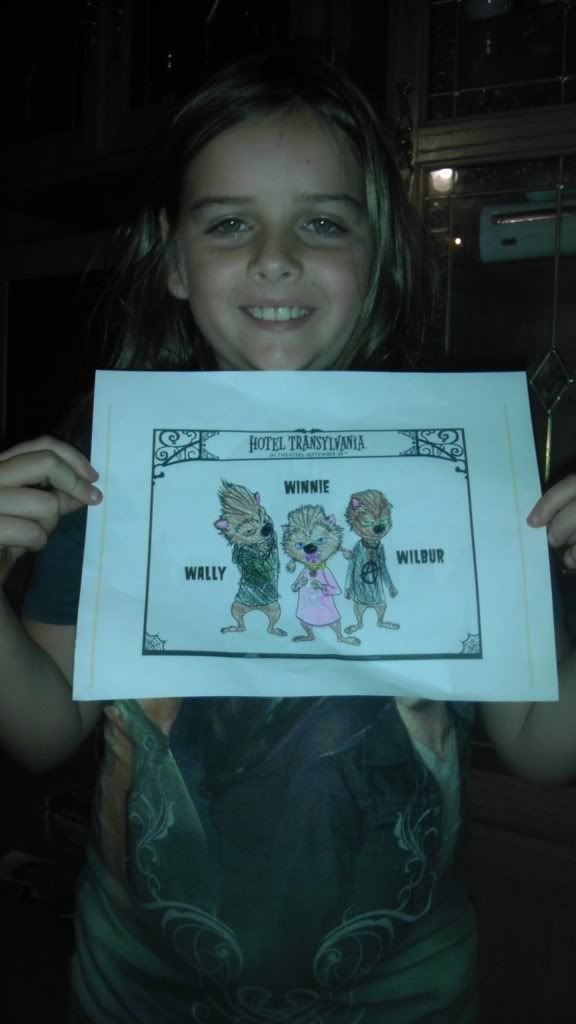 about the movie:
Everyone is super excited about Hotel Transylvania on the Big Screen! An animated family movie brought to you by Sony Pictures. Packed full of supernatural fun! Hotel Transylvania is Dracula's lavish 5 star resort. A place where monsters and their families can live it up free to be monsters. They are without humans. Dracula has invited some of the worlds most famous monsters - Frankenstein and his bride, the Mummy, the Invisible Man, a family of Werewolves and more to celebrate his daughter Mavis's 118th Birthday. for Dracula catering to all of these legendary monsters is no problem , but then an ordinary guy stumbles in and takes a shine to Mavis.
Cast includes: Adam Sandler (voice of Dracula) Selena Gomez as Mavis, Kevin James as Frankenstein , Cee-Lo Green as the Mummy, Andy Samberg as the hotels human intruder and many more!
Hotel Transylvania hit theaters September 28, 2012.
Have you seen Hotel Transylvania yet? What did you think? Leave me a comment below.
disclosure: I received a FREE Monsters Transylvania party kit and @Crowdtap points for sharing a party with guests and you! Thanks CrowdTap.