I tried a
new household cleaner
from Soft Scrub this week. If you've read my post before you probably realize that cleaning is not one of my favorite things. So, when I use a cleaner I want it to do the job correctly, have a clean smell, and not prolong my efforts.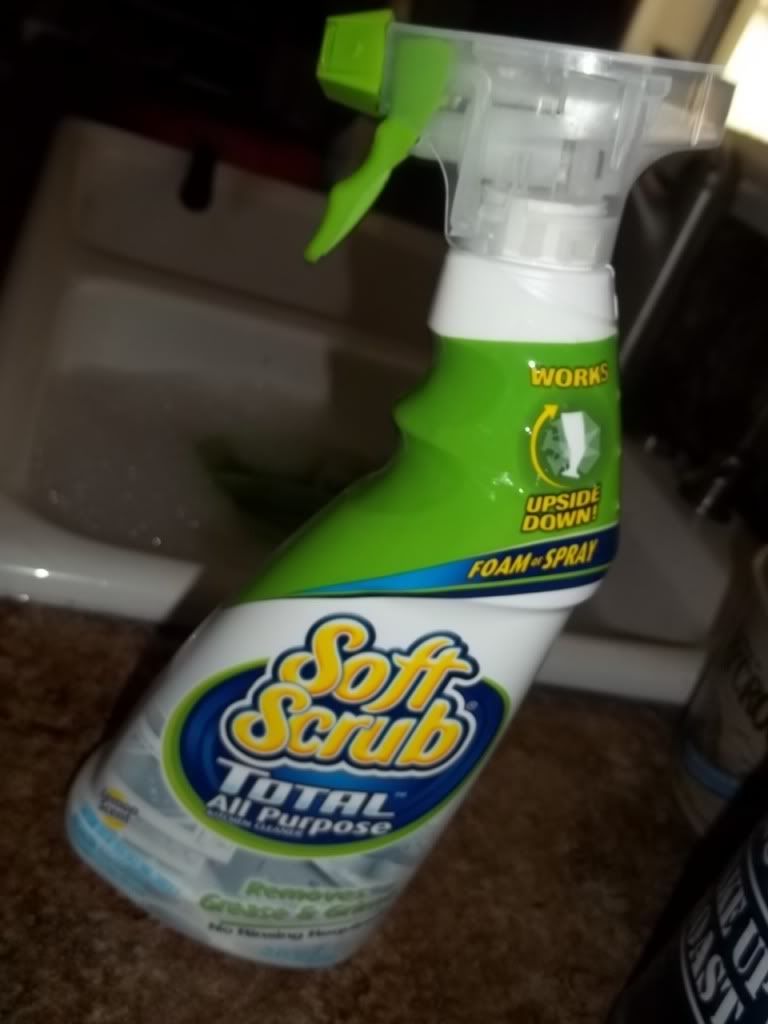 The Soft Scrub Total All Purpose cleaner did not disappoint. The foaming spray goes on easily and quickly with the new patented trigger. The trigger will even spray upside down so it really is quite handy.
First, thing I noticed was the fresh clean scent.
I love it!
The foam goes on thick and white it reminds me of shaving cream except in a spray bottle. The Soft Scrub Total All Purpose is powerful enough to clean and degrease your entire kitchen.
This Mama has three kids, three kids who are messy. I don't know about you other moms , but I am constantly finding things stuck where they do not belong. The knife from spreading the peanut butter setting on the counter versus in the sink. A gummy snack stuck to the face of the dishwasher versus in the trash. Something spilt, if I'm lucky they'll wipe it up with a paper towel and not leave a puddle for me later. Sticky, grimy, greasy I am always wiping up spills and splatters , sticky hand prints and more. Soft Scrub did a great job actually cleaning my kitchen and left it smelling good too!
I also tried the Soft Scrub Total Bath and Bowl Cleaner. This product has the same trigger I described above. It leaves your entire bathroom fresh and clean. I have two boys three if you count my husband. Our youngest is three and hasn't been potty trained all that long. Now Mamas what is it with boys and aiming? Just today I had my bathroom hosed down. I know gross. My three year old runs to the bathroom door in a HURRY! He had waited almost to late to do his business. He yanks his pants down and before he hits the commode just begins to pee. I yell "aim that thing in the potty," he gets tickled and well you can imagine.
BOYS
I tell you! If you don't have one just imagine what you are missing. Lucky for me I have an entire bottle of Soft Scrub Bath and Bowl I could spray over the side of the tub, shower curtain, floor etc. So glad because the entire bathroom needed wiped down and freshened up after all that business.
Visit the Touch & Gentle Sweepstakes
Soft Scrub is holding a sweepstakes with $3,000 in prizes. One lucky winner wins $1000 and 50 other winners will win $40 each!
WIN~ 3 winners will receive a coupon for any 1 FREE Soft Scrub Total , Soft Scrub Bleach Clean or Soft Scrub abrasive product.
Just fill out the easy rafflecopter entry form below. (Good Luck Everyone!)
a Rafflecopter giveaway has closed. Please visit our winners page.
Product Review/Giveaway disclosure:
I received one or more of the products mentioned above from Soft Scrub as a Purex Insider to
test/review in exchange for my opinion and for the purpose of writing this post. I only recommend products or services I use personally and I believe will be "family friendly." I am disclosing this in accordance with the Federal Trade Commissions 16 CFR, Part 255 "Guides Concerning the Use of Endorsements and Testimonials in Advertising."