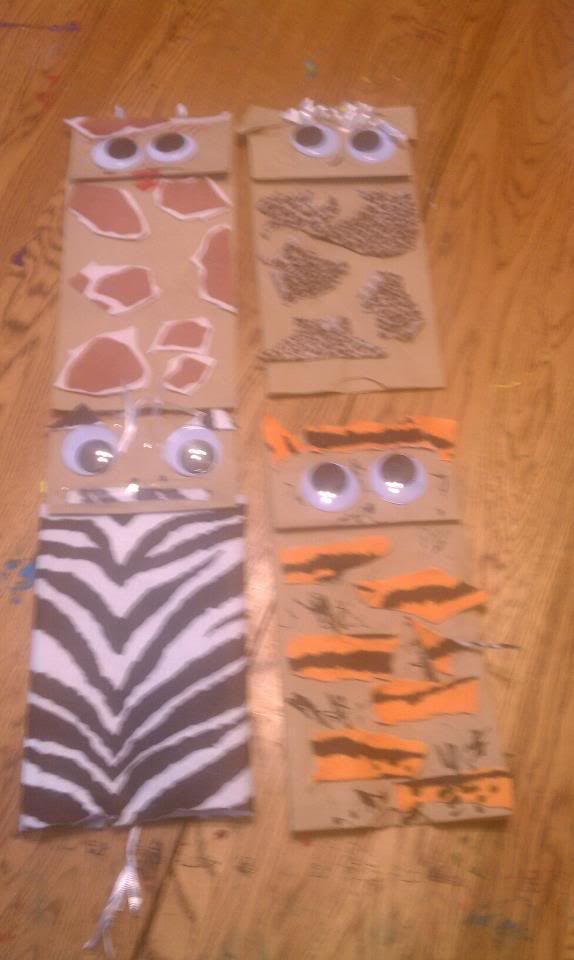 Are you looking for a creative and fun way to spend the afternoon? We made animal themed puppets. These 4 critters were really easy to create from paper bags and felt. No pattern required just some creative kids and their Moms.
YOU NEED:
paper bags
felt (I picked up all of the cute felt shown above at Hobby Lobby)
google eyes (we used the x-large one)
glue
scissors
curly ribbon
Not to bad. I already had everything in the craft cabinet so it worked out great for us to throw these together .
STEPS for Zebra:
wrap one piece of zebra felt around bag and glue down
Add eyes
Draw on mouth
Add ears with curly ribbon
Add tail with curly ribbon
Steps for Tiger, Giraffe, and Cheetah:
cut circles or lines from felt and glue on bag in whatever pattern desired
add eyes (glue on)
add ears
draw on faces with marker
After you design and put together your puppets it's time to play. Put them on your hands and have a show. Or extend the activity and create a puppet theater. Whatever you decide enjoy your afternoon!
Have you made a puppet or put on a show? Share a link or head on over to our facebook page and share a photo we'd love to see them!
Tweet
Have you learned through play this week? Join us at the Learn Through Play Linky!