This is a Sponsored post written by me on behalf of NECTRESSE™Sweetener for SocialSpark. All opinions are 100% mine.
NECTRESSE™Sweetener arrived at my house and I couldn't wait to try it.  I opened a
and dabbed my finger in it.  I was honestly very surprised it was not bad at all.  Nectresse Natural No Calorie sweetener is 150 times sweeter than sugar and can be used in cooking and baking to add natural, zero calorie per serving sweetness into your favorite beverages and a delicious variety of foods.  This could be great for me who loves sweets and needs to cut calories.  Plus a little goes a long way.  
Nectresse is the only 100% natural sweetener made from fruit - monk fruit extract available  where you shop.  Natural immediately grabbed my attention here.  I had actually never heard of monk fruit until now.  Monk fruit is a small green melon that has grown on lush vines in mountain regions of Asia for hundreds of  years.  Nectresse sounded like a product I could feel good about giving to my family, but I had to put it to the test.  First, I tried it on my own cereal.  I like to sweeten it a bit .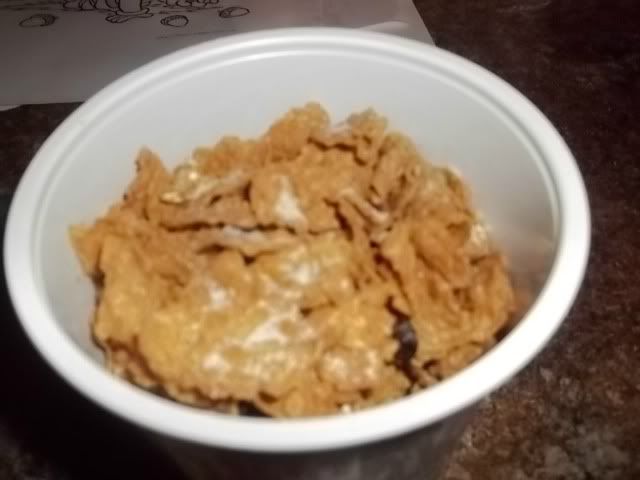 I added my Nectresse and then milk and gave it a taste.  Ii is a little bit sweeter than sugar but it is good. Not noticably and If I had not been looking for it I doubt I'd have told the difference. 
Now to test it on the family.  I made apple cinnamon pancakes a recipe sent to me with my Nectresse.  I was delighted that this recipe is very easy to whip up and one the entire family could enjoy.   I substituted Nectresse for sugar .  The family loved it and so did I.  No one even noticed a difference.  

RECIPE:
You will need: 
2 cups all purpose flour
1 tablespoon of baking powder
1 teaspoon baking soda
6 NECTRESSE Natural No Calorie Sweeter Packets
1 teaspoon of cinnamon
1/2 teaspoon salt
2 large eggs
1 teaspoon vanilla
1 1/2 cups of 1% milk (I used whole and it was fine)
1/4 cup melted butter
1 cup chopped apple
Directions:  
Blend in all dry ingredients  flour through salt in a large mixing bowl . Then set aside.
Whisk together eggs, vanilla, milk and butter.  Add to dry ingredients and gently mix.  Some lumps are okay. Fold in your apples.  
Spray a large skillet with cooking spray and put on Medium heat. 
Pour 1/3 cup  of batter per pancake into pan or on griddle. Cook until bubbles appear then flip and cook until golden brown.  
Serve them Hot and Enjoy.  Calories per serving (2 pancakes) 290
Watch this video clip from Lisa Ling.  She gives a testimonial about her experience with Nectresse.  
 After you watch it feel free to share it with friends and family , so they too can learn the benefits. 
Now that you've seen my tasty pancakes and heard all about my experience with Nectresse how would you like to try it for FREE?  Visit  Nectresse and sign up for a FREE sample of NECTRESSE™Sweetener.  This way you can try it for yourself!