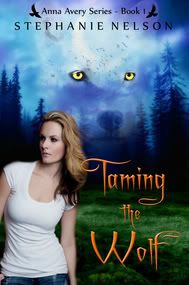 What I Thought:
I literally could not stop reading. This is
HOT!
Taming The Wolf is not the same old same old that you read where werewolf meets vampire. Really vampires are only mentioned in passing. Instead this is all about the wolf. The predator, the sexual instinct, the hunger this one has it.
The characters are interesting, and you feel like you are right there in the pack as you read. There are so many surprises and twist. At one part I found myself thinking out loud "what the heck" only to be surprised again a few chapters later.
Way to go Stephanie Nelson!
I am usually more of a vampire girl, but these wolves got me! Murder, sex, love and hate this book has a little bit of everything to get your blood boiling.
I highly recommend Taming The Wolf book 1 in this series. I can't wait to get the next Anna Avery romance! You won't want to put this one down!
This book is not intended for readers under 18.
Purchase from Amazon and Barnes & Noble
About Taming The Wolf :
Attacked by a wolf while hiking in the mountains, Anna Avery's life just got a little hairier. Living in the Big Horn mountains in Wyoming, with a group of werewolves who are more animal than human, Anna must try to hold onto her human side.
It's not easy when the alpha continues to persuade her into his bed, while another wolf is chomping at the bit to become her mate. To top it all off, dead bodies are showing up and it just so happens that Anna was the last to see them alive. She'll have to work to prove her innocence and taming the wolf who bites first and asks questions never..
Follow the Stephanie Nelson Blog Tour and Contest
Here.
disclosure: I received a Free copy of Taming The Wolf in exchange for an honest review. All opinions are 100% my own!