By: Jessica Gibson
What I Thought:
Mark of The Witch is a fun and light read. The main character Jilly is a fun loving witch who has always excepted her magic and as the book progresses so does Jilly's magic. Her twin sister Caroline has not always accepted magic and has a lot to learn from her sister Jilly on the subject.
Seeing the two rekindle a lost sisterly relationship is inspiring and through magic makes it even better. Gibson did a nice job of bringing family troubles together with magic to create an enjoyable story. The plot has several turns as Jilly and Caroline gear up to face forces that are out to destroy them. I enjoy reading paranormal but not every book is one to share. Jessica Gibson does a good job of bringing something a little bit different to the table.
About Mark of The Witch:

Magic flows through Jillian Proctor's veins as surely as blood, but so far her life outside Boston has been peaceful. William Morgan blows into Jilly's life like a hurricane, unleashing her magic and sending her out of control. Unknowingly, William brings an enemy who only wants to posses the power of the witch. Jilly must learn to harness her magic before she loses it – and everything in her life is destroyed.
Follow the Tour & Enter to Win 5 signed paperback copies of Mark of The Witch & 2 Necklaces Here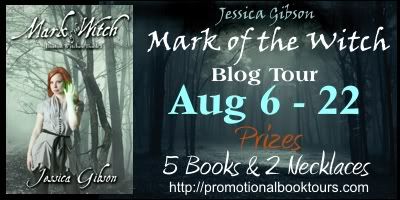 disclosure: I received a free copy of Mark of The Witch in exchange for an honest review. All opinions shared are 100% my own.