We've had rain rain and some more rain here lately. One thing about a lot of rain. Creepy crawlies begin looking for dry places. Including ants. I needed a quick and easy way to
get rid of ants
. Lucky for me I had Combat Source Kill Max Gel and Baits to review.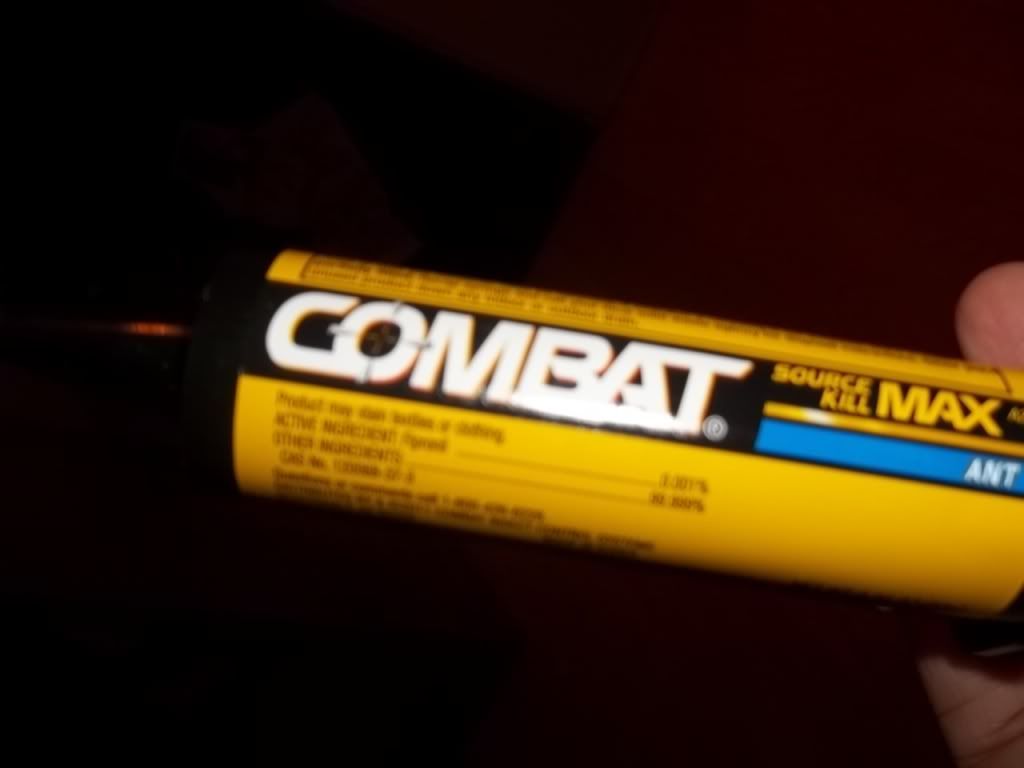 Combat Ant Gel worked so well I am seriously impressed. My kitchen cabinet was swarming in ants . No idea where they came from , just one minute they were not there and the next there were tons of them everywhere. I squeezed some of the gel in the cabinet where I saw them. I had a snack of cereal and by the time I finished my bowl and came back no more ants. Seriously! I was thrilled!!
Combat Source Kill Max Ant gel is formulated to effectively control ants. This product contains Fipronil, a fast-acting active ingredient. Its speed is still sow enough however, for foraging ants to return to the colony and feed the bait to larvae and Queens so that the colony is killed through the Domino effect.
First Specially formulated ant gel
Preferred food form for ants
Fast Killing Formula
Works within hours and up to one month
Kills ants and their colony
Place the gel neat ant trails, next to ant nests or in areas of suspect and let it work.
We've had several areas with reoccurring ants. I like that you can use the Combat Source Kill Ant Baits for long term continuous control. They are tiny square units that you put out where you need them and leave them. We have a few problem areas, one of which is my car. I used the Combat Source Kill Max Ant Baits both under the seats of my car and in my cabinet area after using the gel. I'm happy to say my car has been ant free for over a week. Thank You Combat!
This product contains an effective insecticide which kills most ants commonly found in homes. This product is effective because ants carry bait back to where they live (the colony) to destroy the entire colony. It even kills ants outside (adjacent to your home) to prevent more ants from coming inside.
Kills ants without messy residue and without insecticide odors
Quick Kill Formula
Destroys the queen and the entire colony
Child Resistant
Provides long lasting ant killing power
Ants enter the bait station and eat the bait.
Ants take the bait back to the nest.
Ants pass the bat on to the queen and destroy the colony.
I really like the no mess factor of these products compared to that of a spray. I also like the fact that they are odorless. Sometimes, the smells or fumes from sprays really irritates me.
I give Combat Ant Gel and Baits a thumbs up. They took care of my ant problem and I'm so glad they did!
One Lucky Winner will
WIN
a box of Combat ant gel in the mail. Just fill out the easy rafflecopter entry form below.
a Rafflecopter giveaway (
This contest has closed please visit our winners page
)
COMBAT BUG-Free Backyard Bash Sweepstakes
Combat is also holding a $1000 Sweepstakes. They want to give one lucky winner $1000 to hold their very own Bug Free Backyard Bash. The winner will also receive an assortment of Combat products to keep their bash bug free. All you have to do to enter the Combat Bug-Free Backyard Bash is visit this link
: http://insiders.purex.com/

combat

-bfbb?id=21384, watch a video about a minute and a half long, and then fill out the form.
disclosure: Combat provided a free sample of their ant bait and gels so I could review them. However all of the opinions expressed here are my own.