Ilisha Morrison should have died the day she boarded the bullet train to Colorado. As her train collided with another, a handsome stranger saved her life, but put her in more danger than she ever imagined possible. Caught in a warring world of angels, demons, and a vengeful Death Maker who wants to destroy her, Ilisha discovers her true identity and that not everything is as it seems. Betrayal, heartache and two angels competing for her love forces Ilisha to make the hardest decision of her life.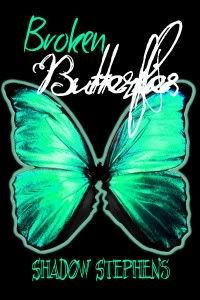 What I Thought:
I recently read Broken Butterflies by Shadow Stephens. I was not quite sure about this as I began. I love the symbolism of the butterflies. The romantic twist were not something I had figured out right away. My heart is always up for a good romance. Brahm and Damon both pose to be interesting characters.
Illisha beat fate , that day she survived on the train. She is very strangely connected to the man who saved her and is left with so many questions. She trust him almost instantly. Is this man the one she is meant to love? Good question because Shadow does a great job of putting all kinds of twist in when it comes to the romance department for this young woman. From the train to regular life Illisha finds herself in a tangled mess. A war between angels, a death maker out to get her life and a love triangle. Ilesha has lost so much does she have the strength to see this story through? You'll have to read it to find out.
Several twist, a good plot, Broken Butterflies is an enjoyable paranormal read.
disclosure: I received a Free copy of Broken Butterflies in exchange for an honest review.
Follow the tour: