Are you ready or getting ready for back to school? If you are like me the growing list of supplies is getting to be a bit overwhelming. For some it is just not doable .
Gutzy Gear
and
Madame Deals Media
realized that some have hard times and wanted to give back. They recruited a group of bloggers to stuff back packs and gave them a budget of $25 to do so. (thank you Gutzy Gear and Madame Deals)
With $25 in hand I was ready to begin my #PayItFoward Mission. We are from a very small town and the school I chose to help is the very school oh so many years ago I attended. I contacted the Principal and was given a first grade boy who needed some help with supplies, a list and was told I could drop off the backpack anytime during the school day at the main office.
First item of
NEED
a backpack. I purchased 2 backpacks at Kohl's one to give and one for my son. They were super cute Toy Story backpacks regularly $25 on sell for $12.50 , plus they came with a lunchbox. $12.50 was a big chunk of my budget , but I was more than happy to add to it if need be . Let the shopping continue.
Not only did Gutzy Gear provide us with the money to stuff a backpack. I was sent Gutzy Gear backpack straps and Gutzies to add to the stash.
What is Gutzy Gear?
Gutzy Gear is a great new way for kids to express themselves, and create a more individual style back pack. Velcro straps attach to your backpack straps and then Gutzies ( a lot like patches) attach to the straps. Kids can collect , trade and do all sorts of fun things with their Gutzies. I am sure this first grader is going to love them.
Kohl's:
1 backpack $12.50
Now on to
Walmart :
12 pencils + cool car erasers $1.50
colored pencils $.97
1 pencil box $1
2 - pink erasers .20 (.10 each)
5 notebooks $1 (.17 each)
Hand Sanitizer $1.98
24 crayons .50
2-glue sticks .50
Markers .97
wide ruled paper .82
Fiscars scissors 1.96
Dollar General -
Kleenex $1.00
Pocket Folders >.50 each X3 = $1.50
Total $26.40 + Tax $1.84 = $28.24 Over by $3.24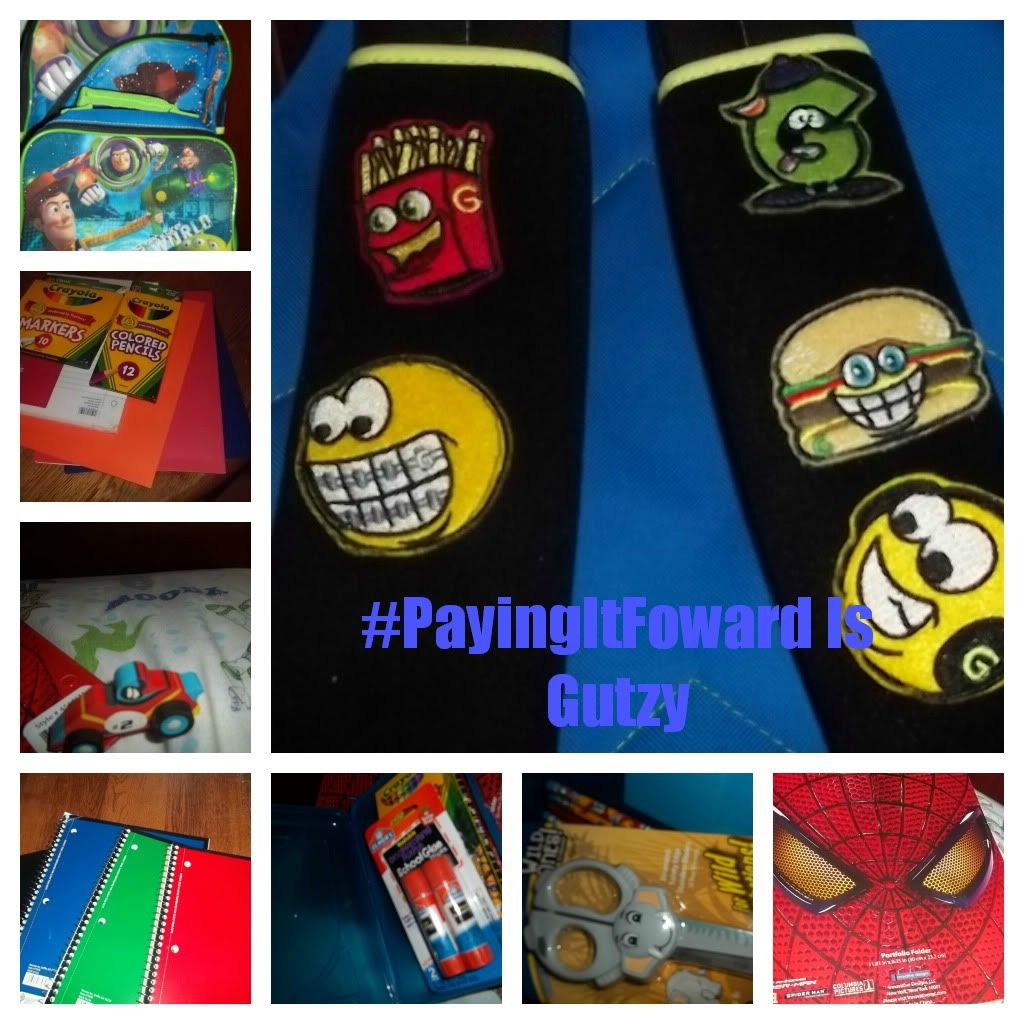 I think this first grader got some cute stuff and has all he needs to start off school on the right foot.
disclosure: Living At The Whitehead 's Zoo was not compensated for this post.
Living At The Whitehead's s Zoo did receive $25 in which to stuff a backpack and facilitate and honest report.