1340-A State Road A1A South
St. Augustine, Florida 32080
Anastasia State Park is a great family travel destination. You not only have the beach to enjoy, but there is camping , kayaking, picnicking, hiking and more. Anastasia State Park has a fully functional campground. We have enjoyed the campground several times as a family over the years and give it a Whitehead 5 rating (that is the equivalant to a thumbs up or high 5)!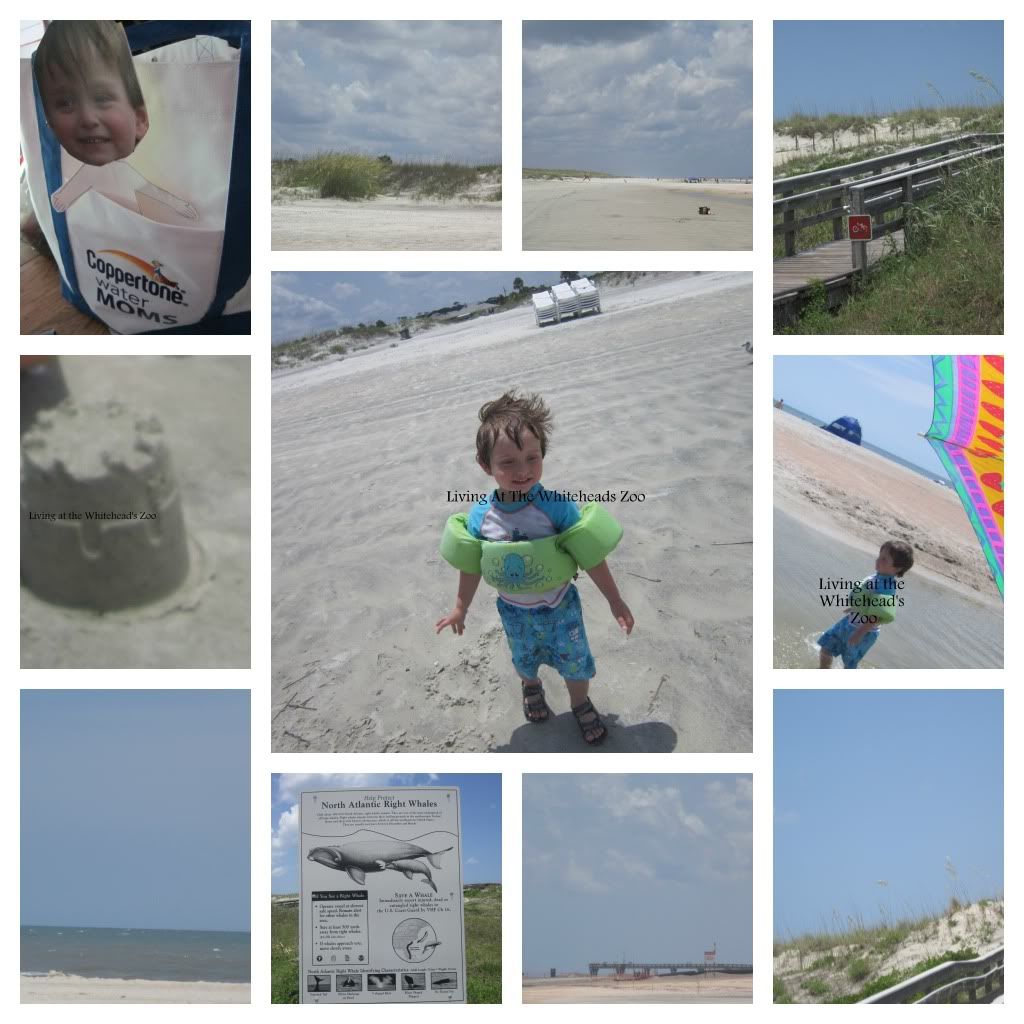 (check out our Flat Stanley peeking out of our Coppertone Water Moms Beach Bag. Flat Stanley had a great time too!)
One of the things I personally like about this beach is that you can not drive on it.
With a little one that makes me feel a lot safer! Also, no pets allowed on this beach!
Some of the things the Whitehead's enjoy at the beach are:
collecting sea shells

Walking down the Beach

playing with our Boogie Boards (we stay every year so we have our own and don't have to purchase any)

building sand castles

having a picnic

sun bathing
All of those things are FREE family fun!
If you are looking for something different and (NOT Free)
Anastasia Watersports rents canoes, sailboards, paddleboats and kayaks. Lessons on various water sports are available. Call (904) 460-9111 for more information.
Anastasia State Park's fee is $8 per vehicle for 2-8 people.
There is one playground for beach goers and 2 more accessible to campers. FYI there is not a lot to the playground area and it is in the HOT sun. The Day Use Area does have restrooms and a nice picnic area. Two of the picnic areas are under pavillions.
Outdoor showers are available by the beach for rinsing off sand and saltwater.
There is also an Island Beach Shop and Grill if you do not want to bring a picnic.
Something I am interested in exploring more this summer is geocaching.
There are more than 10 geocaches and an Earth Cache hidden at Anastasia State Park. Please check the
Geocaching
website for the most current and up-to-date information. Geocaching sounds like it would bring a new element of fun to our Tuesdays Travels and I'm excited to discover more about it.
Visit the State Parks website for information on camping pricing and park activities.
Anastasia State Park is near many other attractions (such as the Alligator Farm, Light House, and Castillo de San Marcos National Monument).
We had a great Tuesday at the beach.

What is your favorite thing about the beach?

Mine is the sound of the waves and the joy it brings the kids. They may be at each others throats but bring them to the beach and peace is found!