Sometimes simple play can lead to the best play. Some days you have to just throw together what you have and some days that is all you need to create hours of fun play!
Anything with water involved is usually considered a winner by C. This is a water play bin that I gave him to play with. Really as you can see there is nothing to it. A plastic bin, a couple of squirt fish I picked up from the dollar bin at Target, a plastic cup, 2 strawberry containers (I always save those) some measuring cups, a spoon and a scrub brush (which I thought would be a hit and was not). Oh and don't forget the water. That is it. I just basically through a whole bunch of junk in a plastic box added water and guess what happened next?
He played and played and happily played and explored, scooped and poured until it was time to put it away. Easy Win for Mom!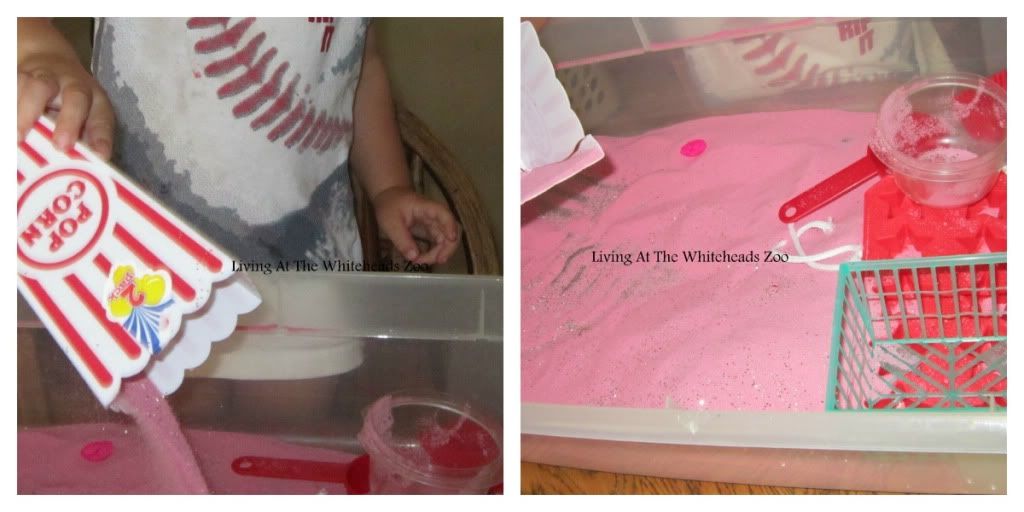 Pardon the dirty shirt, but hey we're playing! This is another thrown together bin that C LOVED! You'd think he had never played with sand. Maybe, the fun was that the sand was in the house? I really don't know what the draw is. My husband thinks I am nuts bringing sand inside, but we have wooden floors .
Which makes clean up pretty easy.
This little bin literally kept him busy busy. He played and played. When we left and returned he went right back to it. You could not draw him away he was really happy with his sand bin. He cried when I put it away. I actually put the lid on it to bring out another day he loved it so.
It just has the remnants of a bag of colored play sand. The container also had some glitter in it left behind from another activity so the sand has some sparkle. All kinds of scoops and containers and he was happy! Another WIN for Mom.
What easy play ideas do you have for those inside kind of days?