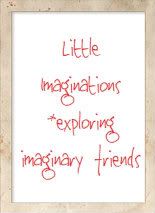 Does your child have an imaginary friend? Did you? I find children and those little imaginations so fascinating. The scenarios they come up with. The detail each friend have, and the fact that not one seems to be the same
E has an imaginary named Charli. Charli has been around for quite some time. Charli arrived when E's family was going through a tragedy and then Charli stayed. Not only is their Charli, but Charli has an entire family. Charli comes and goes for E, but she is quite serious when talking about her. She has a special place to sleep and you may not even know Charli is around but you bet your bottom dollar E does. So, don't make the mistake of leaving her behind or you'll be going back to pick her up. Or maybe get lucky and Charli's older brother will give her a ride and save you the trip. See what I mean imagination!
I asked about imaginary friends in several places here is what I learned:
some children have multiple imaginaries
some use their imaginaries to get out of trouble ( the imaginary friend did it)
some have only one and that friend goes everywhere
some imaginaries only come out here and there while some are ever present
some imaginaries have pets or special stuffed animals
some imaginaries are not people but animals (example an imaginary crocodile)
some imaginaries take on the persona of a real friend or person
some children say my imaginary is pretend while some very much believe they are real
some imaginaries are around for years while some are very short lived
One thing is for certain imaginary friends for children are quite common. It allows them to step out of reality and create their own . A child may invent an imaginary friend as a way of dealing with something ( a new sibling, a stressful time, parents separating or just to explore new skills such as language, and role playing skills). Some children just have creative imaginations and create themselves a friend !
Imaginary friends seem to be quite common in ages 2-7 years old. While some parents find the creation of an imaginary friend scary it is a natural process.
Enjoy this phase of your child's growth. Something new will be right around the corner.
Of course If you really have concerns about your child always discuss them with your Pediatrician.
Does your child have an imaginary friend or family? Tell me about them Leave a comment!