About the Book:
Only a fool would think they could steal from a werewolf …
Anticipating a quiet night alone with the man she loves, Darcy's world is sent into a spin with the arrival of someone from the past—Mason's. She is further shocked by the intruder's claim she may not even be the true mate of the Mystic Wolves Alpha. Accusations start to fly, leading to her new enemy being granted asylum, and this is just the beginning of trouble.
Relying on the reassurances of Mason and the support of her friends and Pack, Darcy soon falls under attack. Suspicions are raised, and with no other choice, she must flee with Devlin to safety where hopefully they can untangle the lies hidden behind the use of magic. Time is quickly ticking away, leading to a showdown where everything is on the line.
They need to uncover the truth before it's too late, or once again, Darcy will need to fight to hold onto her dreams.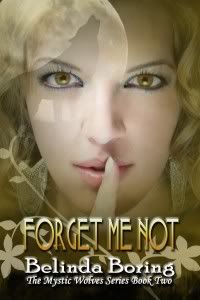 What I thought:
I really enjoyed both Mystic Wolves and Forget Me Not. The only thing I'm unhappy with is that book 3 is not out yet. Forget Me not leaves you with one heck of a cliffhanger.
Darcy is due to mate Alpha male Mason in just three weeks when there is a knock at the door. Former girlfriend Amber has arrived and is there to cause trouble. She wants Mason back! Things begin to happen to Darcy and you wonder if she'll survive to be mated to Mason.
The love story between Darcy and Mason is an intense one . You find yourself being wrapped up in their bond cheering for them to WIN against the conniving wolf Amber. This couple have survived so much already. They are still grieving pack sister Jasmine and getting an attack from a nasty vampire Avery. Now this new obstacle arrives.
Plus boy can Belinda Boring describe a kiss like no other. Her kisses are not just a peck they are smoldering! Loved it! Romance, passion, and a twist sounds like a winner to me.
Werewolves, witches , vampires if you love the supernatural this book has a little bit of everyone. I seriously can't wait for Book 3!
Thank You Belinda Boring !!
Book one in the trilogy Mystic Wolves is available for
FREE
on Amazon:
Find out more about author Belinda Boring here:
Blog
/
Facebook
/
Twitter
You can also enter to WIN a $50 Amazon or Barnes and Noble Gift Card and a set of autographed books
here
.
Disclosure: I received a free copy of this book for review. These are 100% my own honest opinions.