Bahama Bay Resort and Spa
400 Gran Bahama Boulevard, Davenport, Florida 33897
Our family recently stayed a few days at the Bahama Bay Resort and Spa . We had a three bedroom villa and I was really surprised at the size. A full sized kitchen, dining room, living room, three bedrooms, 2 bathrooms , and two balconies . Our room was $100 a night but with resort fees, taxes etc. we ended up paying $150 a night. The size was great for our family we were vacationing with my Mom and Dad. They got a bedroom, we got a bedroom, two kids shared a bedroom and the sofa was a pull out. For all of us to stay together and feel like we had plenty of room to get around we felt like it was great deal.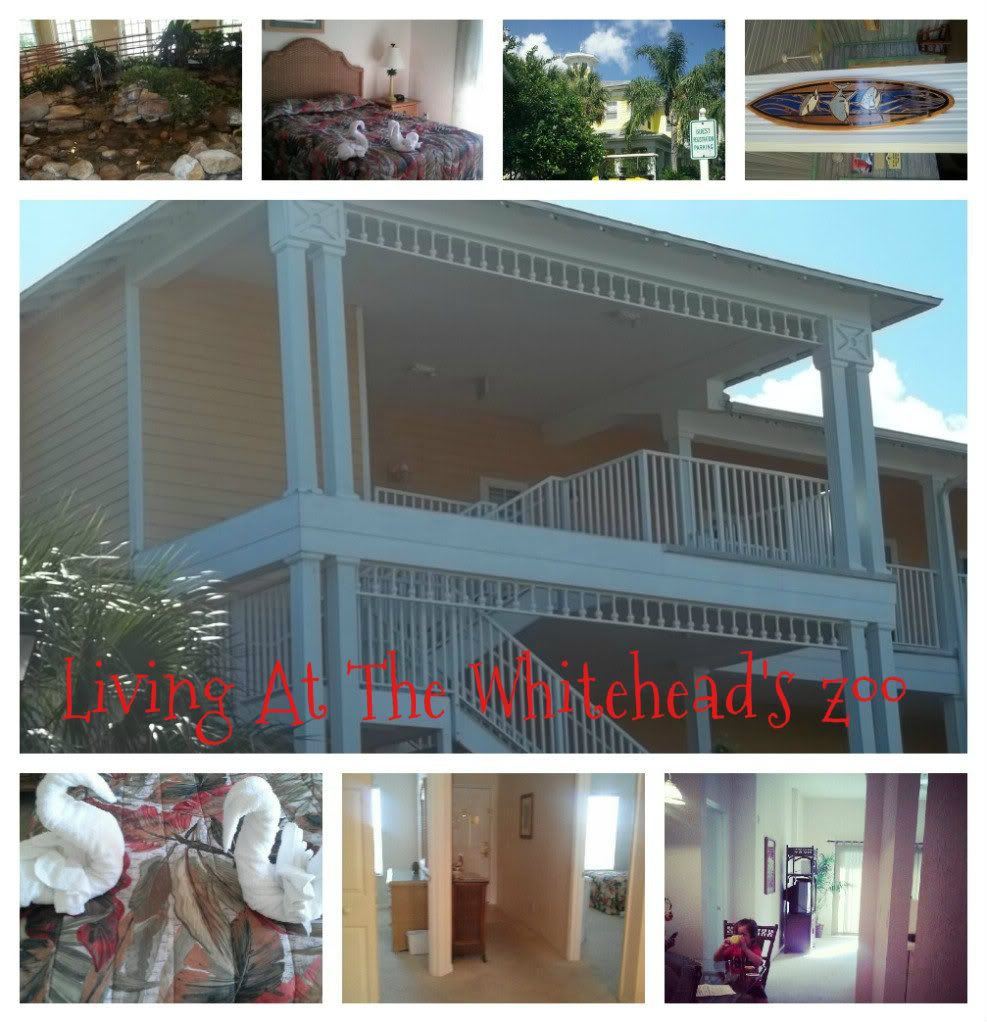 My #1 complaint as well as the rest of the families would be the beds. They were hard as rocks . Other than that I felt like it was a very family friendly place. Lots of amenities that we really were able to enjoy.
Four heated swimming pools and in ground spas

Children's pool and play area

Trade winds restaurant and bar

Spa and Salon

Marketplace gift shop and grocery (convenient)

Beach, fishing, dock, and nature trails

Room Service

Mambo's poolside bar and grille

Game room

Library
Visit the Bahama Bay Photo gallery it really is as lovely as the photos. Here is also a link to the resort map .
I didn't get photos of the lake but it was lovely. Several families were fishing off of the dock when I went down. I was quite impressed that there was no mosquito problem here. They are about to tote us away at home. That was really nice so we could enjoy the outdoors. We did spend part of a rainy afternoon playing in the small but fun game room and at the pool bar pool table. My boys love to play some pool.
The kids enjoyed the 2 free movie rentals each night. I call it hotel box it's like a Red box but you used your hotel card to get your movies out.
Our favorite part of the resort was the kiddie pool area. That is where we primarily stayed when here.
We pretty much had the kiddie play area to ourselves for hours. Nice! There is plenty of seating and shaded areas here. A really cute Tiki hut you can see it in the photos. Behind the Tiki hut is the playground not sure where my photo of the playground ended up? You can see the yellow steps to the slide in the center photo or check out the photo gallery. It's hot out we wanted to enjoy the water. We enjoyed the pool snack bar while here it was not outrageously priced which I was happy about .
Here would be my only other complaint aside from the beds being hard. The kiddie pool closes fairly early . Yes, I am aware that small children should be in bed, but it is vacation. Do people really adhere to bedtimes on vacation? WE Don't, so I would have liked the kiddie pool to have been open at least until 9 or 10pm. It closed at 8pm. The bigger pools were open later which was fine but they were a bit crowded .
Our villa also had a washer and dryer which I'm always happy to have on vacation. I just threw our wet bathing suits in the dryer after each time to the pool so we could pack them up or have them again for later. There were plenty of towels in the room for the pool and shower . Rooms also had pack n plays and highchairs in them. Very nice if you are traveling with baby and don't have to bring one from home.
There you have it. Would I stay here again? Definitely would we had a great time with the family!
disclosure: We were not compensated to stay here or share Bahama Bay with you. I shared it because we had a nice visit and I wanted too. Opinions are my own.
We're on Pinterest! Check out our Traveling Fun Pinterest Boards: