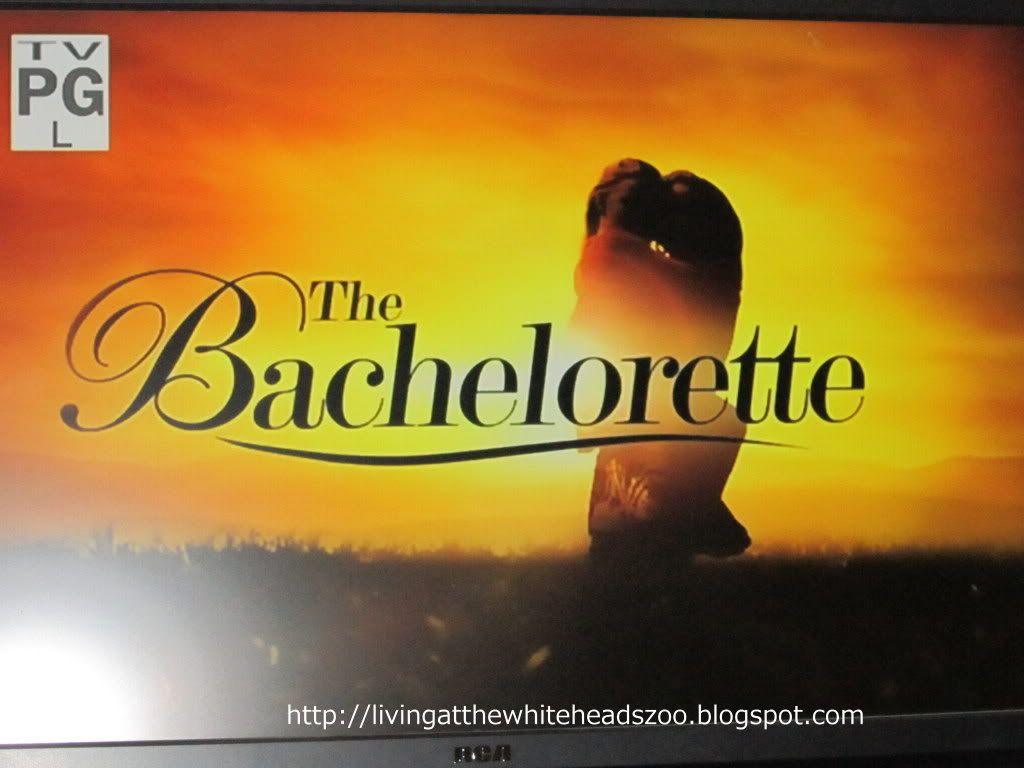 The show begins with a trip down memory lane with Emily and Chris Harrison.
Highlight season moments:
The Doug and Emily break up when he moves in for a kiss ouch
The Kalon drama (Go Emily)
Ryan "I'd still love you but not on you"
Emily spilled a drink on her dress "Joe is gone but the dress remained"
Shelly the Egg ..lmbo they sang the egg Twinkle twinkle little star
Chris dancing again OUCH sweet and endearing "IF you say so Emily"
Get ready after the final rose Emily is going to do the running man. We shall see.
Then a little preview of Bachelor Pad begins Monday 7/23.
Now for the Guys Tell All.
Sean you can tell he is a favorite with the ladies. I'd watch if that cutie pie was the next Bachelor.
Chris Harrison says "25 Guys one hot blonde and you get drama with a little bit of crazy #TheBachelorette "
Let's let the guys watch a recap of themselves first.
Chris ~ admits he is immature and over the top (said that right) .Doug and Chris are going to back at it AGAIN come on now. Chris tells Ryan what's he thinks , Ryan tells him you were offended by a lot of things (said that right Ryan). Aww how sweet Kalon took Ryan's side. *hehe.
Chris points out that Kalon arrived and put a target on his own back and yet Kalon is like umm I didn't see it that way. Really? Charlie says , " I really wanted to smack you in the face" ha! Tony tells him he does not like him. Kalon says he is great friends with Chris and Tony. Tony is looking at the ground like I'm not owning that one. Kalon is in the HOT SEAT. Kalon says," it would have said less about his character had he backed out because she had a child". Hmph I don't think anyone would have faulted him do you? He says his humor is wasted on a lot of people. Um think so. This guy I tell you the men dislike him, the women can't stand him and he'll be on Bachelor Pad .
Sean "if you truly want to win a woman's heart you love the woman and embrace every part of her." OH Yes I knew I liked that man for a reason.
Ryan's Turn ~ He says everything right until he doesn't. Ryan and his blue shoes he really was shocked when she sent him packing. "Blessed with so many worldly gifts yet many think you are that arrogant a**" Chris Harrison. Ryan says he is just a confident fun loving guy. Chris and Ryan oh my. Ryan says he was not looking for Emily he was looking for his wife. Interesting comment Ryan. Chris Harrison speaks for ABC and says "Ryan will not be the next Bachelor." He says he wouldn't change anything.
Chris's turn ...he was 100% completely surprised she sent him home. He says he loved her 110% and he is overly emotional sometimes. Chris Harrison ask "does he anger quickly." Good Question Chris H. Guess he rebounds to find love on the Bachelor pad on Monday.
Sean's turn ~ He really did seem perfect to me. A recap of the sad good bye. He says , "It is truly the first time a woman broke his heart." He has such a positive attitude about everything. If I was his Mama I'd be proud . (I'm sure his family is.)
Emily arrives on set. Emily tells Sean, "she sat in her room and did the ugly cry. Everything she felt was true." He thanks her for breaking his heart ..what a guy! Chris's turn and he's all nice and polite and thanks her too. Doug's turn lol break up talk , and kiss in one conversation. Emily says she wishes she'd have given Doug the group date rose. Thank God for Doug she is not engaged to Kalon. Kalon's turn...this conversation was so funny. She tells him he should be a politician. She nails him for something he said on twitter and he says that he is flattered she follows him. " I hope you find faith in something bigger than your prada shoes and rented helicopter! "
Again Ryan's turn , she says he is a sweet talker. They have nice banter he is a sweet talker!
Bloopers...we all laugh and enjoy some booties too.
AND THEY Leave you hanging for the Grand Finale (thanks Chris Harrison).
Here's a sneak peek anyway :
I am so ready! Don't forget this week the show is on Sunday night!