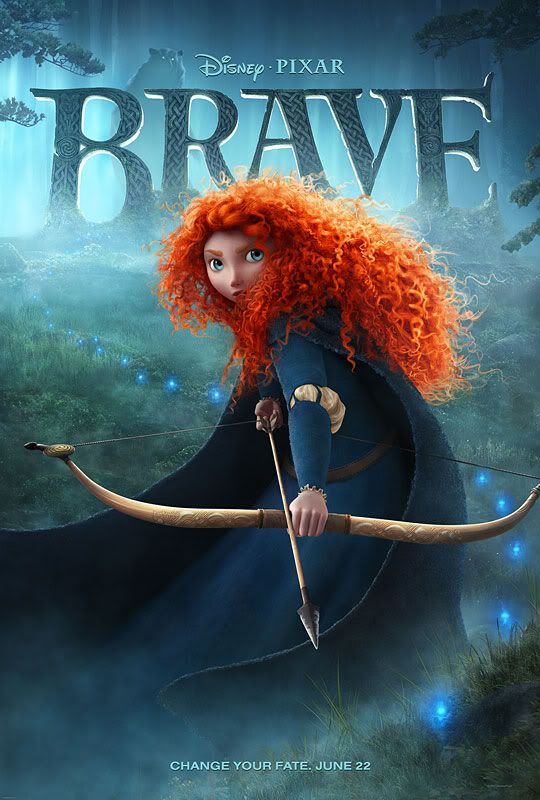 I was recently able to attend an advance screening of Disney Pixar Brave. We were all so excited to see this film I worried it might disappoint. That was not the case at all. I believe Disney Pixar has created a winner that both young and old will love. The entire theater stood up and clapped at the end, everyone was chatting and giving this one a thumbs up .
Brave takes place in the mysterious Highlands of Scotland . From the beautiful scenery, the great Scottish music, and the fun accented voices comes together a perfect family film.
The main character, Merida is a red headed fiery princess . A bit of a tom boy for a princess which in my eyes makes her even more lovable. This strong willed princess had me gripping my seat and cheering her on as she challenges destiny and attempts to change her fate. Kelly McDonald does a great job with Merida's voice. Merida rides horses, shoots arrows, finds magic, learns legends and more.
The movie is rated PG and some children might find it a little scary. Miss E is 8 and she did hide her face a couple of times. When we asked her what she thought she replied "It's good but violent!" She's a hoot that one. Mr.K (13) gives it a thumbs up. He says, "he expected it to be lame but it was pretty good". That is good in 13 year old boy terms! C. (3) has not had the privilege yet but I will definitely be adding this one to our DVD collection when the time comes. Jamie and I both give it great reviews and really enjoyed the show.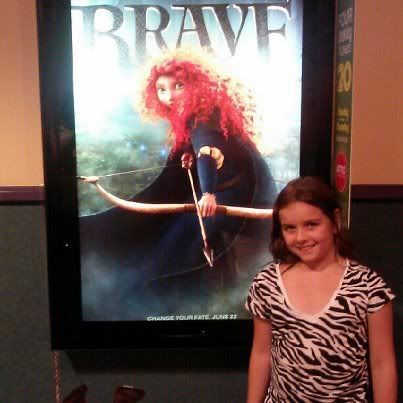 Here is Miss E at the theater excited to see Brave.
Watch these clips. I was very impressed that with all of the clips and previews I had watched nothing was really given away. I enjoyed the movie from one scene to the next and found it full of fun surprises and scenes.
Disney Pixar's Brave hits theaters June 22nd.
(in Disney digital 3 D in select theaters)
These little red heads are sure to be family favorites. Brave is a lovely story about a young woman finding her way and facing the consequences of her actions. Great little lessons to share with your children. Brave is a grand adventure full of heart, memorable characters and Pixar humor.
Connect with Brave on Facebook
Now I am ready to visit Scotland. The landscapes are breath taking. The people fascinating and I love the language.
disclosure: I attended this film for Free in order to do a review. All opinions shared are 100% my own.