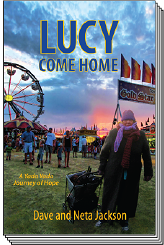 About the book:
Lucy Come Home
| Dave and Neta Jackson
Fifteen-year-old Cindy worked long days beside her migrant worker family in Michigan's sugar beet fields in the early 1940s -- the "war years" -- until she met a dashing young man from a traveling carnival, bringing some joy and fun into her hard-scrabble life. But a tragic twist of fate -- and a dead field boss-- sent the two young people on the run, leaving behind family and everything she'd ever known.
Lucy Tucker, the crotchety old bag lady from the popular Yada Yada House of Hope series, is a veteran of Chicago streets and not about to give up her independence, even as she approaches her 80th birthday.
Until, that is, a young displaced woman with her gentle aging mother and a dog named Dandy seem to need her -- unsettling the secretive Lucy, who doesn't let anyone get too close. But just when it seems her past is catching up with her to bring her in out of the cold... Lucy disappears again. How these two tales intersect and intertwine between past and present gradually shines light into the dark corners of Lucy's murky past. But... why won't Lucy come home?
What I Thought:
Lucy Come Home started out so slow for me I didn't think I was going to be able to get into it at all. It goes chapter to chapter with Lucy as an 80 old woman telling her story /living her life and Lucy as a teenager / young woman telling her story . I think I would have preferred to read Lucy's story straight not going back and forth on the two different Lucy's.
It took me a while to get into it but once Lucy meets Bo and the love story begins to unfold I was hooked. What can I say, I'm a sucker for a love story. Bo defends Lucy's honor and the two find themselves leaving family and everything they know and going on the run. Jumping trains, sneaking across the border, and working hard these two struggle to make ends meat and survive on their own. Bo ends up being drafted and leaves before he marries Lucy. She is devastated and barely continues on when she receives word that he has died. From here the book really begins to twist and turn(and I won't tell you it would totally be a spoiler.)
The 80 year old Lucy is in a homeless shelter. She has a family of sorts there and a dog named Dandy . Her story of love, and lost family breaks your heart. Lucy is all alone after running away from her family and never seeing them again. Its sad to think of her homeless, in the streets and no one left. A few surprises are in store for old Lucy as well.
I will say a sweet story makes me give Come Home Lucy a thumbs up! Twist and turns from old Lucy to young you'll find yourself cheering this funny spirited gal on.
About Dave and Neta:
Dave and Neta Jackson are award-winning authors living in the Chicago area where their parallel novels from the Yada Yada House of Hope and Harry Bentley series are set.

As a husband/wife writing team, Dave and Neta Jackson are enthusiastic about books, kids, walking with God, gospel music, and each other! Together they are the authors or coauthors of over 100 books.
Follow the Book Tour
here
disclosure: I received a free copy of this book from Litfuse. Any opinions shared are 100% my own.