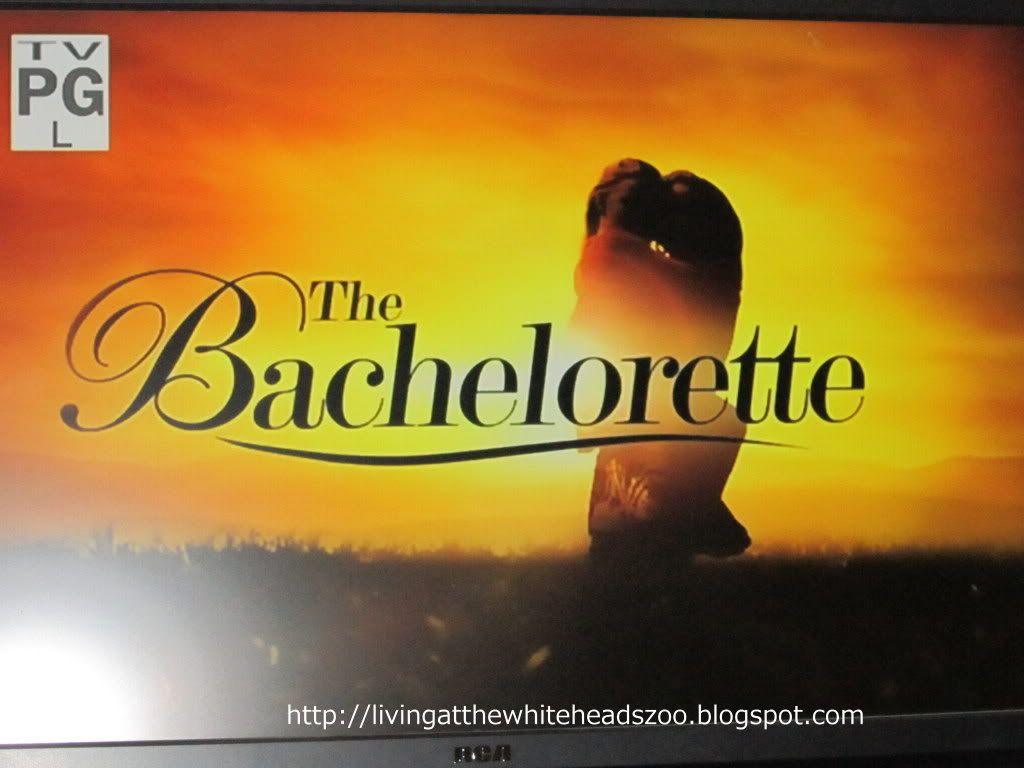 10 Guys meet Emily in London This week but only one will be her husband. Or that is how the story is suppose to go according to Chris Harrison. 2 one on ones this week and one group date. The 10 guys head to get settled in at the May Fair Hotel. One thing fun about watching this show is you get to travel around the world with them.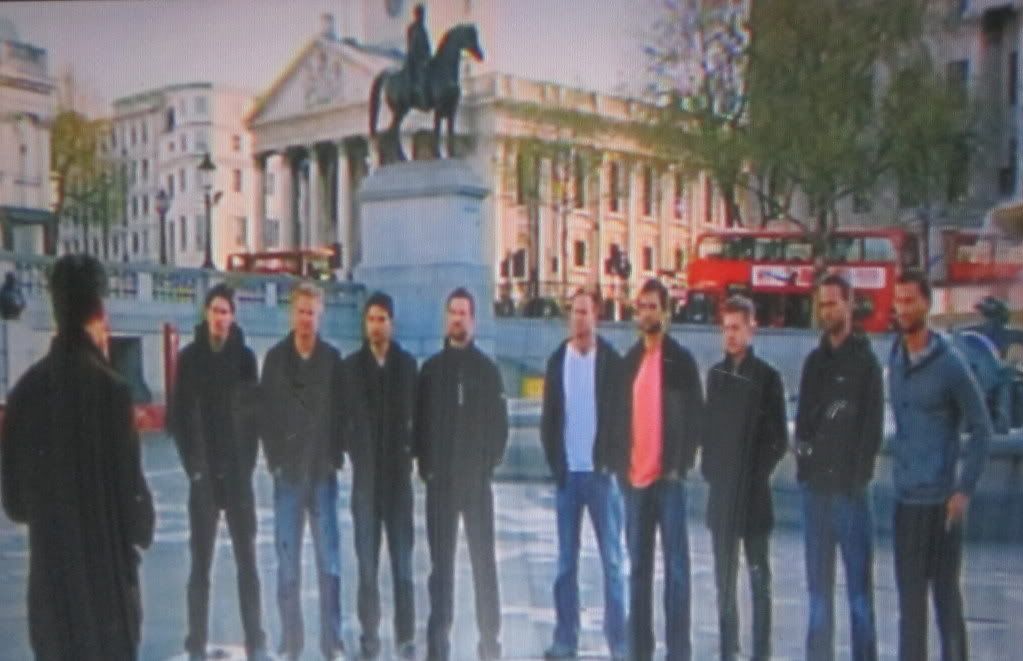 Date Card 1
Sean love takes no prisoners!
Sean is excited and the guys in the house are jealous. I think these two are so cute together. They start out touring London on a double Decker bus. They stop and take some pictures and are just enjoying the beautiful day. Sean says he is falling for her, do you think the feelings are mutual?
Kalon's back at the house being grumpy. He tells them you have to realize if you are with her every day is like a group date because she has Ricki. :(
sad face
for Kalon and he was raised by a single Mom. What is this guys problem. It gets worse keep reading...
Back to Sean and Emily they are talking about good guys / girls being hard to come by. He is such a gentlemen he offers to carry her bag as they walk along. They stumble into Speakers Corner. Sean does a great job talking about "
great love
"! Emily is grinning from ear to ear as this guy stands up there talking. From here they go to the London Tower and have a beautiful table set up for dinner. Emily says Sean is the whole package. Emily tells Sean she wants a lot of kids. Sean says he can't wait but he hadn't put a number on it 2 is good, Emily says 3 or 4. Sean says or 6 or 10 whatever its all good. This girl wants babies!
Sean gets a rose!
Was their any doubt?
Group date card arrives
~
A rose by any other name would smell as sweet
Chris, Arie, Ryan, Doug, Alejandro, John, Travis and Kalon
Boy Kalon is so aggravated. He says it smells like BS to him. This guy just doesn't have a clue does he?
The guys act out Romeo and Juliet. Ryan manages to snag 2 kisses during the play. Emily is about to lose her voice but she keeps up a positive attitude. Most of the guys really try. I thought Travis was so funny during this. Arie got the part of nurse. He wasn't overly excited about it but he ended up trying really hard . Emily comes to talk to Ryan and Kalon. Kalon shoos Emily aways and tells her she needs to go so he can practice. Ha.
After all of the practice the guys get to perform in front of course a live audience. Doug and John are hilarious. Doug gives John a sword fight. Travis was so funny. Here comes Arie who is so stressed out . He is cracking them up in his dress and girly voice. Emily is so happy she said it made her way more attracted to him. Then it is Ryan's scene and he kisses Emily, and then he goes in and kisses Emily again. Emily tells him he is a good kisser. All of the guys were frowning at this point. They go change clothes and head to the pub for a beer.
Arie and Emily get some smooching time together. He seems like he is really into her.
Next , it is Ryan's turn. Ryan gives Emily a necklace and it is turquoise her favorite color. Smooth move Ryan!
Kalon says he gets a chance to talk to an exhausted sick mother who had a child out of wedlock. Wow, Really why is this guy here? He refers to Ricki as baggage. Chris tells Arie this and Ari's is mad. Then he tells Doug and Doug says NO way. Doug is going to tell Emily. Doug out and out asks Kalon outright did he refer to Ricki baggage and Kalon says " yep I said that."
Uh oh here starts the drama
.
Emily says she is trying to handle it in the most lady like way but she wants to rip his limbs off and beat him with them.
Come on Mama Bear!
She says lets just confront the situation.
Mama bear is West Virgina hood rat mad that boy better look out.
Emily throws the line he used on her earlier this season back at him." I love to hear you talk but not while I am talking." She tells him how sad she is for him, and says do you have anything to say for yourself? He says no and she tells him to get the F...out. Kalon is going home. He says he thinks he is a stand up guy (haha)
Doug goes to Emily but she tells him she wants to be by herself for a while. She questions herself, she questions the guys. She feels like they should have her back and was disappointed in them. She tells them no rose tonight and goes back to spend some time with her daughter. She says her dream guy would be willing to fight for her and her daughter. Now she wonders
is Mr. Right around?
Jef got the last one on one. Jef and Emily have a traditional afternoon tea. Jef's face when she says this made me laugh. They begin with etiquette lessons. Jef says the date just turned into a 2 on 1 with Gene (etiquette teacher) and Emily. They both look like they are having an awful time here. Its kind of comical. Gene leaves to get something and they sneak out.
They go to a little pub and Jef orders 2 pints and some fish and chips. Time for some of the hard stuff. Jef tells her if Ricki is baggage then she is vintage Louis Vuitton baggage. Go Jef. He scored some points with that one. Emily says Jef is very hard to read. They leave and head out walking . London is so pretty all lit up at night . They go for dessert at the London Eye. Jef asks Emily where will she be a year from now. Hopefully not single anymore she tells him. He tells her he would never lie to her. They actually seem to have really good conversation. Jef tells her he wants to find his best friend . Jef asks if he can kiss her , and then they finally do kiss.
Jef gets a rose!
~ Time for the rose ceremony & cocktail party
*First, up Travis and Emily she asks him , "what would he do if someone said something about his girl?"
*John and Emily ~ pretty much the same.
*Arie and Emily talk and she tells Arie she felt like he did not have her back. He says he feels like she had it handled. She tells him that she just wants to know whom ever she is with does have her back. Arie said " that went horribly", he left feeling bad.
*Ryan and Emily ...Ryan does another Shakespear scene for her and just really plays Mr. Charming. Emily says they turned a corner. Some kissing , but she says she is going to keep an eye on him. We'll see.
*Sean and Emily ~ Sean tells her he'd always be 100% with her. There are good guys here. She tells him she missed him and she feels like he makes her feel taken care of. Emily says its less butterfllies in her stomach and more like utterflies in her heart when shes with him awww.
*Chris Harrison says hey its time! 6 roses to hand out and one of you is going home.
This weeks Roses go to:
Doug, Ryan, Chris, John, Travis, and Arie.
Alejandro goes home.
Now there are 8! Tune in to ABC Monday 6/18 at 8pm Est.