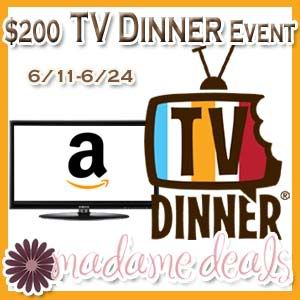 Are you looking to Win that $200 TV? How about some Money?
A late Father's Day present maybe, or maybe you'd just like to
reward yourself?
Madame Deals Events is bringing you another amazing Giveaway.
You could win a 26″ 720p LCD HDTV?? Not only that
today you could win a $15 Amazon gift card too!
1) Enter the TV Dinner Event Below
2) Leave a comment in the comment box powered by blog frog…
Voila now you are entered to win $15 and a HGTV valued at $200 (you get an amazon card so buy the TV or something else)
3) Show up for the TV Dinner Game Tonight on your ipad.. If you do not have an ipad borrow one… go to apple… a TV is worth it! There have been a ton of people sign up to win the TV but Few have some to the events so bad for them and good for you right… so far less than 30 people…
TV Dinner is the ultimate 2nd screen experience to share with friends and other TV Fans. You can download the
iPad app
and tune in and chat with other fans while watching your favorite shows!
America's Got Talent:
Monday, June 19, from 9-10pm ET
So You Think You Can Dance
Wednesday, June 20, from 8-10pm ET
In order to Win the grand prize you must attend one of the four TV Dinner events.
.