I recently received the Deluxe Darth Vader Child Costume for review from a costume website. The costume I received was a size small 4/6. C is only 3 , so it was still a little bit large. It is very stretchable and adaptable though. I think it will fit fine for the size intended and probably fit C much better by Halloween.
The Deluxe Costume comes with a mask, jumpsuit, 3 D utility belt, EVA Collar , Boot Tops, & a 3 D chest piece. The costume is polyester and hand washable . All of the different pieces are great for pretend play time.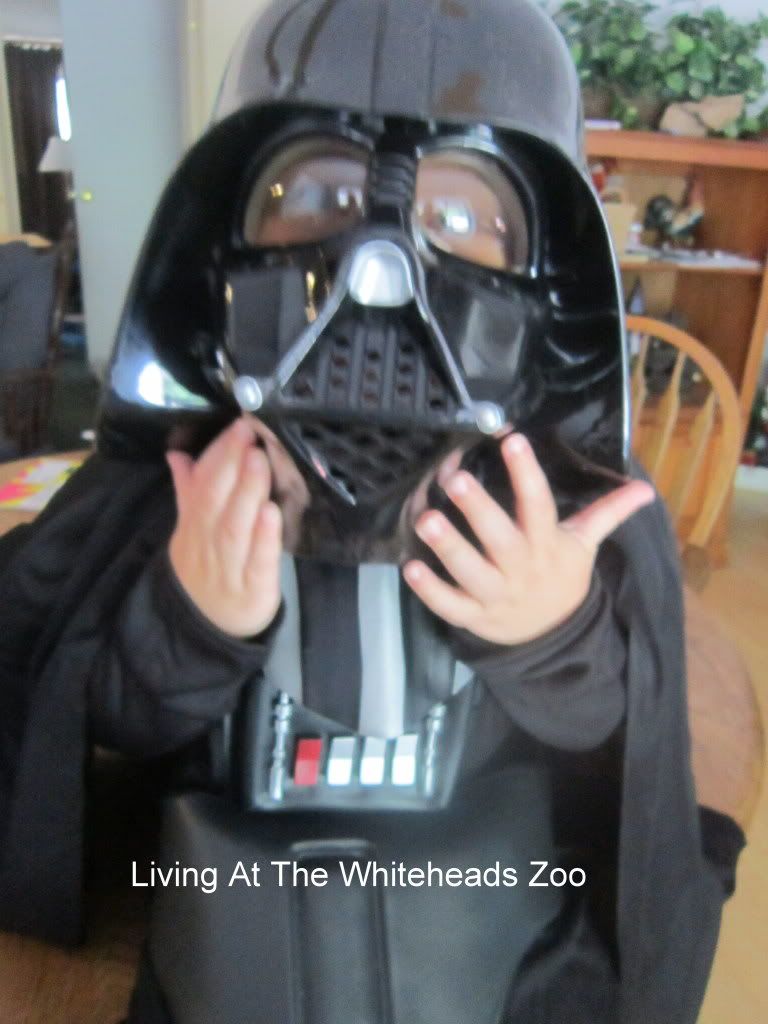 Our favorite part of the costume is the mask. It is nice heavy duty plastic which means it holds up to being tossed around , banged on and stepped on. It has Velcro strap in the back . Which makes putting it on and off very easy. It also looks quite the part. My little boy has played with the mask more than any part of the costume , as we've all had to wear it and play Star Wars. He has his growl down pat.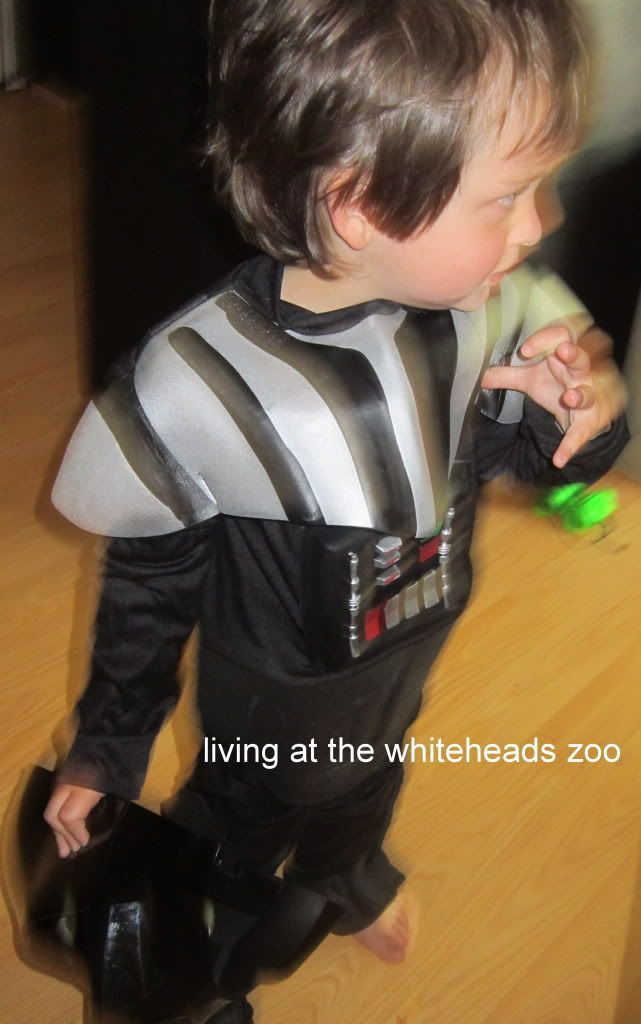 I also really like the 3 D chest plate. Personally I think that really makes the costume stand out and pop. The cape was not a favorite of my guy yet, but I have a feeling as he falls in love with superheros it will gain favor. Again I love the easy Velcro attachment to put it on and take it off.
The stretchy material gives us plenty of room to grow. As you can see it was a bit long, and I was able to just push up the pants without any alteration. It will grow right along with him. That means plenty of bang for your buck. This Mom likes that!
Even with several pieces this costume still seems pretty comfortable. It is also not over thick and not under thin. It seems like it will work for several different weather conditions. Here in Florida that's an important trait since you never know cool or hot the weather will be come Halloween.
This costume is not a cheaply made costume. It looks like it will with stand some wear and tear.
I also really appreciated the authentic style of this costume . It really looks like Darth Vader. Which makes it a winner for Star Wars Fans. . Again this Mom likes that! I think I had a super cute little Darth Vader. What did you think?
All you need to make this costume complete is a pair of shoes and a light saber. Don't forget the candy bucket if you plan on trick or treating. Along with the many Star Wars Costumes you can find online, you can also find cool
Star Wars Collectibles.
Star Wars is an epic movie that has intrigued and inspired people of all ages. You might just surprise yourself how fun it is to pretend with these costumes.
~From WholeSale Star Wars website
We have a large selection of Star Wars costumes and accessories all in one place to make finding the Star Wars costume that you want quick and easy. The official Star Wars costumes might cost more than other cheap Star Wars costumes, but to die hard Star Wars fans it may be very important to have an authentic Star wars costume for a convention or fan function. Star Wars Stormtrooper costumes look awesome, but can definitely be expensive. There is a wide range of Star Wars costumes to meet the needs of all different shoppers. Signature Star Wars characters inclluding Chewbacca, Boba, Fett, Yoda, Obi Wan Kenobi, Han Solo, Darth Vader and Luke Skywalker are available to be purchased for any Star Wars occasion - even Star Wars themed weddings!
disclosure: I received one Free costume for review. All opinions shared are 100% my own.