Have some fun before heading to theaters on June 22nd
to see Brave in the kitchen. Here are two Scottish recipes that are also in the film. Below are some other fun tips to have fun with your child before the movie.
Since ancient times, stories of epic battles and mystical legends have been passed through the generations across the rugged and mysterious Highlands of Scotland. From Disney and Pixar, a new tale joins the lore when the courageous Merida(voice of Kelly Macdonald) confronts tradition and challenges destiny to change her fate.
"Brave" follows the heroic journey of Merida, a skilled archer and headstrong daughter of King Fergus (voice of Billy Connolly) and Queen Elinor (voice of Emma Thompson). Determined to carve her own path in life, Merida defies an age-old custom sacred to the unruly and uproarious lords of the land: massive Lord MacGuffin (voice of Kevin McKidd), surly Lord Macintosh (voice of Craig Ferguson) and cantankerous Lord Dingwall (voice of Robbie Coltrane). Merida's actions inadvertently unleash chaos and fury in the kingdom, and when she turns to an eccentric Witch (voice of Julie Walters) for help, she is granted an ill-fated wish. The ensuing peril forces Merida to harness all of her skills and resources – including her clever and mischievous triplet brothers – to undo a beastly curse before it's too late, discovering the meaning of true
bravery.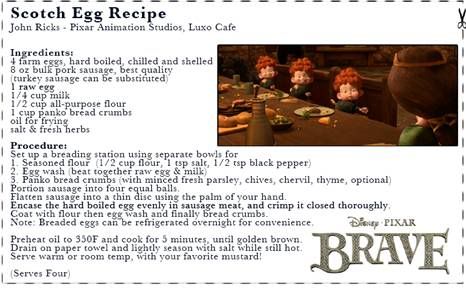 Here are some tips to have fun with your child and cook up some fun.
Let them add as many ingredients as possible

Give them their own mixing tools (whisk, spoon, spatula etc)

Make it a date

Let them share their creations (take some to a neighbor or grandma)

Invite a friend over for the meal

Let them help you set the table fancy and eat on "special" dishes.

Create a Scottish table setting together or some other "Brave" decoration