Our last train trip
Do you have a train lover at home? My three year old loves everything train, and my dear Dad is pretty fond of them also. We've enjoyed several mountain rides aboard trains when on vacation. My house is scattered with train sets and train tables, model trains, ride on trains, bubble blowing trains we have TRAINS. So, of course we're happy to tell you about a special day.
Saturday, May 12, marks the fifth annual National Train Day event across the United States. Created and sponsored by Amtrak, the day commemorates the 143rd anniversary of the nation's first transcontinental railroad.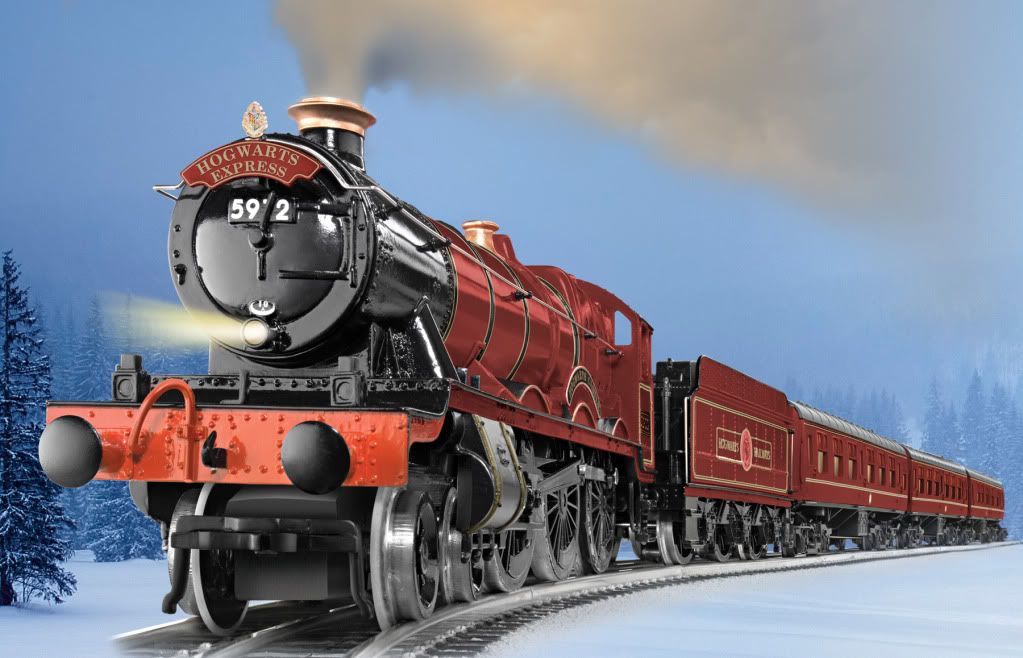 Harry Potter Hogwarts Express
Photo courtesy of Lionel L.L.C. All rights reserved
Train stations, museums, model train clubs and other venues across the country, from New York to Los Angeles, will host activities and exhibits that highlight the wonder of trains and rail travel. Amtrack is hosting events in
New York
,
Chicago
,
Philadelphia
and
Los Angeles.
Many of these events include
free
admission. These events will include all sorts of train displays, from equipment tours to live entertainment to model train layouts. Even Music and arts and crafts for the kids will be a part of the fun. Dora The Explorer will be a part of the celebration in Los Angeles, Chuggington in New York, and
CSI: New York Actor and Author, Hill Harper will be a part of the Chicago celebration.
Sounds like a fabulous day for your train lover and fun way to spend your day with the family. You can find out if there is an event near you
here
. Unfortunately, there are no events close enough for the Zoo Crew, maybe next year.
View the National Train Day Video
View the Lionel Train Introduction
For more than 100 years
Lionel
has inspired both young and old minds . Sparked imaginations and encouraged creative play. I love how these trains bring the older and younger generation together in play. It's a wonderful experience to watch your granddad, dad, and child share a hobby and love for something.
How can you share in the fun if there is not an event near you? Here are a few ideas you might like:
put together the model trains in the living room and have a train play day (this will be how we celebrate)

brainstorm how to bring Train Day to your hometown (I need to figure this one out)

help a scout troop earn their Railroad Merit Badge

Enjoy reading train stories together

host a train play date party
Whatever you do only two things are important to make a great Train Day Event. You need trains, and to share trains to have a great time!
Find more information about National Train Day here:
Thomas The Tank Engine
Photo courtesy of Lionel L.L.C. All rights reserved
Facebook Page
/
Twitter
/
Events
/
Website
Share your
train story
and you could Win some great prizes. Grand prize an all expense paid Amtrack vacations rail package for two!
Have you ever taken a train ride? Tell me about it leave a comment!
disclosure: I wrote this post because I wanted to ! I was not compensated in anyway to share this post with you. I think Trains and the railroad are a great part of our history and a great place for learning and family fun. These are 100% my own opinions.