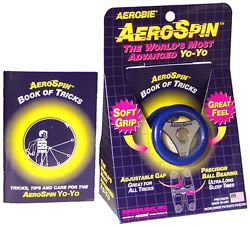 We're excited to share a fun new Yo-Yo from Aerobie. We had
a houseful playing tug of war over this Aerospin Yo-Yo!
The precision engineered Aerobie AeroSpin ball bearing yo-yo is ideal for all types of tricks and all players' skill levels. Its patented soft rim makes the AeroSpin yo-yo more fun to play and catch. The AeroSpin yo-yo's adjustable gap enables a player to set its responsiveness at the desired level and its high performance ball bearing powers through all types of tricks. Its weight distribution and venturi gap are great for difficult looping tricks, making it the perfect yo-yo for all around play. Each AeroSpin yo-yo comes with a 36 page book of tricks, tips, and care instructions. Ages 5 and up. Quality made in the U.S.A.
It says for ages 5 and up but I had a 3, 8 and 13 year old all fighting over it at home . I was surprised at how much fun they had with this simple toy. They really enjoyed thumbing threw the trick book and trying to out do each other with tricks and stunts. Their best trick was walking the dog !
Amazon & other retailers.
Aerobie Aerospin Yo-Yo (Color May Vary)
I plan on getting the Aerospin Yo-Yo back out often this summer and give the kids a trick to master. I love how it kept them smiling, busy and entertained. Notice little brother in the background. He could not wait for the big kids to put the yo-yo down so he could grab his chance! It kept him busy all afternoon one day . Although, it was much more difficult for him I love that he was trying to imitate what he saw the older kids doing and having fun !
I have been lucky enough to review several Aerobie fun products. Read more of my reviews here :
*have some fun with the
Spring flying ring
* check out the
Aerobie Sky Lighter
(so cool!)
*
Mega Top Spinning Top
As you can see the Whiteheads have bin fans of Aerobie for a while now. We were not at all disappointed with this new product from them . We vote the Aerospin Yo-Yo to be a great little toy. Thanks Aerobie!
One of you will
WIN
an
AEROBIE Spinning Yo-Yo
. Just fill out the rafflecopter entry form below.
a Rafflecopter giveaway This giveaway has closed please visit the winners page.
disclosure: Aerobie provided us with a FREE product for review. All opinions are 100% honest and my own!