Starting Your Toddler In Sports
C is three and with the #3 it seems like there is so much to think about as a Mom.
Should I put him in a Pre-K class or can I enjoy just one more year with him here at home? Sports or No Sports?
I think sports are a wonderful part of a child's life . An important part that teaches them so many different skills and lessons along the way. Yet, when I think about him beginning this journey I kind of don't jump up and down for joy like some of you .
Why? What kind of Mom am I? I'm a mom who has already spent the last 10 years at the ball field. Yes, my K began t-ball at the #3. I remember being so excited I could hardly wait until that first game. Little did I know my life would forever be changed . It's not all bad. However, ball is a huge part of my sons/husbands and even my life. There are days that I love it and many that I hate it . It's time consuming, $ consuming, and energy consuming. As they grow and play the competition stiffens among the children and among the parents. It is just crazy the lengths some parents will go. We live in a small town and for some it is like sports is their child's ticket out of here. It can get crazy. It can be fierce and at times down right ugly. Somewhere along the way many have lost respect for the sport, the team, the coach, the athlete and all that matters is playtime, scouts and scores.
I'm the coaches wife and I'm telling you parents behave yourselves. Let your children grow and have fun through the sport and don't try to live your life through them. They have the right to make their own mistakes and explore all of the opportunities life has to offer them . Whether that is the dream you have for them or not.
Am I being selfish probably so. But a little part of me is saying just wait and when he asks to play let him. There is a lifetime of sports ahead. Then the other part the part that is super competitive as a Mom and doesn't want her child to not be doing what the others is doing is saying get your self down town and get that kid signed up. He needs to be the Best and he's going to be so darn AWESOME! HECK YEAH!
Here's a video of my guy playing ball from Jan. 2011. Just before he turned 2.
I'm also kind of excited and thinking about something new with him . Soccer, I think he would love it. Although, soccer is the one sport my older boys don't love.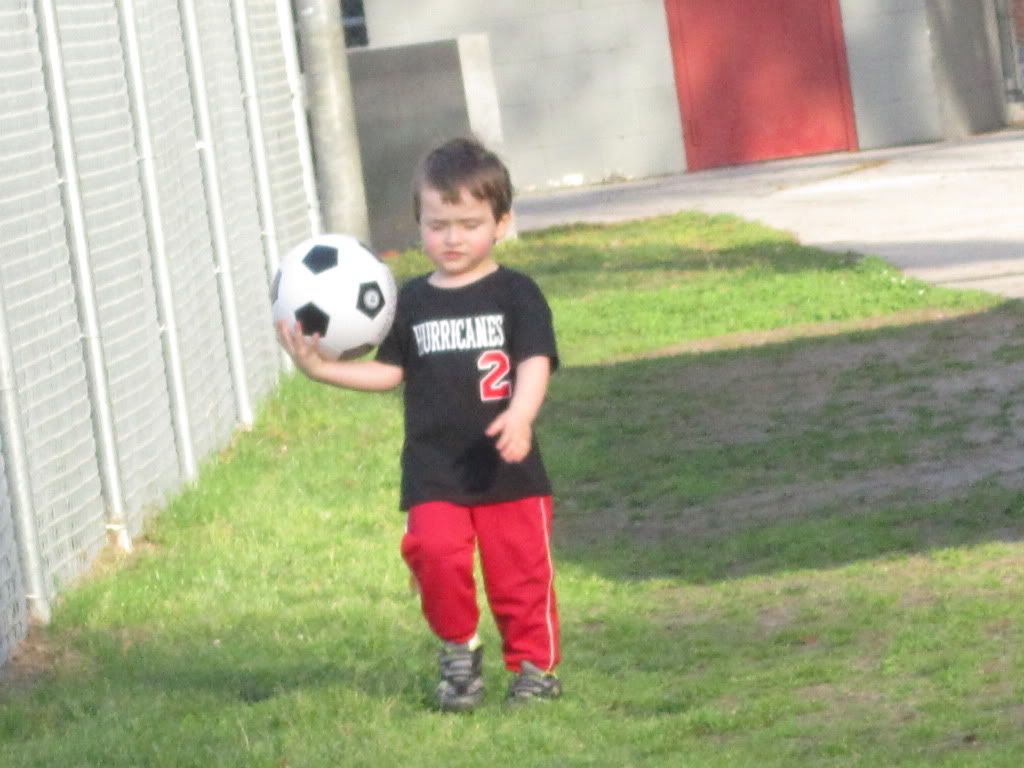 I'm also thinking it won't be long before golf is a part of his normal. Daddy's already provided him with real golf clubs and he is constantly driving the ball out in the yard. I have an inkling it won't be long before Dad starts taking him the golf course for some real practice.
If you want to follow this on twitter or plan on tweeting your post, please use hashtag:
#toddlertalk
**