Monday Crock pot hamburger steaks over rice , broccoli, sliced tomatoes
Tuesday Pork Chops (BBQ) mac and cheese, green beans (or leftover sides from earlier in the wk)
Wednesday Steak Rotini and asparagus on the side
Thursday Sausage Bake and Corn bread
Friday No Peek Beef Tips , Egg Noodles, veggie
Saturday Fish and Chips
Sunday
Chili's Chicken Fajita (
new
) / chips /salsa
Now A RECIPE for you :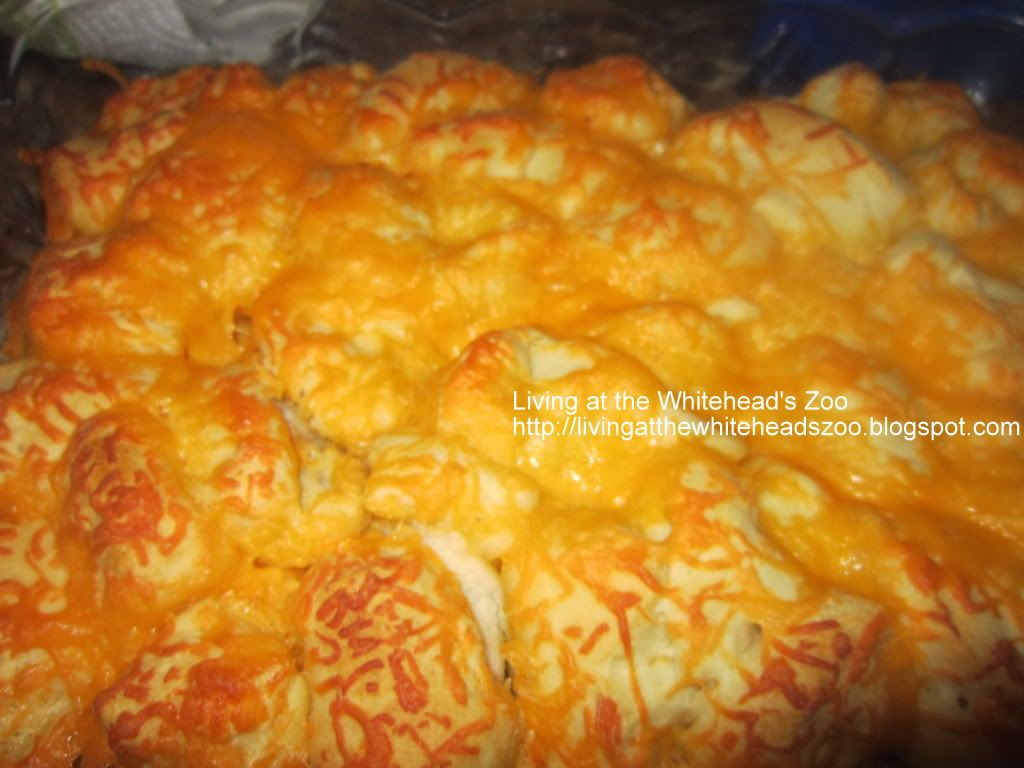 This bread is so easy and it is made with canned biscuits.
Yes, you heard me canned biscuits.
My daughter loves it, and it is easy for kids to help with in the kitchen.
You need:
canned biscuits 3 to 4 cans (you can use less and make a smaller batch if you want)
melted butter
shredded cheese (whatever the above photo is cheddar, sometimes I use mozzarella)
1/8 tsp garlic powder (optional)
What to do:
Preheat oven to temp on canned biscuits.
Add garlic powder to your melted butter and stir.
I just tear my biscuits into chunks. If you prefer you can dirty up a knife and cut them up.
Whatever works in your kitchen. Like I said I usually break mine up into fourths.
Drop your fourths into the melted butter then drop them into the cheddar cheese.
Pick up and drop into a greased casserole dish. I spray it with Pam.
Do this for all of the biscuits just kind of layering them over the tops of each other as yo fill your pan.
I take any leftover butter and cheese and just pour it over the top of the pan.
Now put in the oven. Bake for 15-20 minutes or until your cheese is brown and bubbly (like the photo. )
Now ENJOY!
If you make this I'd love to see a photo over on my
facebook
page.
Now Tell me what's on your menu this week? Any yummy bread?