How we start our day pure and fresh.
I have three children all with different and busy schedules. One begins school at 9am, one at 10 am and then little Mr. hangs out with his mom during the day. Our day begins with my middle son getting ready for a day of school and baseball. Breakfast is on the go for him and he usually grabs a fast meal or snack. I grab a morning drink to get me going in the mornings. A favorite Tropicana OJ. Tropicana Pure Premium is 100% pure Florida Orange Juice. I'm a Florida girl so that makes it taste that much better to me. Then we head out the door. I drop K off and head back home to wait for my oldest to begin her day.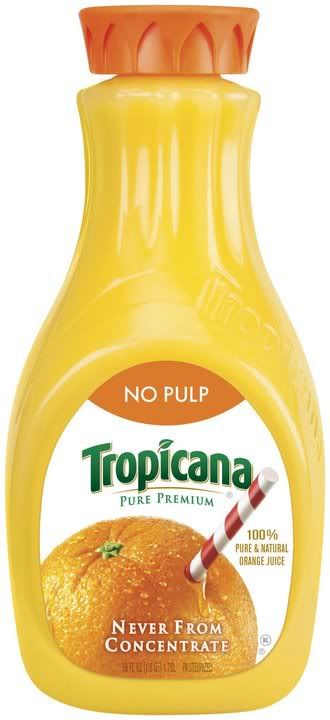 By now I have hopefully gotten dinner laid out or even started, and done a load or two of laundry while she showers and gets ready. Little Mister should be beginning to stir. My daughter varies with what she likes in the mornings. Sometimes a breakfast , sometimes just a drink maybe a pineapple berry smoothie. Tropicana Pure Premium Orange Juice is the perfect base for a healthy fruit smoothie jam packed with just the right nutrients for her day. Tropicana is committed to using the best fruit to give you great tasting juice and nutrition. Each 59 ounce container of Tropicana Pure Premium has 16 fresh - picked Florida oranges squeezed into it and an 8 ounce glass gives you 100% vitamin C to help her maintain a healthy immune system. Now that we've taken care of a healthy breakfast it is time for her to head to school. We're off again.
One more breakfast to go. Little Mister gets his breakfast depending on when he wakes up. Sometimes he sleeps right until it is time to go. On such days he will eat when we return back home. Other days he is up before the first alarm. Then he will eat with one of the big kids. One thing is certain. He will be up and ready for a day of exploration and play . A day on the farm or orange grove would be a huge adventure to him!
Here is a little Florida Tropicana history. Tropicana uses groves in 22 Florida counties , primarily in Central and Southern Florida. The fruit reaches maturity at different times allowing Tropicana to harvest through out the growing season. Tropicana's roots in Florida go back a long way . Some of its current grower relationships date to the 1960s.
Oranges have been g
rown in Florida since the 1560s. That is 147 years longer than any other US state. Wow! Tropicana purchases over 11.6 billion oranges from Florida each year. When we visit South Florida I love the orange groves. Just miles of them line the roads. Many of these hard working growers are selling to Tropicana. Pretty cool when you really think about all of it.
Here at the Zoo Breakfast would not be complete with out a glass of refreshing orange juice. We are not coffee drinkers at all so a tall glass of juice gives us a little pep in our step in the mornings. It makes it even sweeter that deliciousness is coming right here from home.
I feel great about including Tropicana in the kids breakfast choices. As a mom providing them with healthy nutritious choices are important to me. Having a pure fresh start so they achieve success during the day is what it is all about.
Take a moment and learn more about Tropicana Pure Premium Orange Juice and like them on
Facebook.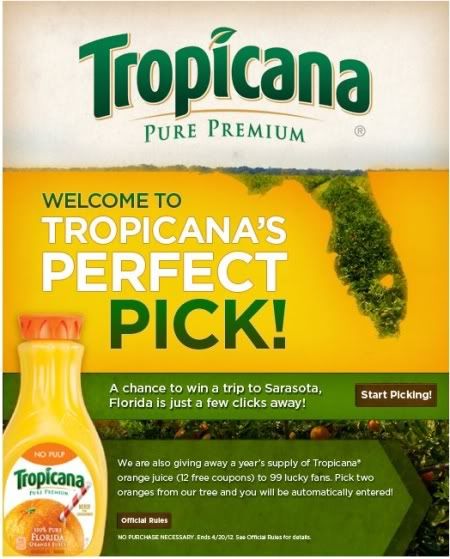 Over 100 Florida Prizes
Including Tropicana Orange Juice
for 1 year and
A Trip to Sarasota, Florida to visit the Orange Groves
I'm in Florida and I'd like to WIN!
For official rules and regulations, visit the "sweeps" tab on Tropicana's Facebook page
"I wrote this blog p
ost while participating in the SocialMoms and Tropicana blogging program, to earn My SocialMoms Rewards Points. The opinions and ideas expressed here are my own. To read more posts on this topic,
click here
."