Have you seen the movie Dolphin Tale? Clearwater Marine Aquarium is the rehab center
in which the movie was based and also home to "Winter " the dolphin.
Clearwater Marine Aquarium (CMA) is involved in active rescue, rehabilitation and release of injured and stranded marine life. Hundreds of animals have been rescued over the years. Most being released back into their natural habitats.
~ CMA has the only dolphin presentation in the Tampa Bay Florida area.
We visited over Spring Break. I was shocked by the number of people here. The line was crazy and the very small building was packed. So much so that it was very difficult to look at anything or enjoy your time. I asked someone who worked there if it was always like that. They answered yes, maybe a little bit more due to spring break.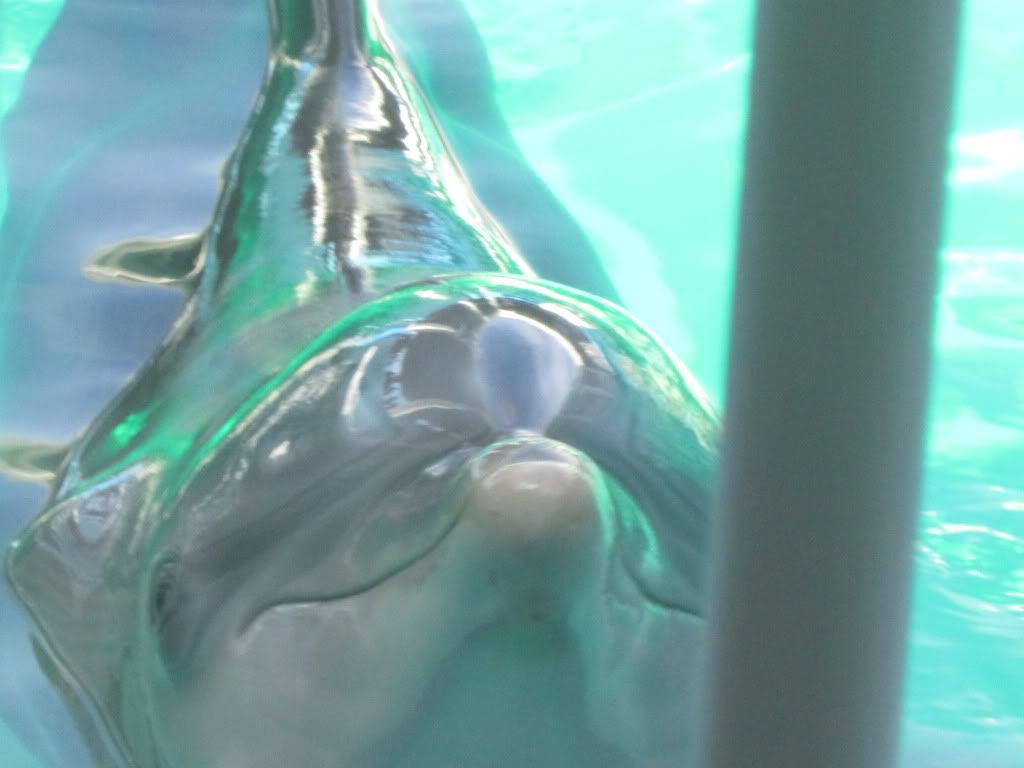 Winter is posing for y'all.
Maybe because we have been to several larger aquariums but I was a bit disappointed. I did expect to see more as far as animals even though I did know it was a small establishment.
You are paying to see "Winter" the dolphin. In my opinion that's pretty much the just of it. The aquarium area is not large. We did see through a window an ongoing operation on a turtle(pretty cool). With the large crowd and the way the pools are set up I found it a little bit difficult for C to get a good look.
About Winter:
When found Winter was 3 month old female bottle nose dolphin.
She was found entangled in a crab trap at Mosquito Lagoon (near Cape
Canaveral) by local fishermen. She was rescued and transported to CMA by Harbor Branch
Oceanographic Institute and the Hubbs Institute of Orlando. Winter had deep wounds on both
sides of her mouth, across the tongue, under both of her pectoral fins, and on her peduncle. The
wounds on the upper and lower peduncle (tail stalk) were so deep that the blood flow was cut
off and the tail tissue was dead, falling off within the first few days that she was at CMA. On
arrival she was dehydrated and thin, and had problems being fed. Her outlook was grim. After a lot of love and care Winter is now a healthy juvenile dolphin.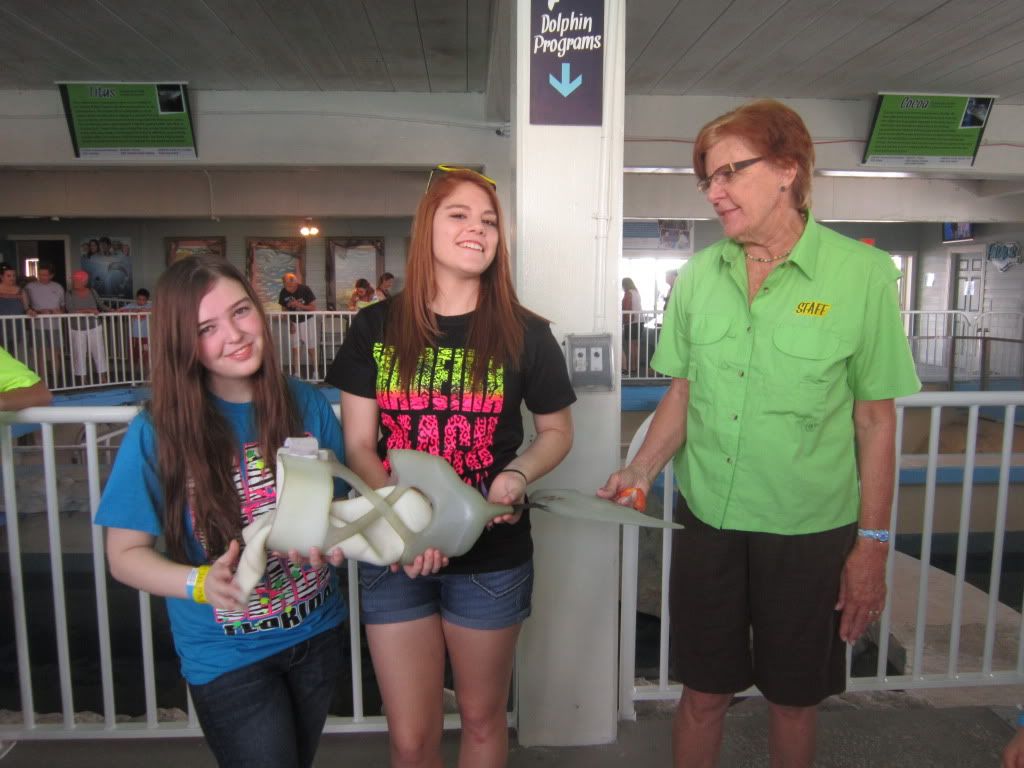 Holding Winter's Tail
I thought in the movie the purpose of the tail was to keep Winter alive . That she had developed vertebrate problems. While we were at the aquarium Winter was not wearing her tail. We asked about this and were told she only actually wears the tail from 1-3 hours a day.
I guess watching the movie and then going to that place is a lot like reading the book and then watching the movie. You find differences and changes and you compare them.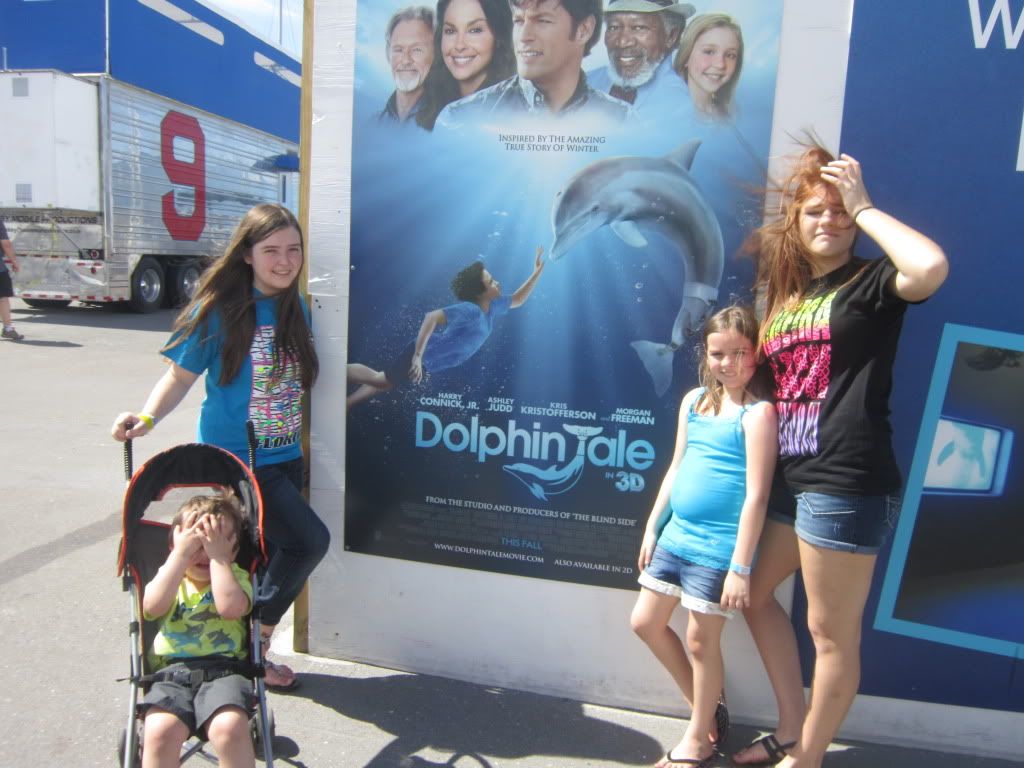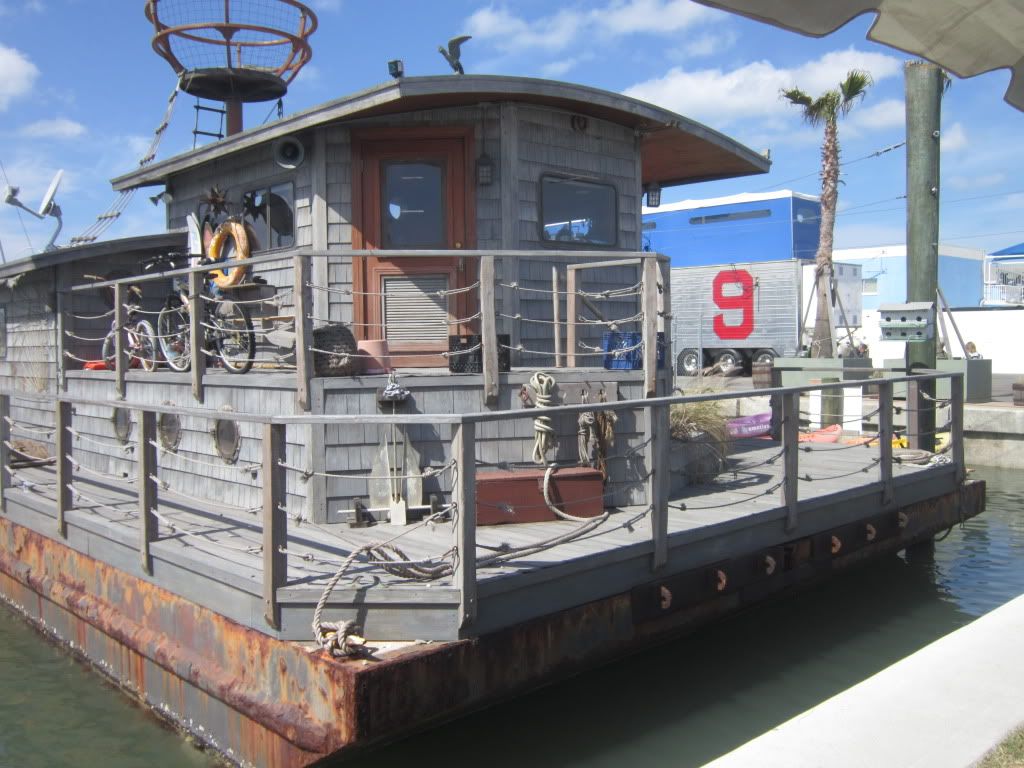 "The houseboat" from the movie
Part of the Clearwater Aquarium experience is a ride on the "jolly trolley"
The jolly trolley picks you up at the aquarium and transports you to the newest attraction Winter's Dolphin Tale Adventure (WDTA). This houses memorabilia from the movie, a kid play area and gift shop. After you finish here you hop back on the trolley at it will take you back to the aquarium.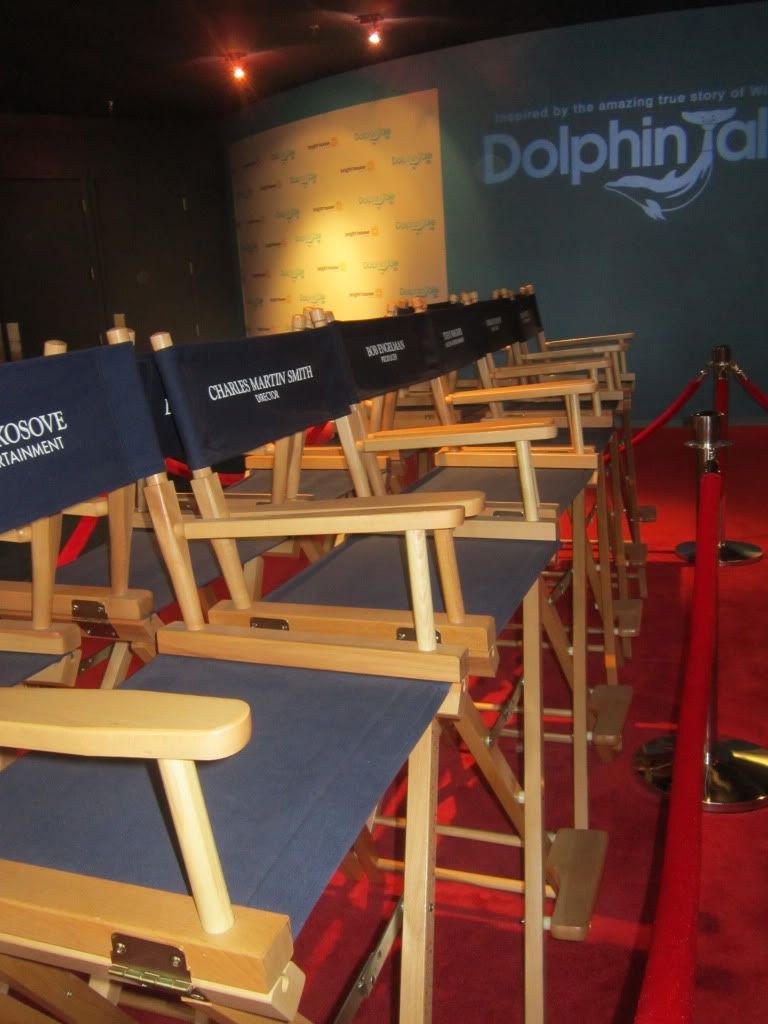 Everyone in the movie had a chair even Rufus. Cute!
The WDTA is air conditioned which is a huge welcome. Specially after coming from the aquarium.
why hello there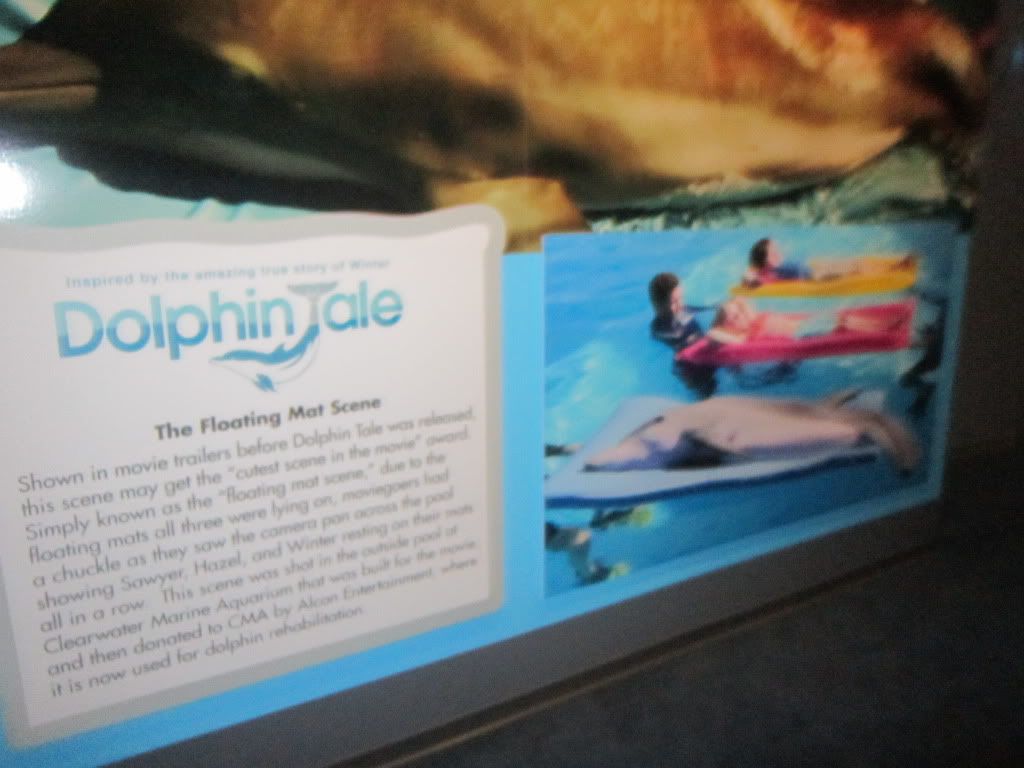 Miss E was not happy that Rufus was not here. He does have his own wall at the WDTA though.
The kid zone area was a welcome to my eyes. C went straight to a duck/fishing game and latched on to a fishing pole . He was quite upset when we had to leave it.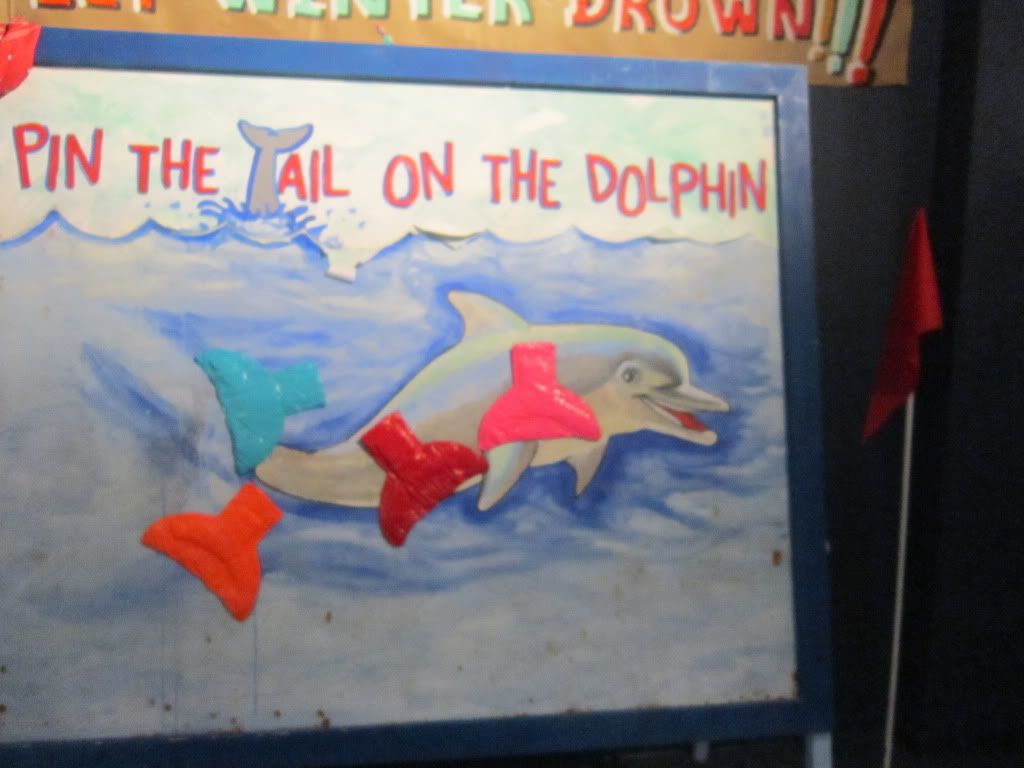 The WDTA part was not overly crowded when we were there. The building is larger and easier to navigate through than the aquarium. We were able to play at all of the games ourselves for several minutes.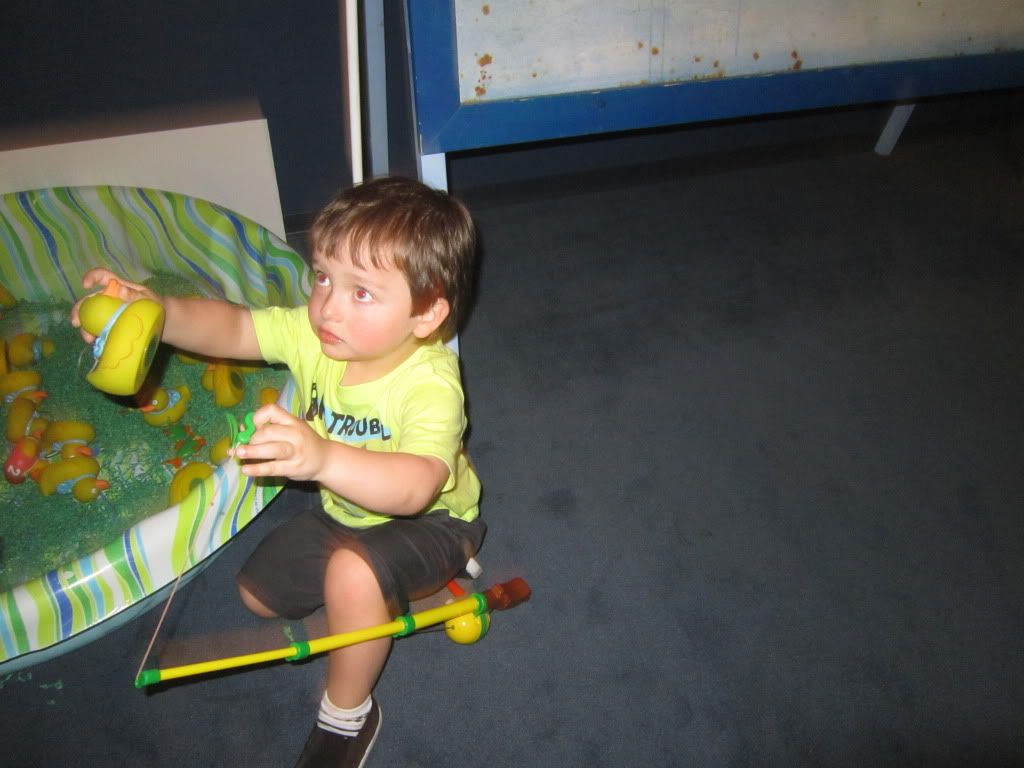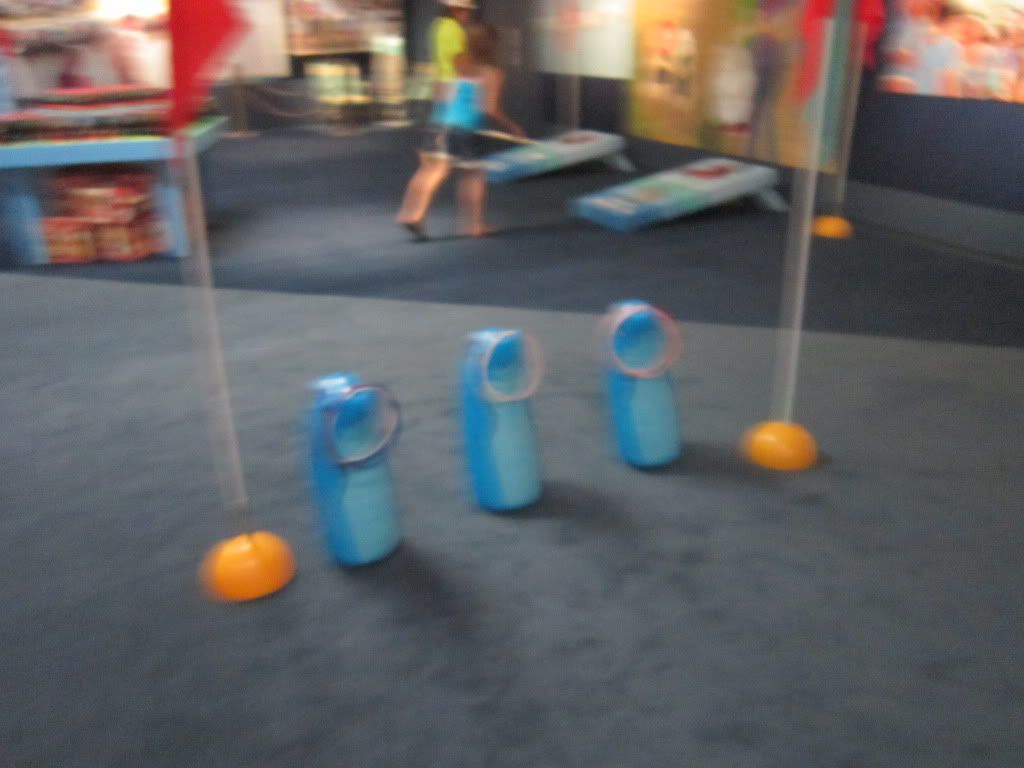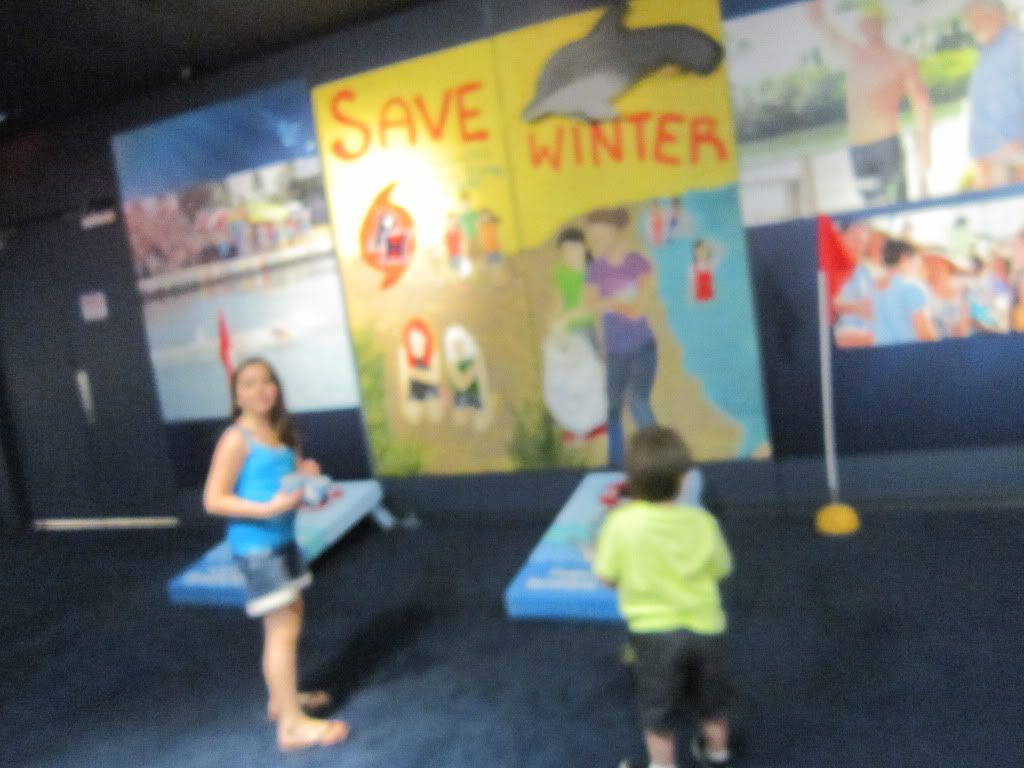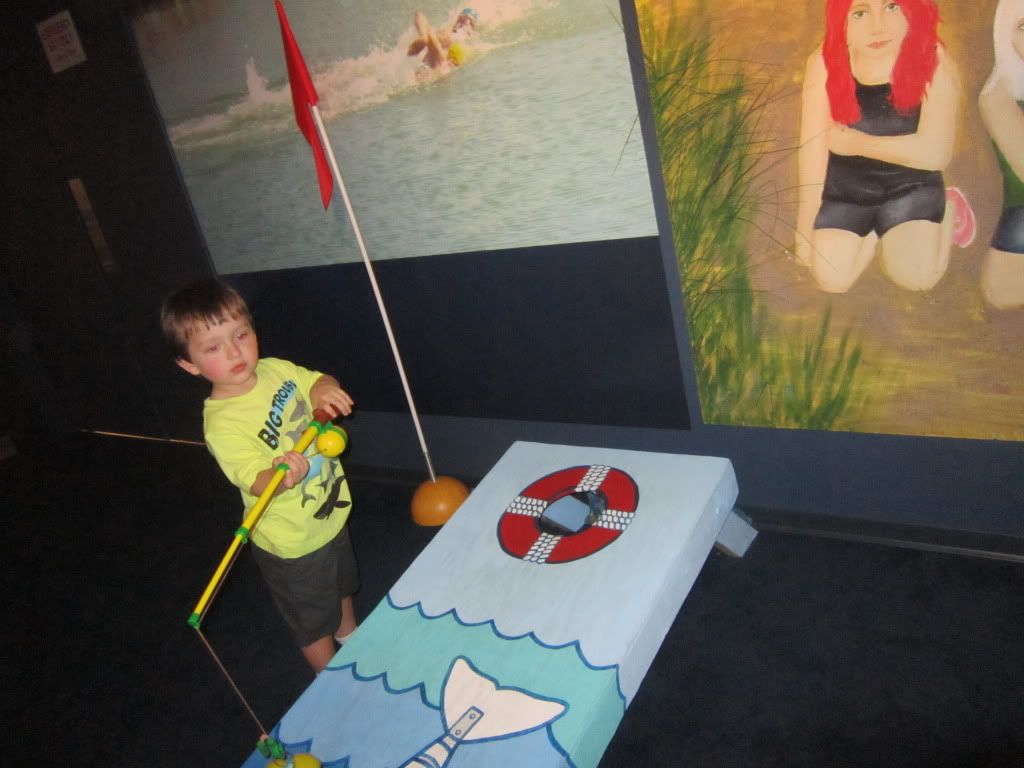 In my opinion the prices of the gift shop were over priced. What's new right? C wanted a fishing pole like the one he is holding in the photo. I probably would have bought it had they had that one in the shop. It's a bit sturdier than the cheap ones we usually see at the store. The gift shop did have fishing poles . I was a bit surprised but they were the little cheap ones like you find at the dollar store. Here they were $12.99 OUCH.
Overall we had a great time. The kids enjoyed telling their friends they had seen "Winter", and Clearwater Beach was fabulous.
GENERAL ADMISSION PRICING FOR CMA and WDTA:
Adults – $19.95
Children(ages 3 – 12) – $14.95
Seniors(60+) – $17.95
Find out more about Clearwater Aquarium :
Website / Facebook / Twitter / You tube
Did you go somewhere fun Spring Break? Or do you have a favorite Aquarium?
I want to hear about it leave me a comment!