Where has March gone?
Here is what's on the menu for this week.
25. Meat Loaf Rice & Tomatoes , Candy Carrots Corn Muffins
26. Crock Pot Spaghetti
28. Fried Chicken Salads or left overs your choice!
29. 3 pack pot roast with mashed potatoes and green beans
30. Roast Beef sliders with caramelized onions and potato salad
31. Chili's Chicken, Baked Potatoes
Yummy! I'm suddenly hungry.
Summer is right around the corner and that means it is time to grill.
Hamburgers and Hot Dogs are favorites here.
Do you have a favorite burger recipe?
Share it with
me
I'd love to try it and feature you here at the Zoo.
Now for a recipe this week.
Janey Baked potatoes are a favorite in our house.
These are a Copy Cat recipe from Johnny's BBQ another favorite.
These are so easy and yummy too.
You need:
baked potatoes
mozzarella cheese
BBQ pulled pork or pulled chicken
caramelized onions
then we use butter and sour cream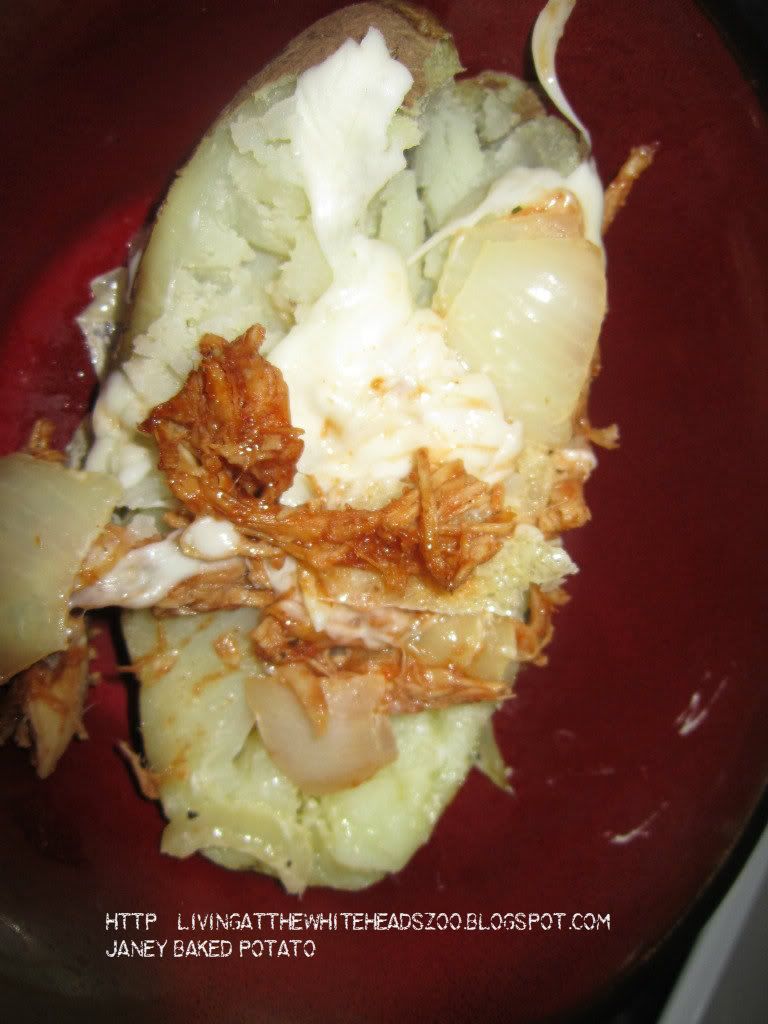 Here are some tips and tricks.
I cook my pulled pork or chicken in the crock pot.
Sometimes I use this as a second meal from the left overs earlier in the week.
In a bind you can also use something like Lloyd's BBQ .
I usually microwave my potatoes and get them almost done.
Then split them open , put them on a baking sheet and stuff them with all of your goodies minus the butter and sour cream. Let them bake until the cheese gets golden bubbly and remove.
Add your butter and sour cream .
Now EAT!