Today is a very special day. It is my parents anniversary. Happy Anniversary Mom and Dad. I couldn't ask for better role models in what a good marriage should be. I love you both so much!
Here's what is left of our
March Menu
. You can find the complete menu under our
Menu tab
at the top.
12. Sausage / Veggie Bake , corn bread
14. Taco Bake/ Nachos
15. Leftovers or Sandwiches your choice
16. Crock pot BBQ chicken and hash brown casserole
17. Pan Fried Ham and left over HB casserole , roasted broccoli
18. Sandwiches/Soup
19. Breakfast
20. eating out
21. eating out
22. Fajitas
23. Homemade pizza
24. Fried Steak Sandwiches all the way
25. Meat Loaf Rice & Tomatoes , Candy Carrots Corn Muffins
26. Crock Pot Spaghetti
28. Fried Chicken Salads or left overs your choice!
29. 3 pack pot roast with mashed potatoes and green beans
30. Roast Beef sliders with caramelized onions and potato salad
31. Chili's Chicken, Baked Potatoes
Now I have a delicious treat to share with you. I call it Cherry delight.
It all began when I found crock pot cherry cobbler recipe at
Budget Savvy Diva.
I read through the recipe, shared it with my Mom and then couldn't wait to make it. After purchasing the ingredients I went to town to make it without rereading the directions. OOPS!
Here's what I did. I added cherry pie filling to the crock pot. Then I dumped my cake mix right on top. Then I said "wait a minute something just is not right,." Uh OH. So , I scooped as much of it back out without getting the cherries as possible.
So, then I headed to the recipe at Budget Savvy Diva. Reread and thought OK got it. Easy.
Sadly, I messed up again or I think I did because my mix didn't look a thing like the one showed there.
Here's what I did. I melted my butter, mixed my vanilla and cake mix together. OK from the directions I should have had a crumbly dough mix. I had cake batter. From here I thought what the heck I'm going to give it a try anyway. I dumped the cake mix right on top of the cherry pie filling and kind of swirled it around a bit. Put it on low for 4 hours.
I ended up with a kind of ooey gooey cake and it was AWESOME Yummy! My pictures do not do it justice because they are after I put it in the refrigerator. Of course it was not complete until we added a big spoon of Cool Whip. Cool Whip makes anything Yummy right?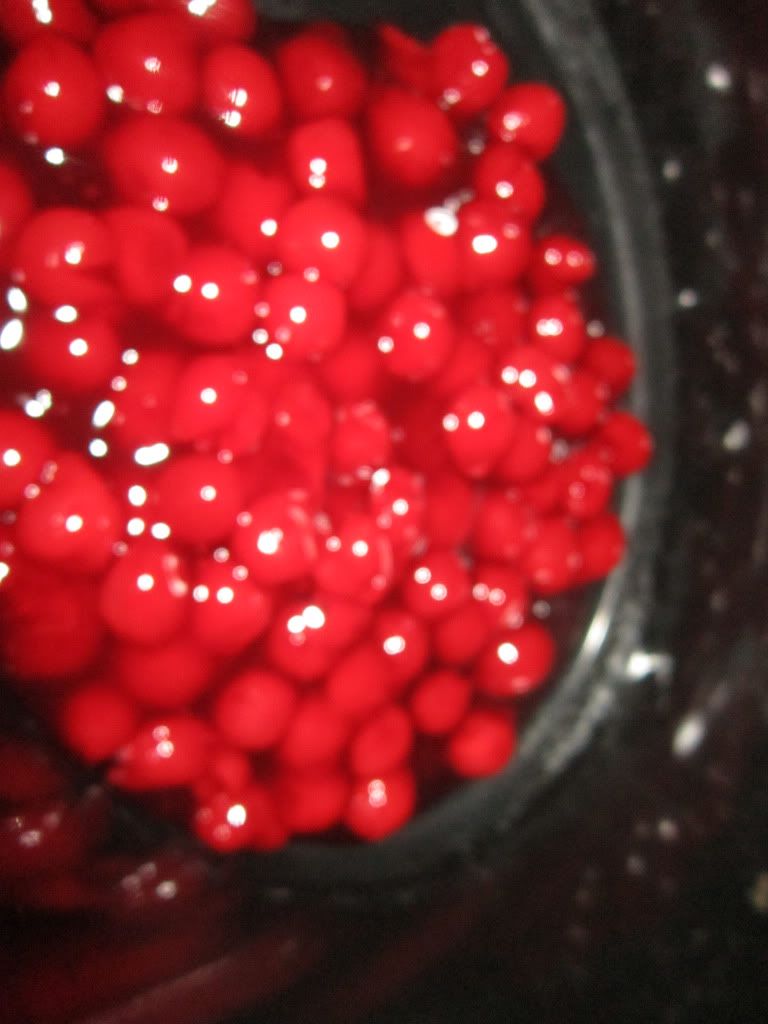 I used the entire cake mix and the entire can of cherry pie filling.
This is the first dessert I ever made in the crock pot. I'm excited to try more now.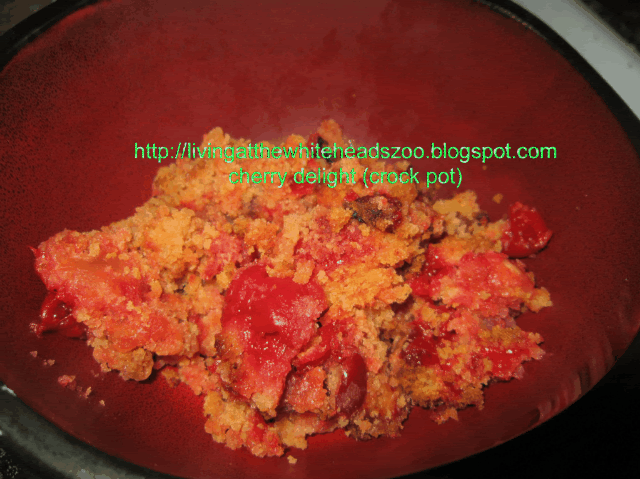 You can decide whether to make it like a cake mix or make it crumbly. I know I will remake it my way again, but I want to try out the other also.
You can of course use any kind of pie filling. You can totally play with this one.
For a printable copy of this recipe visit
Budget Savvy Diva.
Pin It