Address Labels are their uses for them other than mail? Of course! Let's face it the handwritten note or card or getting fewer and fewer. So, what else can you use a label for?
First, I must say I still like to mail Birthday invitations, Thank you cards and Christmas cards. Pretty labels are always a plus when I do this.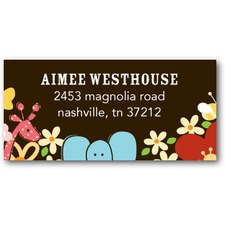 10 Creative Uses For Address Labels
Label your child's travel toys . Super easy stick one on the back of a toy, the underside or even to the side of the ball. We are always at the ball field and have a bag of toys to keep little brother occupied. They are easily forgotten or lost. With a label someone who finds it can return it the next game, or turn it into the concession stand for us.
Put them on your pot luck dishes. We have all attended parties never to see our dish returned. This way if your dish does not leave with you , maybe it will find its way back home down the road.
Inside your child's back pack or school jacket. They are not washable but you can easily attach a new label after washing.
We are currently using stickers for potty rewards. Little Mr. gets a sticker when he goes potty and adds it to a reward chart. You could easily leave off the address and have cute stickers.
Keep them in purse for an easy fix for school papers, raffle tickets, and other forms that need your address.
Label the inside of your books or your child's books. Great for teachers to use in their school libraries.
Add them in a basket with other school supplies to make an AWESOME teacher gift.
Use them for lunchbox labels, snack bags, play date snacks, cups and other objects. Helps from getting your items confused with your friends.
Give a set with your address, stamps, envelopes and stationary as a gift to a friend moving away or your child off to college.
Label the inside of your child's shoes. I don't know if I'm the only Mom who has this problem but we are constantly losing just one shoe. Stick an address label on the inside of the shoe it's not going to bother you with socks on. Again when someone finds it they can return .
Get creative and think outside the box. Visit Tiny Prints and find the label perfect for you.
Be Sure to Follow Tiny Prints on
Facebook / Twitter / Pinterest
One of you will WIN four sets of custom address labels
Just fill out the rafflecopter form below:
disclosure: This post is sponsored by Tiny Prints. I will receive the same prize as the one given away.

a
Rafflecopter
giveaway is now closed. Please visit our Winners page.