How do you meal plan by the month, weekly, bi weekly, not at all?
We plan our menu monthly.
With Valentine's Day in just a couple of days I thought it would be fun to share some
of our favorite recipes made with Hershey kisses.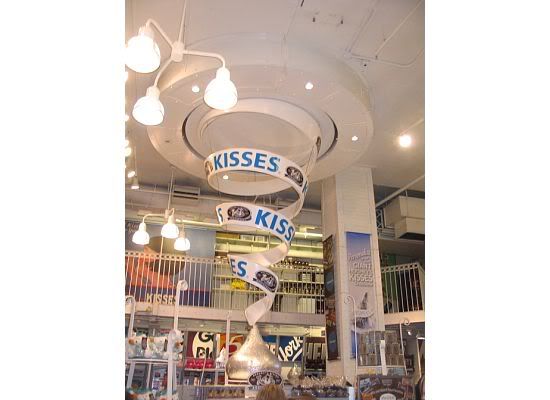 My daughter loves to visit the different Hershey stores when we travel.
These photos were taken at Hershey in New York. We've also been to the one in Chicago.
She desperately wants to go to Hershey , Pennsylvania ...2012 road trip? Maybe.
First up Mouse Cookies Made from a kiss
These are fun to make with kids and very simple too.
Oreo cookies split in 1/2
One unwrapped Hershey Kiss
melted bakers chocolate
cherries
frosting for eyes
Dip your cherries in melted chocolate and place on the back of an Oreo.
Nest add your Hershey Kiss while the chocolate on the cherry is not yet set up.
Add your icing for eyes and there you have it mice cookies.
Another favorite of ours is to make peanut butter cookies and add a Hershey Kiss on top. Yummy. I may just have to do some baking tomorrow.
How about
Cocoa Kiss Cookies
? They already sound delightful don't they? We think they are pretty tasty.
For this recipe you need :
2 sticks of butter
2/3 cup sugar
1 tsp vanilla extract (I always add a little bit more)
1 2/3 cup AP flour
1/4 cup Hershey's Cocoa
1 cup finely chopped pecans (I'm lucky we have a pecan grove so I usually have these in the freezer)
1 bag Hershey Kisses and Powdered Sugar
Beat butter, sugar, and vanilla until creamy. Stir together flour and coca, gradually adding to the butter mix. Add pecans and beat until blended. Refrigerate dough for an hour .
Preheat oven to 375.
While dough is in the fridge you can remove wrappers from kisses. Mold dough around each kiss covering completely into a ball. Place on cookie sheet and bake 10 minutes or until set. Cool then roll in powdered sugar.
This recipe comes form one of my old and loved cookbooks Santa's Favorite Cookies.
Do you have a favorite Valentine Recipe? I want to hear about it so leave me a comment.