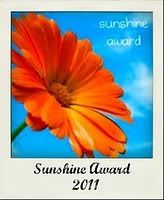 To find out someone enjoys Living at the Whitehead's Zoo puts a smile on my face.
I received a message from Lori letting me know she awarded us the Sunshine Award all the way back in November. Thank you so much for the kind words and thoughts Lori . I'm so happy you enjoy the Zoo and I enjoy your blogs La-La's Home Daycare and Lori's Crafty Spot very much!
Here are the rules for accepting this award:
1. Thank
the person who gave this award and write a post about it.
2. Answer the following questions below.
3. And pass the award to 10~12 fabulous bloggers, link their blogs and let them know you awarded them.
Now let us see if I can answer these questions...
1. Favorite Color... mine is orange always has been although I love most bold bright colors . Color is fabulous don't ya think.
2. Favorite Animal : Gorillas, Monkeys, & Elephants
3. Favorite Number : I have a few favorite numbers and they would be 3 , 5 and 12.
4. Favorite drink: I'm a coke girl. However, a goal of mine is to give it up in 2012 so we'll see. Maybe I'll find a new love of H20? ya think?
5. Facebook or Twitter ? I'm on both although with the constant FB changes Twitter has really gained a lot of favor with me!
6. Your Passion? Most importantly my passion is my children. If it is helping them with something they dream of or want to achieve. Helping them succeed and reach their goals I am passionate about it.
I also enjoy reading, baking, cooking, BASEBALL oh yeah =), photography, crafting , blogging, Zumba , Hoopnotica, Walking, and Travel.
I could just go on and on I am passionate about Life I guess you could say.
7. Giving or Getting Presents ? Giving .. I love to find the perfect gift for the special someones in my life. It is nice to get an occasional surprise now and then though.
8. Favorite Day: Saturday ....its the day I can hopefully do whatever I would like . Sleep in , something fun, or just hang out at home.
9. Favorite Flower : yellow roses I'm pretty fond of all colors though.
Alright, then I think that about does it. Now I am suppose to pass this on and nominate some other wonderful blogs. I think so many of you are wonderful and deserve awards. If I follow you it is because I like something about you or your blog. So, if I am a follower of your blog and you'd like this to do the above 3 things to accept the award leave me a comment below and I'll link to you . Your all Awesome!