Aerobie
has done it again. A new fun sensational toy to occupy your child. Any of you who have followed the Zoo for a while no we are big fans of Aerobie.
I think my youngest is still a little bit to young
for the
Megatop.
He enjoys watching the older kids spin it and try to do the tricks. My favorite thing about Aerobie products...it gets your child up and moving. Every product we've tried has encouraged my child to get up and play, and the Megatop is no different. It encourages running, playing, competition and is just plain fun.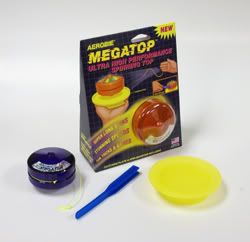 Spectacular FACTS about the MEGATOP:
*
Perimeter weighted and precision crafted for amazingly long spins
*
Quick launch accelerator easily achieves 3000+ RPM spin rates
*
Tricks and Games for hours of fun and competition
*
Catching plate for catching, throwing, and balancing tricks
*
Spin booster for almost unlimited spin times
We are not the greatest at the tricks and games but we have fun trying.
Yet again Aerobie has not disappointed the Whiteheads.
Would you like to WIN an Aerobie MegaTop? Here's how.
Fill out the easy rafflecopter entry form below. The first entry is mandatory
the rest are all optional bonus entries and entirely up to you. Good Luck Everyone!
disclosure: Living at the Whitehead's Zoo was provided a Free MegaTop Spinning Top product for review. These are however, 100% my own opinions.
Thank You Aerobie for our Spinning Top.
This contest has now closed. Congratulations to the Winner
Christine Jessamine