I made a batch of my favorite sugar cookie dough recipe. I then rolled out two large cookies and two smaller cookies and baked them according to the recipe.
Ice the first large cookie and place it in the center of your cake plate ( I used two cardboard cake boards duct taped together)
Take large candy cane sticks and break them in half. Place 6 sticks around the frosted sugar cookie.
Ice over the ends of the sticks and fill in the middle of the sugar cookie with more icing building it up.
Add your 2nd larger sugar on top of the first and ice it.
Now add the smaller sugar cookie on top of this one in the middle and ice it.
Then I added one Circus Big Top fondant cupcake topper from Cakes and Kids to the center of the smaller cookie.
Put red hots around in the circle of the larger cookie.
Make and Ice cupcakes.
Place one cupcake at the end of each candy cane stick.
In the center of each cupcake I placed a clown fondant cupcake topper from Cakes and Kids.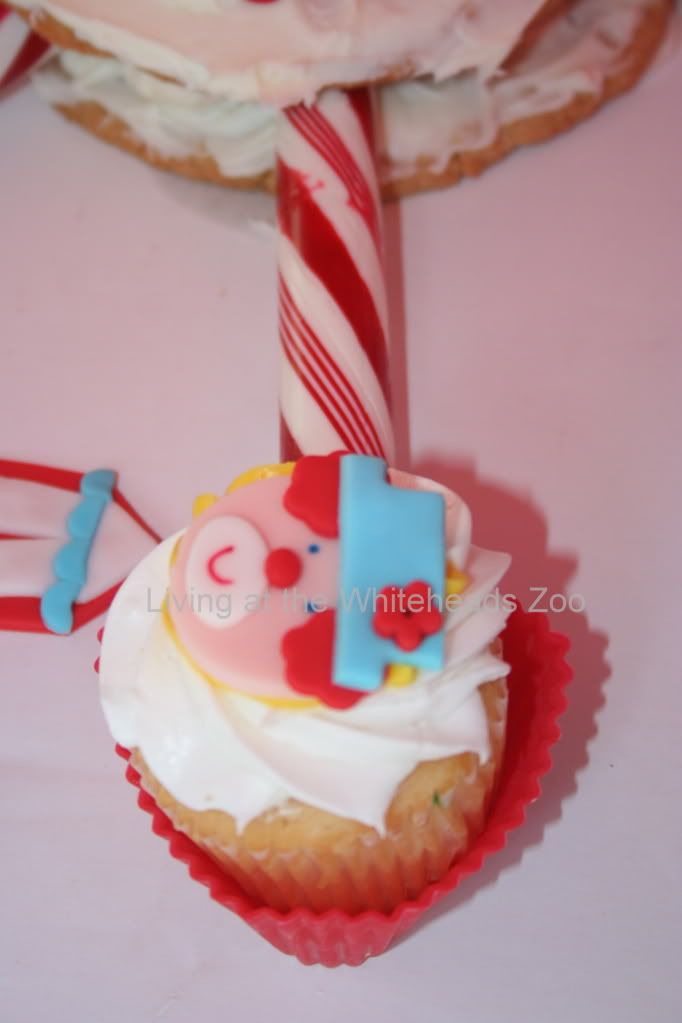 Do you make your own cakes? Have a post about them or a photo? I'd love to see send me a link. Or just leave me a comment on a favorite cake you have had/seen.