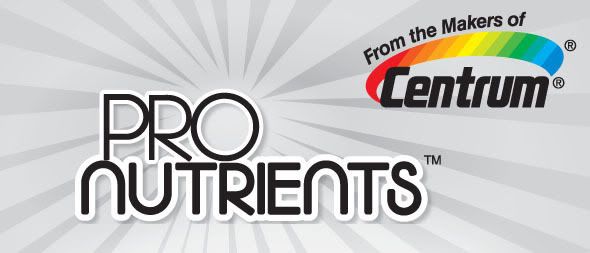 It's a new year and with that we set goals and resolutions. So many of us have said that we want to be healthier, lose weight, take care of ourselves in 2012. Centrum heard us and has a brand new line of dietary supplements. Pro Nutrients which includes three products to help achieve a healthier lifestyle and are designed to work with a multivitamin.
ProNutrients Fruit and Veggie mini tabs harness the power equal to a serving of a blend of fruits and vegetables. They are 100% naturally sourced from grapes, blueberries, raspberries, plums , carrots, and tomatoes. The mini tab helps support cell protection and general health. These are great for those of us who do not get their daily servings of fruit and veggies.
ProNutrient fruit and veggies are available at drug stores and grocery stores in the U.S.
The retail value for the 50 -unit package is $11.99, and the 100-unit package is $19.99
ProNutrients Probiotic is a unique blend of probiotics that arrive active and ready in powder form to work in your digestive tract. Blended powder arrives alive to help maintain digestive balance and support healthy immune function. Probiotics aim to provide more of the good bacteria.
Each packet comes individually wrapped and ready to mix into a beverage or food. The powder is flavorless. I mix mine with my yogurt or breakfast for the day. The individual wrapped packets are perfect to slip into your purse or pocket for when you are on the go.
ProNutrients Probiotic can be found in the US at your grocery and drug stores.
Retail value for a 14 unit package is $18.99 , and the 28 unit package is $29.99
ProNutrients Omega-3 provides more of the most scientifically studied Omega-3's in a min gel. Since the mini gels are smaller than the size of brands pills they are easier to swallow. New ProNutrients Omega-3 supports heart health, brain structure and eye structure.
I already take an Omega-3 and mine is huge compared to the new Centrum min tab.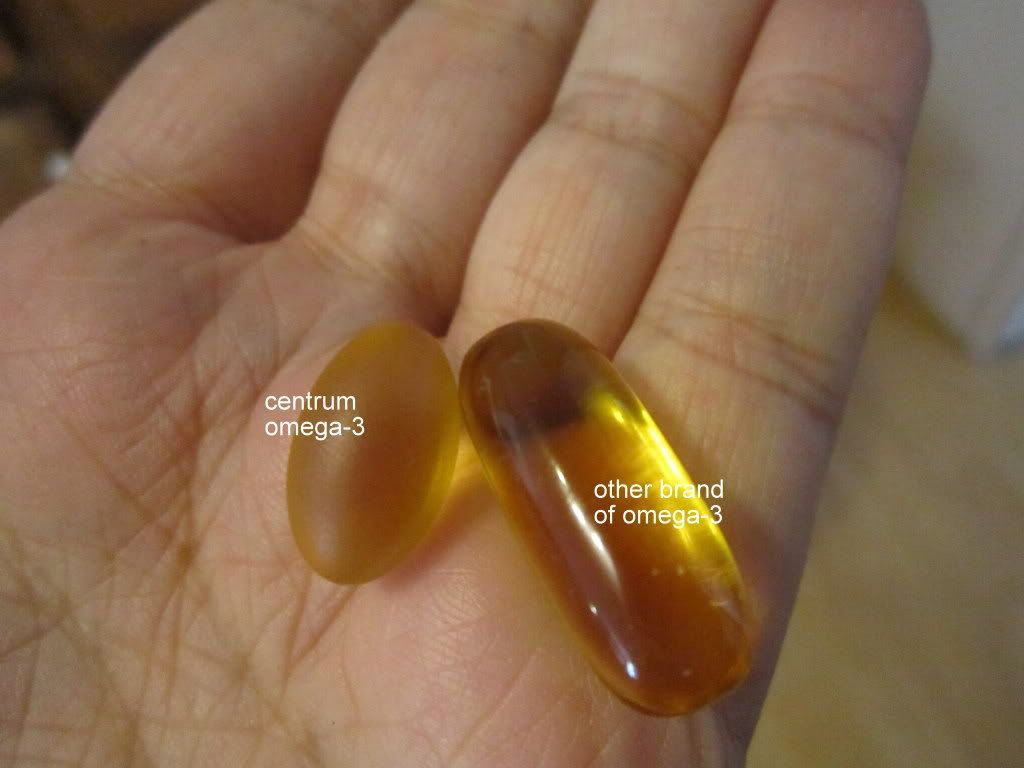 When I received the Centrum Pro Nutrient Line I new I would really be putting it to the test. I am picky . If it makes me sick or sends me running gagging I'm definitely NOT going to continue with it. I am happy to tell you this did not happen. I am able to take the entire line with no problems.
My husband and I have both added the ProNutrient Line to our daily routine.
If you'd like to try Centrum ProNutrients
visit the Centrum Facebook Page
and get a
$5.00
off coupon
here.
I
n addition to the ProNutrients launch, Centrum debuted Centrum Specialist™, a line of enhanced multivitamins that is aimed at specific health priorities adults want to target.
Centrum Specialist multivitamins with specific benefits includes
Prenatal, Vision, Energy and Heart
.
Centrum Specialist Energy a complete multivitamin specially enhanced with Ginseng and higher levels of Vitamin B. It naturally helps your body produce energy while still giving you all the benefits of Centrum.
I don't know about you but I can always use more energy. This is the multivitamin I chose. I am happy to say that I am able to again take these without becoming ill , there is no after taste to it. Big plus with me. Both my husband and I have added this to our daily routine also.
All of the Centrum Specialist vitamin supplements are available at drug stores, and grocery stores across the U.S.
The retail value for a pack of 60 is $11.99
Take the Nutrition Assessment here and find out what you may be lacking. You can also visit Centrum on Facebook and don't forget about the $5 off coupon.
WIN:

a ProNutrients Product of you choice
to Enter fill out the easy rafflecopter form below.
official rules can be found here.
Disclosure:
I am participating in a Centrum ProNutrients campaign hosted by One2One Network. I received nutritional product and compensation. While all opinions stated are my own, I make no claims about Centrum ProNutrients as a product or it's effectiveness.
This contest has closed. Congratulations to the Winner Jennifer Rote.