VACATION ....
This Mama loves to pack up her family and go on vacation. I even love it when my parents join us .
I so enjoy challenging them and my children to do things they have never done before. Some of these adventures for my mom and dad would be white water rafting, zip lining, photographing black bears, tubing the Ichetucknee . How do you live in Florida and never tube the
Ichetucknee
? Of course they insist I am trying to put them into early graves. I promise not. I have an extremely close relationship with them or I wouldn't vacation with them at all. =)
For this vacation we visited a little town in Georgia called
Ellijay
.
We rented a lovely cabin in the mountains. The rental process was really easy and we were very happy with the entire process. The cabin was GORGEOUS, on the river and located within the Coosawattee River Resort.
We new that our families were on a limited budget and so we wanted something family friendly but budget friendly also. With the cabin being located with in the resort you also had access to the resort amenities. These included a play ground, several pools, a fishing pond, putt putt golf, tennis courts and more. Plenty to keep the kids busy and free (or included in the cabin price). Then there was fishing, tubing and all of that with the river handy. Also, with staying in a cabin vs. a hotel we had the kitchen which really works well for us having a larger family.
On one of our "vacation field trips" we road the
Blue Ridge Scenic Railway
. The trip begins in downtown Blue Ridge ,Georgia and heads North from there. The train winds through the mountains along the beautiful Tacoaa River. Snacks and souvenirs are aboard and the train is ran by volunteers. We enjoyed the view from the air conditioned coaches. My dad, and daughter liked to ride outside of our cart on the part where the train cars hook together. I' m not sure what its called. That is where they hung out for quite a bit of the trip.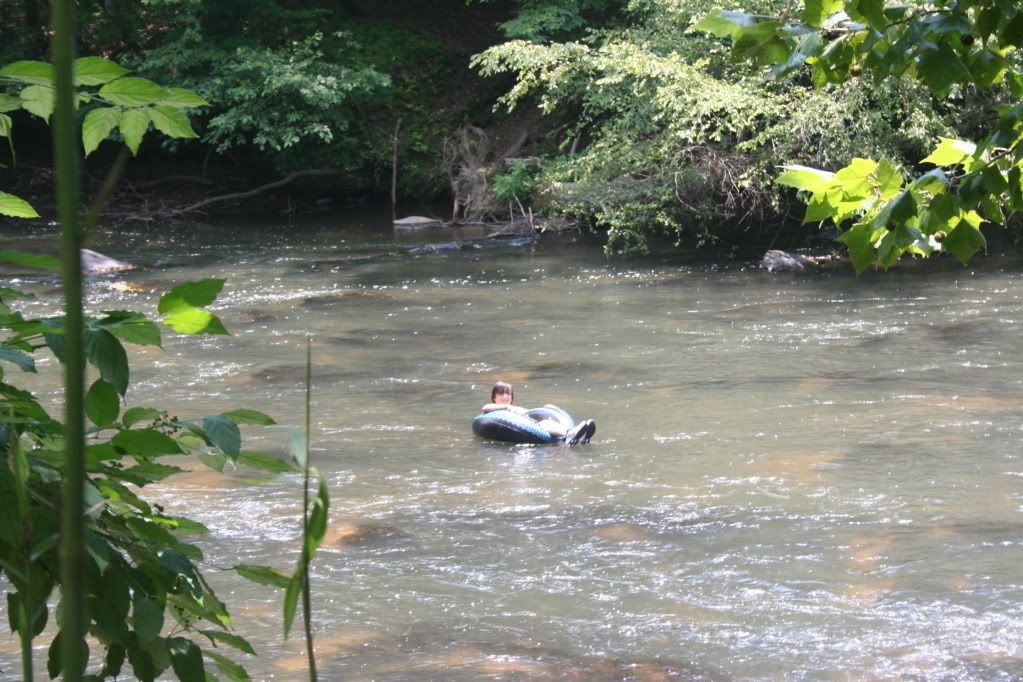 The train stops on the border of McCaysville , Ga and Copperhill, TN. You have time to grab a bite to eat and do a little bit of shopping. I let C pick out a train from the gift shop. I was surprised by the engine he chose but he picked what he wanted and has been very happy with it. I must say I was surprised their prices were not overly expensive on the souvenirs. His train engine was pretty good sized and I paid $7.95 for it.
This was by far our most expensive day as a family. Tickets were $33 each. This was our 2nd train adventure as a family and my family all agreed they preferred the train outside of Gatlinburg, TN better. However, this was C's first train ride and was worth every penny for that little boy. During the actual ride I was a bit disappointed because I did not think he was enjoying it like I had imagined he would. It was not until we were back home that I realized he really did in fact love it. He still gets his shoes, my mom and dad by the hand and says lets go choo choo. He wants them to take him back on the train. It is so cute.
WE ate lunch out on our lay over and that cost my family of 5 ($75) and my parents ($25). We very unhappy with our lunch choice . My dad asked the train engineer where was the place to eat and he suggested a little restaurant not to far down from the depot called Pearly Gates. We ended up with absolute horrible service, my moms hamburger was raw in the middle when she complained the waitress completely ignored her. We waited over an hour and get this they charged us $2 a piece for refills. Needless to say I should have done a better job researching the area, the menu etc. and found somewhere else! WE were all really unhappy about the price we paid for sandwich's , the poor service, and the quality of the food.
Another "vacation field trip " of sort was
zip lining
. This was by far my older children's (age 14, and 12) favorite thing. Standing on a launch deck atop a mountain 300' above your final destination while taking in the sites. Soar 1500'while reaching speeds of 40 mph. Adults and children $29.95. This was their favorite thing the entire trip and let me tell you it lasted all of 30 seconds. Maybe a little bit longer but they fly down the zip line and its done. However, its a memory I know they will hold on to for a lifetime zip lining with their dad and papa in the mountains.
They are also now offering a Sky Bridge Tour for $69 a person which is a 2+ hour tour with 9 zip lines & a Adventure Tour for $89 per person which is a 3+ hour tour and a 680 foot zip over the Hilltop pond.
I can definitely see my little daredevils wanting to do one of those in the future.
You can find more of our vacation photos in the following post:
Foto Friday "brown"
I shared some photos of deer at the cabin
Wordless Wednesday
~ ziplining photos
Wordless Wednesday
~ cabin photos