One of the things I love about blogging is the many doors it has opened for me. I love trying new products. Many times I get to try out something I might not generally buy and end up loving it. As a Purex Insider I sometimes get to try out laundry products. This is a big plus for me, we have mountains of laundry in this home which requires us to use mountains of
laundry detergent
. I am always on the look out for detergents that do an even better job, or make my job as a Mom easier.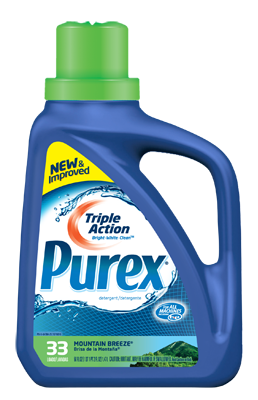 Purex is rolling out the new Triple Action formula across the entire liquid detergent line. The new and improved Triple Action formula delivers even better on Purex's promise to leave your clothes bright, white and clean .
The new
Purex Triple Action laundry detergent
has been specifically formulated to work in both traditional and High Efficiency washers.
As a Mom getting the best value for my laundry detergent, but getting a detergent that gets the job done is important to me. As a family of 5 we have a lot of laundry each week. We also have very energetic active children. Ex specially our boys!
Getting their clothes clean is important to me. I am constantly battling clay from the baseball field, food stains, grass stains, just plain dirt you name it. Mama's I am sure you know what I am talking about. I want to be able to tell that our clothes are clean when I take them out of the wash. For me the signs of a good detergent are one that leaves a nice strong scent, and one that gets out the dirt and grime from our play.
I tried out the Purex Triple Action Mountain Breeze
laundry detergent.
I found that the scent was nice and refreshing and am quite pleased with the way it lingers in our clothing. I have not yet tested it on our toughest stains, those from the baseball field , but as soon as our season begins you bet I will be. Our everyday dirt and grime comes right out and this Mama is finding she likes this new laundry detergent . It definitely got chocolate milk stains right out no extra stain treatment needed. Thank You Purex!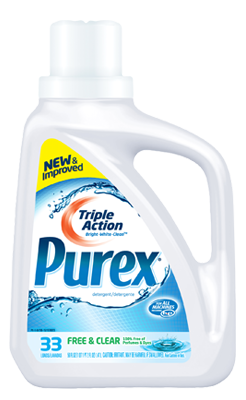 Disclosure: Purex provided a Free Sample of their Triple Action Laundry detergent so that I could write a review. However, all of the opinions expressed here are my own !