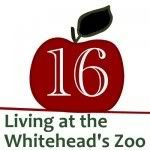 The
Zoo
is so excited to be a part of these 24 other amazing bloggers and share some creative fun with you today. Our topic today will be presents for your pets.
The holidays in our home would not be complete without treats for our pets. Since my daughter was knee high she has always wanted to include our animals , as they are a part of our family in our eyes. Right now we just have Ripley our yellow lab, and Skates the cat. They will each have a stocking hung right beside the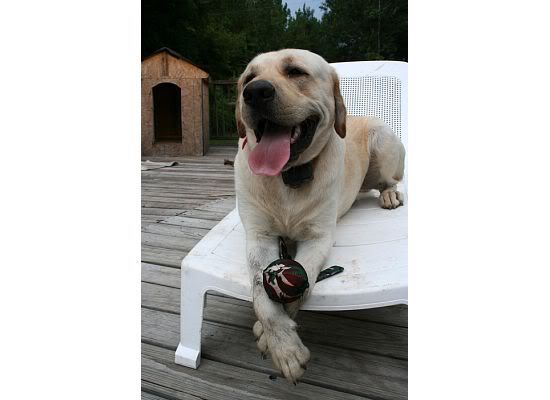 families. Each with special treats. It is fairly easy to make pet treats. There are tons of dog biscuit and treat recipes online, and they bake pretty much like a regular cookie recipe .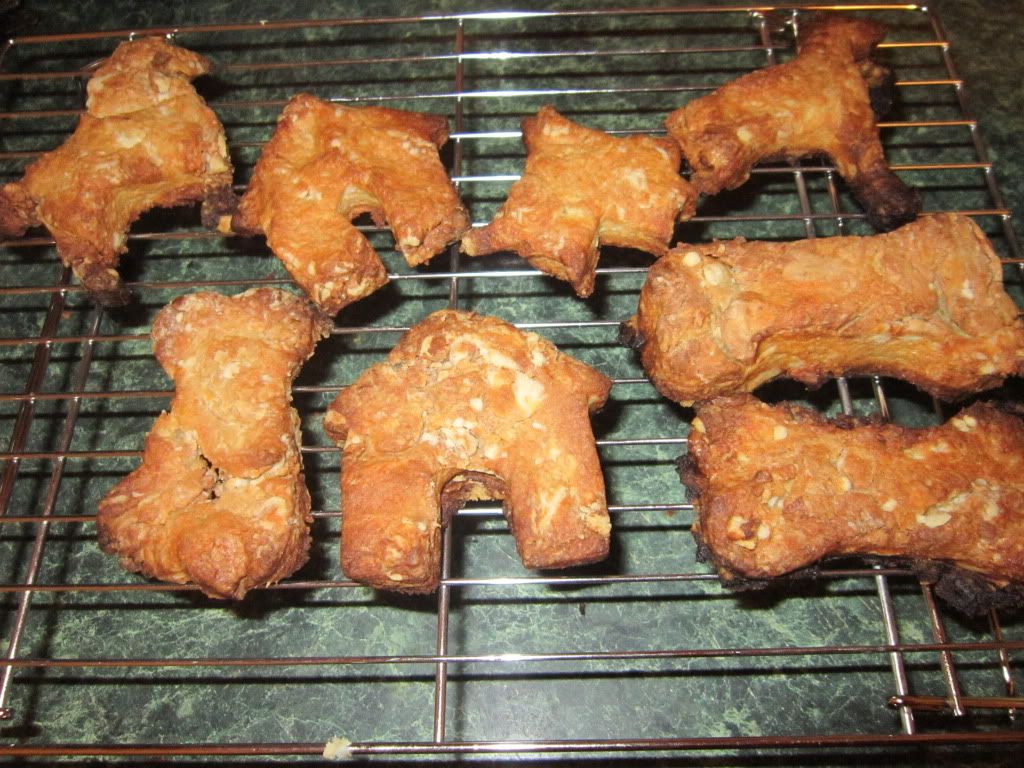 If giving as a gift just package these
in a cellophane bag and tie with a pretty
ribbon.
Here is a recipe we used for dog treats .
1/3 C applesauce
Water as needed
Cookie Cutters (we have cute dog themed cutters I found on eBay)
Roll them out and cut with your cookie cutters
Bake at 375 for 15 minutes may be less depending on your oven.

Great ways for your children to be included in this is to let them mix, help roll and cut out the treats.
Ripley has always been in favor of Kong dog toys. If you put a treat inside or better yet freeze a treat inside it will keep occupied for hours. A favorite Kong stuffer for us is cheese whiz. Spray some inside and he is bonkers. We also save our peanut butter jars when they get down to the end of the jar and give him. He will lick that jar and toss it around for quite some time getting all of that goodness out.
Finished Water Bottle Present *EASY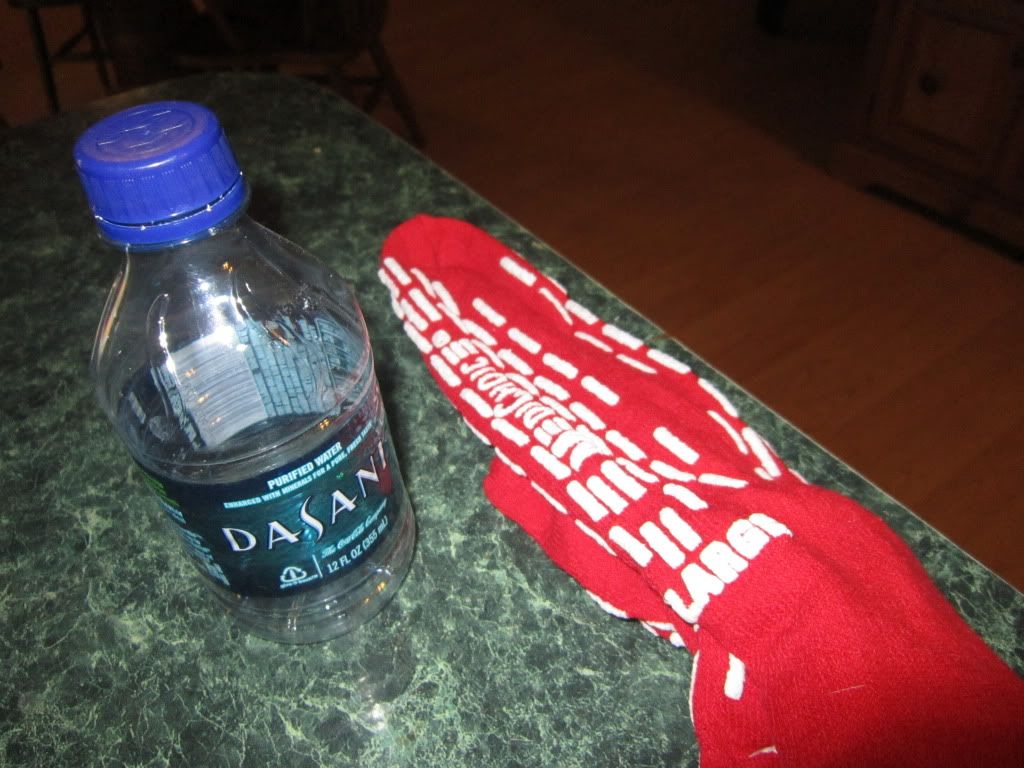 Remove the lid from the bottle first
Today we are going to make a toy much like the one he has in the photo with a sock and tennis ball. We are also going to be using water bottles. He loves the scratchy sounds that a water bottle makes. All you do use an empty water bottle and old sock. I remove the lid just in case he gets it out which he usually does to avoid choking hazards. Put the bottle inside the sock and knot it. Do the same with a Tennis ball and Sock. Your child can be a part of this creative process by recycling their own water bottle, choosing the balls or socks to use. Let them help and it will be that much more special when they give it to your pets. My little boy chose daddy's red socks he received when in the hospital. A great choice since Dad would NEVER wear them again.
Tennis Ball and Sock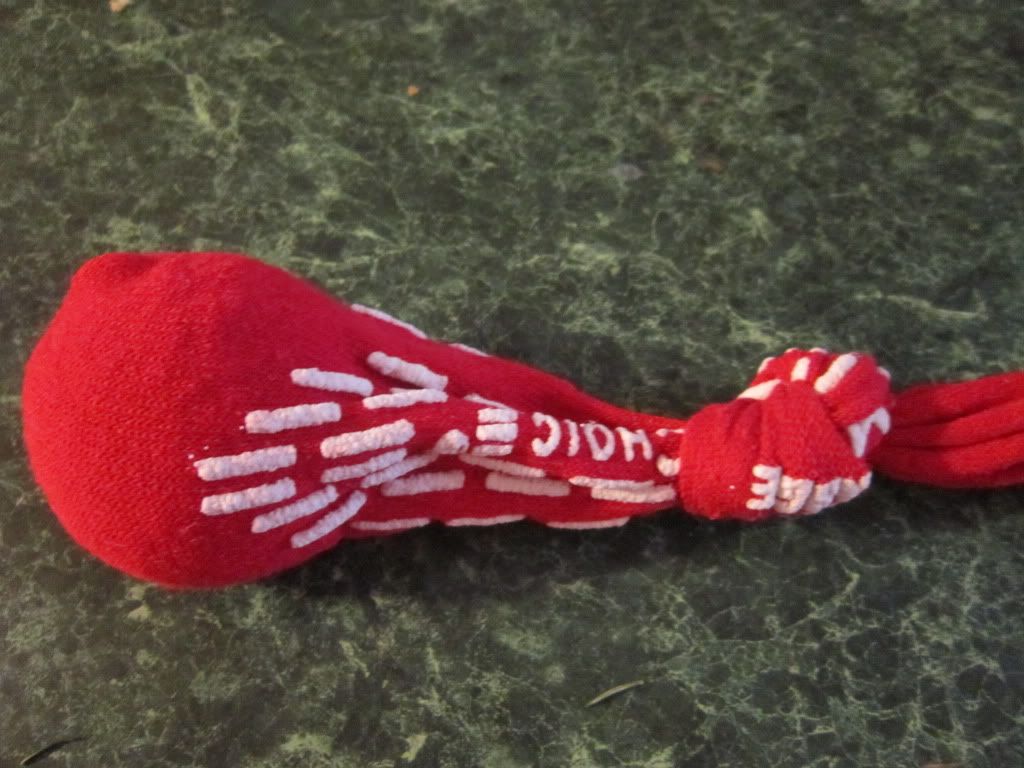 Play some Fetch
For
rabbits , guinea pigs and other furry friends
you can make a treat of
apple and carrot chips.
Slice your apples and carrots very thin. Place them on a baking sheet spread in one layer. Bake in a preheated over 225 degrees for one hour . Then flip them and bake for another hour. If they are not crisp when you check on them just bake them a little while longer. Store in an airtight container! You can punch a hole in and add a string to hang them from your pets cage or just place it inside their food dish they will enjoy this new treat. Your child can help you spread the slices on the cookie sheet to bake, set the timer. If you have an older child they may be able to slice or peel under a watchful eye. I'm not that brave.
For Cats
~ yarn balls are easy to make and they love them! Or Skates does. We simply take a small ball Styrofoam works well and wrap yarn all around it tightly. Tie it with a knot and then leave a long loose string for kitty to swat around. Let your child assist in wrapping the ball, or choosing the yarn color. They'll be so excited .
I hope this post inspires you to gather your children and make some pet presents. Here is our pup and boy enjoying some of ours on this beautiful day .
I'd love to hear about your pets or treats. Leave me a comment!