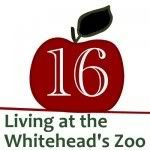 Living at the Whitehead's Zoo has day 16 on the Creative Christmas Countdown.
We are super excited to be talking about Presents for your Pets.
Here is a supply list in case you would like to gather your supplies before Dec. 16th. Be sure to come back on the 16th to make Presents for Your Pets with us!
For Dog Toys You Will Need
plastic water bottle
socks
tennis balls

For Dog Treats you will need

Peanut Butter Wheat Flour
apple sauce , vegetable oil, cookie cutters
Treats for Rabbits and Birds
Apples, and Carrots to make chips, oven
Cat Toy
yarn
Styrofoam ball