The holidays bring about different traditions and memories for each of us. I love ornaments. Since my first daughter was born I have gotten or made her and then her siblings a special ornament each year for our tree. Something to remember their year by. For instance when she was a ballerina I got her a beautiful ballerina ornament with the year. My thoughts were that they would have an ornament a year and when they one day had their own homes I would give them their ornaments. My children especially my daughter has really loved this tradition. Each year she can not wait to pull out each of her ornaments each one being special to her.
I am sad to say that our tree came tumbling to the floor tonight and my poor daughter lost most of her 16 years of ornaments. She was not at all happy and I sat down and cried. Yes, I cried over Christmas ornaments my husband could just not understand it. Each ornament was hand picked by me on that tree to remember something special and there they lay in pieces. I might just cry again before the day is over.
Luckily our handmade ornaments from this year had yet to be placed on the tree. Yay, so here you go.
When I saw the adorable hand print snowman ornaments that have been floating around the web, and the many other adorable ornaments at
Hands on as we grow 's 30 handmade ornaments post
I knew I had to make them. This is only C's 2nd Christmas and it would be the perfect memory ornament for this year. I, also have the time capsule ornaments on our to do list. My middle son says we can skip it but I think not.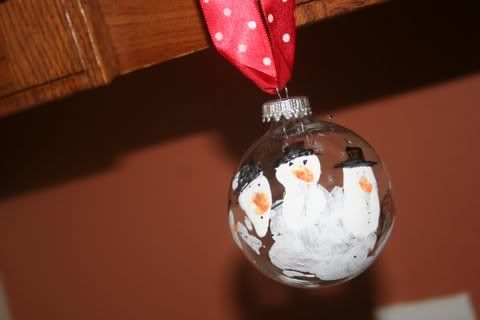 These ornaments are so simple to make and I think cute. Simply apply paint to hand and do a hand print on an ornament. I used a sharpie and drew on the eyes, buttons and hats. And then a dab of orange paint for the noses. We made one of these for me and one for Nana. Nana loved hers!
Next up reindeer thumbprints. C really liked these better than the snowmen ones. I'm not sure why but he got quite carried away with doing his thumbprint by the 2nd ornament. These are also so easy to make. Just apply brown paint to thumb and dab them on the ornament. After the brown dries paint on red noses and use brown to make antlers. Then use a sharpie and draw on your reindeer eyes. We also made one of these for Nana and one for Mom.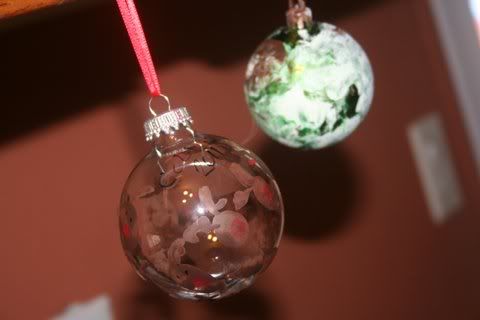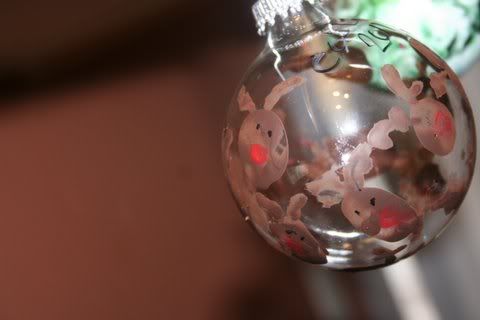 I added name and dates with the sharpie. The other ornament in the photo is a glass ornament he rolled in different colors of paint. That was probably his favorite to make.
Here are a few more handmade ornaments we have made at the Zoo.
Cinnamon Stick Christmas Tree Ornaments
Again very easy to make and enjoy . They make your tree smell delicious. You need a small one inch flower pot, Styrofoam to put in the bottom of the pot , cinnamon sticks, small pieces of fabric or ribbon,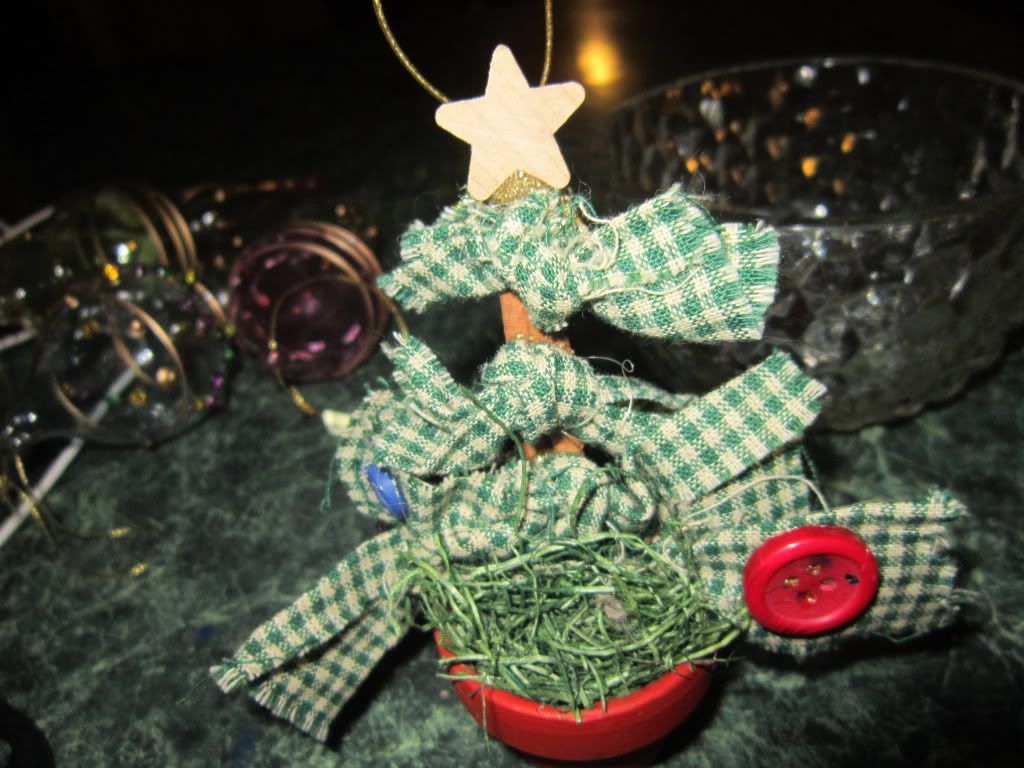 buttons, foam or wooden star . Glue your Styrofoam into the flower pot. Stick your cinnamon stick into the foam. Add a little bit of glue at the base just to keep it secure. Tie on 3 rows of ribbon or fabric (see photo.) Glue on buttons in whatever kind of pattern you wish and add your star to the top and a ribbon to hang. Isn't it cute!
Jingle Bell Angel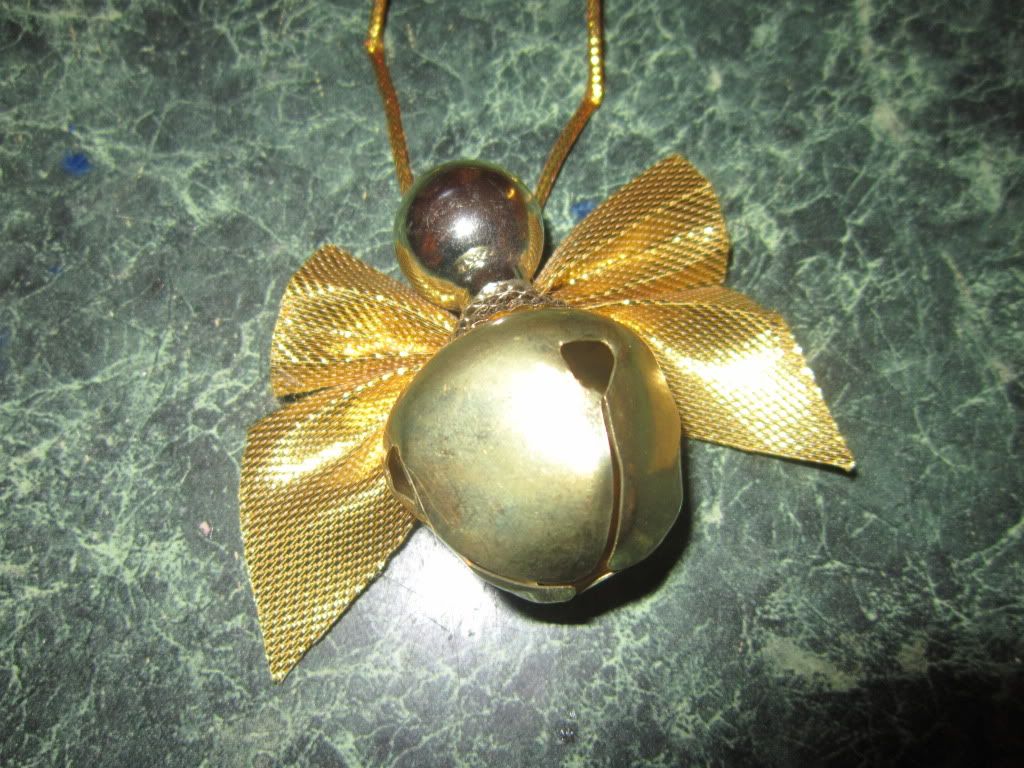 For this angel you need your bells and ribbon and that's it. Simple simple. Bunch up your ribbon in the middle to make a bow. Glue on to our jingle bells and you have an angel.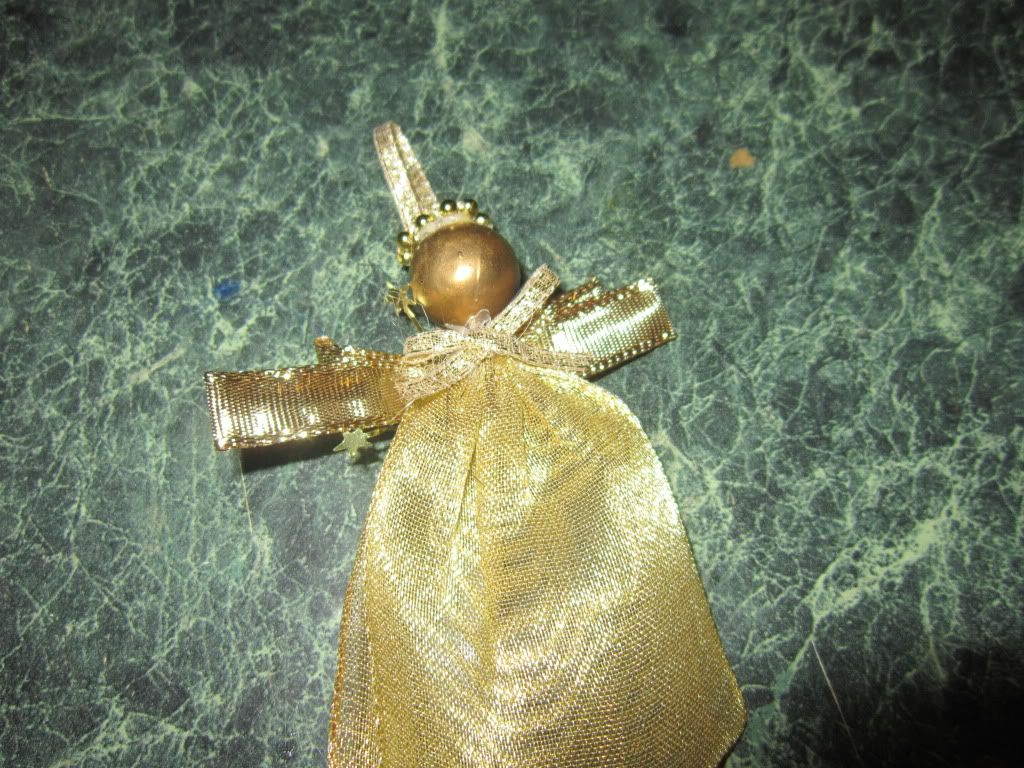 For this little angel you need a wooden ball painted gold. Hot glue a small piece of gold ribbon or fabric to the back of the head . Then on top of the place you glued add a strip of gold ribbon to make your angel wings. Add a small bow around the neck and gold beads for the halo. Also add ribbon to hang.
I hope that you enjoy our ornaments as much as we do. If you have a great ornament craft you are doing with your children share the link I'd love to check it out and I might just have to try it out when I do!
Thanks for stopping by today!
Amber