Are you planning on sending
Christmas cards
this Holiday season? Tiny Prints has a wonderful selection of cards. I just dropped in to browse them myself. I found two that I really like .
This is a trifold card made of heavy card stock. I really like that it has multiple photos, yet still has a real card fill to it. I also love the bright cheery fill . I think this would be a great card for the grandparents. A great fit for our family this holiday season.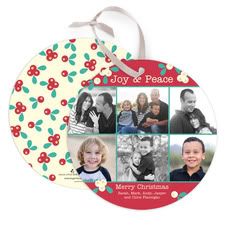 I also really like the circle cards. What I like about this card is probably obvious. I love that it can be used as an ornament. I am all about preserving your memories and Christmas ornaments are a love of mine. So, these cards are really talking to me as I choose. I also know my Mom would love to add this to her tree.
How do you pick out a card? What do you look for when you are choosing that perfect one?
Disclosure: Living at the Whitehead's Zoo will receive Christmas cards from Tiny Prints in exchange for this post. These are 100% my own opinions.
Thank you